Edmonton man charged after 2 unauthorized handguns found in luggage at airport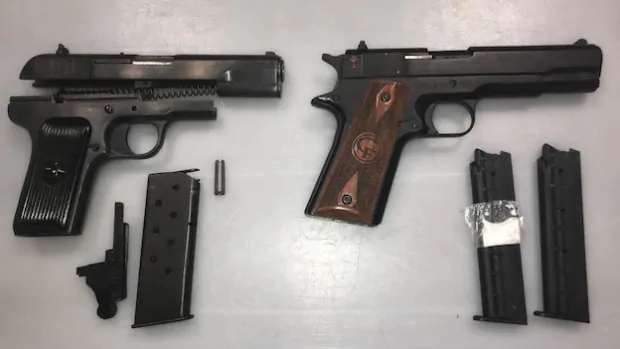 An airline passenger with a ticket to Beirut, Lebanon was arrested at the Edmonton International Airport Monday morning after two handguns were found in his checked baggage.
Canadian Air Transport Security Authority (CATSA) officials contacted RCMP after finding the handguns, a 9-mm Norinco and a .22-calibre Chiappa, in the man's luggage.
The 60-year-old passenger was arrested in the secure side of the airport just moments before his flight was set to depart.
"Our partnership with CATSA has enabled us to take two restricted guns off the street," RCMP Sgt. Beth Philipp said in a statement.
The man faces six charges:
2 counts of unsafe transport of a restricted weapon
2 counts of possession of a restricted firearm without a licence
2 counts of exporting a firearm with authorization
He's scheduled to appear in Leduc Provincial Court on Nov. 1, 2018.