Ceci says Alberta ready for cannabis legalization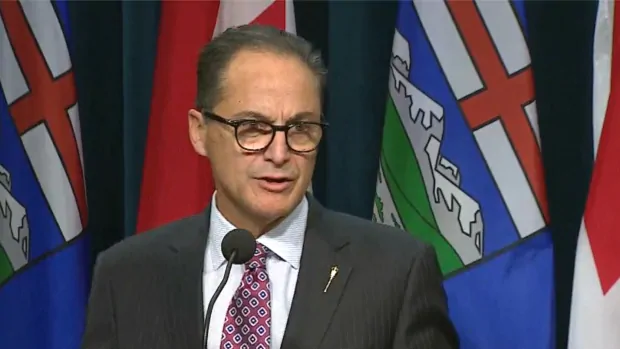 With just two days to go until cannabis is legalized across Canada, Alberta's finance minister says he is confident the province is ready for the "significant shift."
At a news conference Monday in Calgary, Joe Ceci said the province has been working on cannabis legalization for a year and a half, long before the federal government introduced the legislation.
"Wednesday marks the start of legalization, and while we are prepared for this shift, it is not the end of our government's work," he said.
17 retail outlets set to open
Alain Maisonneuve, the head of the Alberta Gaming, Liquor and Cannabis (AGLC), which is responsible for overseeing this new industry, said 17 retail shops have been approved so far to open on Oct. 17. The retailers were given interim licences so they could order and supply product ahead of the day cannabis becomes legal.
The regulator expects another 80 to 100 licenses will be issued within the next month.
The province has contracts with 15 licensed producers, three of which are in Alberta, to supply product to the AGLC, which will then provide the cannabis products to licensed stores.
Ceci said the AGLC call center is ready to go live at 12:01 a.m. on Oct. 17, to provide Albertans with any information they might need.
The albertacannabis.org site will also be live, which will allow Albertans to buy cannabis products online.
$11.2M for municipalities
Ceci said smaller communities have raised concerns about the cost of enforcement once cannabis is legal. To help offset costs, he announced the provincial government has earmarked $11.2 million over two years to help municipalities adapt to the challenges of legalization.
The municipal cannabis transition program will offer grants to municipalities with a population of more than 5,000 residents, which are responsible for their own policing, to help with enforcement costs and other implementation issues that might arise.
"We know that much of the impacts of legalization will be felt locally and we gave the municipalities the ability to set additional restrictions if they so wish on retail locations and public consumption through their own bylaws," Ceci said.
He said 60 per cent of the money will be available this fiscal year, while the rest will be set aside for next year.
Municipalities respond
The Rural Municipalities of Alberta (RMA) said in a media release Monday that despite the funding announcement they are still concerned about the lack of supports available to rural communities across the province.
"The [municipal cannabis transition program] provides minimal funding to a limited number of Alberta's municipalities, not reflecting the challenges that rural and small urban municipalities will have in addressing this issue effectively in their communities," the group said in a statement.
The RMA has been advocating for municipalities in Alberta to receive a 50 per cent share of the federal cannabis excise tax revenues.
"The recent announcement provides some support to some larger urban centres; however, rural areas rely on RCMP to monitor and handle criminal activity, not develop and enforce municipal bylaws," said Al Kemmere, RMA president in a statement.
---
With files from the Canadian Press