Busy Tonight Host Busy Philipps Loves Margaritas & Good Food and Now We Want to Drink Margaritas and Eat With Her ASAP!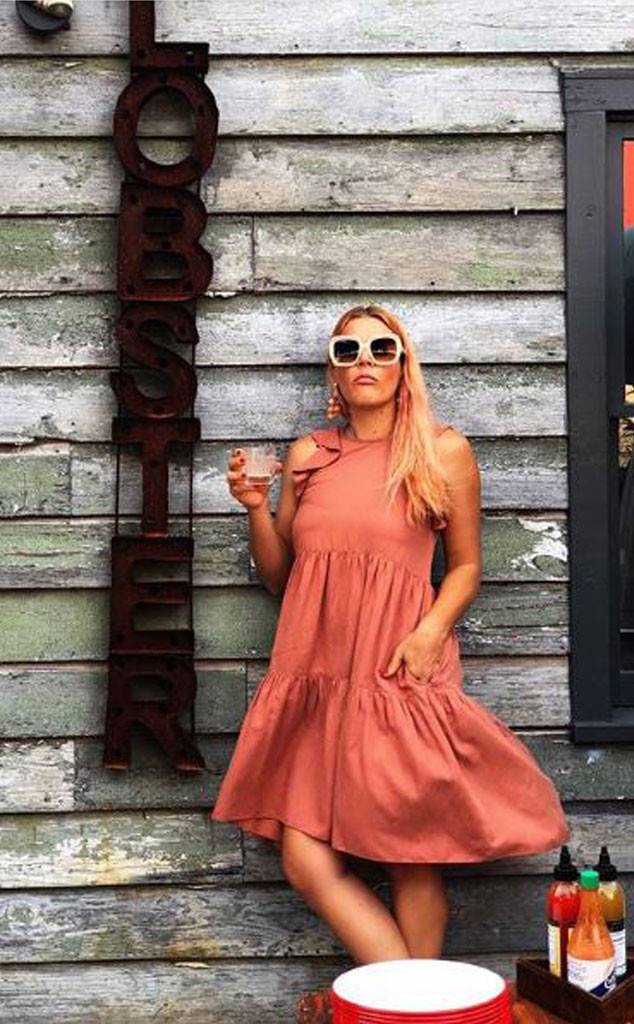 Busy Philipps loves food (and margaritas) and therefore we love her even more.
As we gear up for the premiere of Busy Tonight later this month—on Oct. 28 to be exact—we've been on a deep dive into all the things that make the actress so amazing and unique.
For example, her love of pink locks and hilarious displays for Elf on the Shelf every Christmas, which she proudly posts on Instagram each year. In addition to being a killer actress with roles on Dawson's Creek, Cougar Town and recently in I Feel Pretty, the 39-year-old star has become an Instagram superstar that we can't help but talk about on a daily basis.
Our favorite thing about Philipps' social media account is her clear love for food, and lots of it.
No matter what she's eating, or drinking (it's usually margaritas), she loves to share pictures of herself with the food. No, she's not a regular food poster, she is a cool food poster and we double tap pretty much all of her snaps.
Perhaps we not-so-secretly want to be Philipps, or maybe we're just intrigued by tasty treats, pretty cocktails and witty captions. Either way, the talk show host's Instagram account is food porn status and worthy of a follow by everyone.
Because we love her food and drink snaps so much, we rounded up her most Insta-worthy foodie photos for you to ooh and aah over as you wait to see Philipps host her own late-night series on E!
It's worth a look, we promise.
Just don't scroll on an empty stomach, because happy hour desires and food envy are sure to follow!
Instagram
Mellow Yellow

Busy Philipps is our hero for somehow managing to match her retro dress to her yellow soup. It's funky, strange, and yet so cool.
Instagram
Summertime Sips

"They have a drink here that's half cucumber Marg/half Cora beer. You can go ahead and forward my mail. Byeeeeeee," Philipps wrote on this photo while on vacation this August and we want to go here ASAP.
Instagram
Champs for Champs

"It's 5 o'clock somewhere. Like here. In my kitchen. It's actually almost 5:30 so I guess technically I'm late," the actress wrote on her champagne snap.
Instagram
I Scream for (Melted) Ice Cream

Soft serve fail! "When you try to be fun & order soft serve in a cone but it melts as soon as they hand it to you and you feel like it's a metaphor for life," Philipps posted in July and we can so relate.
Instagram
Wine Not?

Philipps posing with giant glasses of wine is our ultimate weekend inspiration.
Instagram
Margs Forever

If there is one thing we know about the Busy Tonight host it's that she is all about margaritas and chips and salsa, which inadvertently makes her our spirit animal.
Instagram
Pink Perfection

It might not be food porn, but this rose-colored ensemble paired with a glass of rosé is what millennial pink dreams are made of.
Instagram
Jelly Bean Joy

Taking a picture with a jar of jelly beans might seem odd, but you can't tell us that you don't want to eat jelly beans now that you've seen it.
Instagram
Glitter Snack

"When life gives you glittery popcorn, YOU F**KING EAT IT," Philipps said in May and no truer words have ever been spoken.
Instagram
Hot Diggity Dog

In spring 2018, the I Feel Pretty actress revealed that hot dog is her favorite meat and we can't fault her for living her truth.
Instagram
Vacation Vibes

Fact: Snow cones make everything better.
Instagram
Happy Hour

Philipps lived it up on vacation this spring thanks to Mai Thai drinks and pool time and we are so jealous.
Instagram
Tequila on My Mind

Margaritas are always a good idea based on Philipps' Instagram account, so why argue with her?
Instagram
Pizza Is Life

In February, the Dawson's Creek alum celebrated National Pizza Day by chowing down on pepperoni pizza and ranch dressing. Is there a better food combo?
Instagram
Coffee Dose

If you're heading to San Miguel de Allende, Mexico anytime soon, Philipps has a recommendation for you…go to Ki'Bok for coffee!
Instagram
Cotton Candy Craze

If you go to Disneyland and don't eat cotton candy, did you even really go?
Instagram
Tacos With Friends

"This is not who I am now. THIS IS WHO I'VE ALWAYS BEEN," Philipps captioned this snap and we are all in on this taco and Friends aesthetic.
Instagram
Bang Bang

In October 2017, the Cougar Town alum shared this picture of her in the morning to show her followers the real Busy. Our takeaway is that the actress loves Bulletproof coffee and pink and therefore we're going to buy Bulletproof coffee and wear pink ASAP.
Instagram
Green Goddess

While attending the Panorama Music Festival, the blonde beauty managed to find the Matcha bar on site and of course posed with her victory cup to prove it.
Instagram
Milkshake for Two

Sometimes you just want to share a milkshake instead of going it alone and we're OK with that.
Instagram
Dessert Buddies

Loving dessert runs in the family as you can see from the looks on both Philipps and her husband Marc Silverstein's faces in this photo.
Instagram
On Margarita Time

"Just staying on brand, guys," Philipps captioned this margarita snap in summer of 2017.
Instagram
Mood: Margarita

All we want to know is what flavor margarita this is, and where can we get one?
Instagram
Ice Cream on My Mind

When in New York City, the 39-year-old actress always finds time for Big Gay Ice Cream.
Instagram
All You Can Eat

During her family's Disney cruise in 2017, Philipps was all in on the Mickey ears and the all-you-can-eat dining. Case and point this calamari plate.
Instagram
Mickey Mouse Magic

Who says Mickey Mouse ice cream is only for kids?
Instagram
CBD Concoction

In April 2017, Philipps introduced us to the matcha CBD oil margarita and our lives have never been the same.
Instagram
Sweet Friends

Hanging out with Vice Principals co-star Danny McBride is even more fun with ice cream in your hand.
Instagram
Pasta Lovers

Friends who eat pasta together, stay together…right?
Instagram
Yummy Mummy

In 2016, the mom of two made these mummy cake pops for her daughter Birdie's school and we are officially jealous of her baking skills.
Instagram
Mother-Daughter Time

When Philipps isn't working, she's spending time with her girls and making memories like she did when she took daughter Birdie to San Francisco and did a Williams Sonoma cooking class in 2016.
Instagram
Pro Status

Get yourself a mom who can make you a pink lemonade cake like a pro.
Instagram
Coconut Cuties

When out and about with your kids, what's a better way to pass the time than to drink from a fresh coconut together?
Instagram
Taco Heaven

In 2015, the birthday girl celebrated in style with her perfect meal…and of course she shared the aftermath! "Maybe this looks like the opposite of food porn, but this is what a fully satisfied dinner table looks like. All I ever want for my birthday dinner is margs and chips and salsa," Philipps captioned the pic.
Instagram
Cake Queen

So, Philipps made this cake. We repeat, she made this cake!