Up to 20 people still missing in Genoa bridge collapse, chief prosecutor says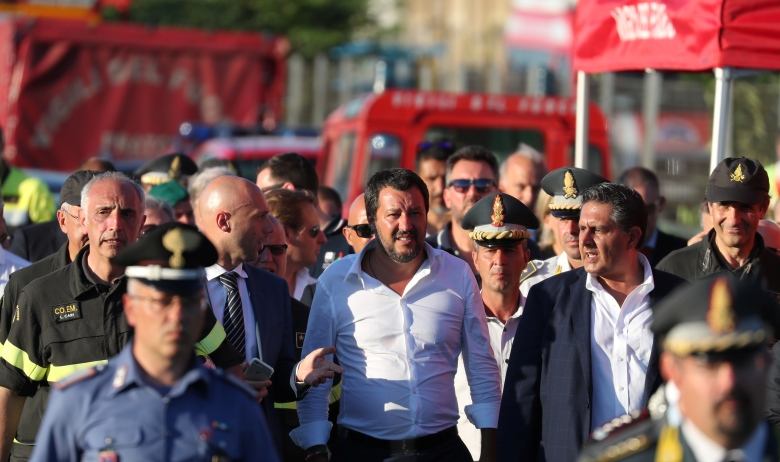 There could still be as many as 20 people under the rubble of the collapsed highway bridge in Genoa, in addition to the 39 already confirmed dead, the chief prosecutor of the northern Italian city said Thursday.
Searchers have been combing through tonnes of concrete and other debris since the bridge collapsed in a violent rainstorm on Tuesday. Chief prosecutor Francesco Cozzi told reporters "there could be 10 to 20 persons still missing."
Cozzi has said the investigation of the cause is focusing on possible inadequate maintenance of the 1967 Morandi Bridge or possible design flaws.
At least six of the dead are foreigners — four French citizens and two Albanians.
Interior Minister Matteo Salvini said it has been difficult to come up with an exact number, as some of those reported missing by loved ones might actually be vacationers who reached their destination but haven't contacted family or friends in recent days.
Search for survivors
Italian rescue workers were toiling for a third day in hopes of finding survivors under the rubble.
Sonia Noci, Genoa firefighters' spokesperson, said Thursday the search and rescue operations will continue until all those people listed as missing are found.
Italian Interior Minister Matteo Salvini leaves the site of the collapsed Morandi Bridge on Wednesday. (Stefano Rellandini/Reuters)
Local officials have said they do not yet know how many cars were on the bridge when it collapsed and cannot extrapolate how many people might be amid the rubble.
The bridge links two heavily travelled highways, one leading to France and the other to Milan.
The Italian cabinet has approved a 12-month state of emergency, and officials have announced plans for a state funeral for the victims to be held at 11 a.m. local time on Saturday in Genoa. The ceremony will be presided over by Genoa Archbishop Angelo Bagnasco.
A project worth 20 million euros ($29.8 million Cdn) to upgrade the bridge's safety had already been approved, with public bids to be submitted by September. According to business daily Il Sole, work would have been done to improve two weight-bearing columns that support the bridge — including one that collapsed Tuesday.