U.K. heatwave reveals previously hidden ancient farms, burial mounds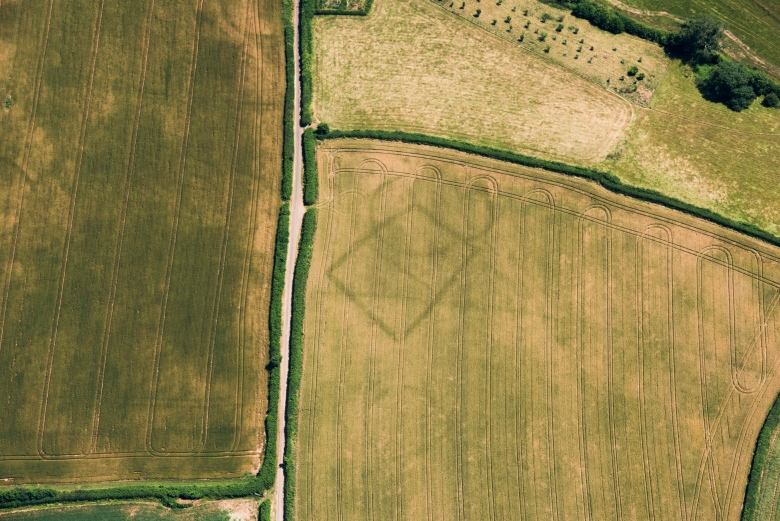 Weeks of dry, hot weather have exposed the outlines of several archeological sites across the U.K., dating back thousands of years.
Drier soil conditions have allowed archeologists to capture aerial photographs of previously hidden features from ancient times, to reveal farms, burial monuments, ditches, walls and vegetation patterns, or cropmarks. The patterns of these structures can be seen from the air as the vegetation dies back in dry conditions.
These new discoveries are typical examples of Bronze Age and Iron Age farms found near the village of Stogumber in Somerset, southwest England. (Damian Grady/Historic England)
"This spell of very hot weather has provided the perfect conditions for our aerial archaeologists to see beneath the soil as cropmarks are much better defined when the soil has less moisture," said Duncan Wilson, chief executive of Historic England, a publicly funded non-departmental body that advises the U.K. government on heritage assets.
One of the many new aerial photos in Historic England's collection, taken during the prolonged summer heatwave, shows a ditch circling what used to be a farmhouse from the Roman period (AD 43 to AD 410).
Two Neolithic cursus monuments can be seen in aerial photos taken near on the outskirts of Milton Keynes, a town in central England. Cursus monuments, of which Stonehenge is one example, are some of the oldest prehistoric structures found in Britain, usually dating from between 3,600 and 3,000 BC. Until this year, the enclosure on the right has remained hidden. The two structures are believed to be enclosed paths, or they could have served to demarcate different landscape zones. (Damian Grady/Historic England)
Other discoveries generating excitement include two previously hidden Neolithic monuments — enclosures appearing as long rectangles — near the village of Clifton Reynes on the outskirts of the town of Milton Keynes. It's believed these enclosures were laid out between 5,600 and 5,000 years ago.
"The discovery of ancient farms, settlements and Neolithic [structures] is exciting. The exceptional weather has opened up whole areas at once rather than just one or two fields and it has been fascinating to see so many traces of our past graphically revealed," Wilson said.
Three ditches can be seen around the remains of a burial mound, or barrow, dating from the Bronze Age, which started about 2,300 BC in Europe. It was discovered near the civil parish of Scropton in Derbyshire, a county in the East Midlands of central England. (Emma Trevarthen/Historic England)
"This has been one of my busiest summers in 20 years of flying and it has been very rewarding making discoveries in areas that do not normally reveal cropmarks," he said.
Another uncovered set of features is square burial mounds, or barrows, believed to be from the Iron Age — a period stretching from 800 BC to the Roman invasion of AD 43 — in the Yorkshire Wolds, a region of low-lying hills in northeast England.
Meteorologists say this summer could be the hottest on record for Britain. The current heatwave began in July with highs of 37 C. It's expected that remnants from sub-tropical storm Ernesto will bring temperatures down on the weekend, but higher temperatures could return by the end of month.