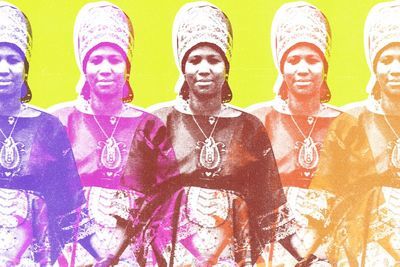 Thumbnails is a roundup of brief excerpts to introduce you to articles from other websites that we found interesting and exciting. We provide links to the original sources for you to read in their entirety.—Chaz Ebert
1.
"A Friend in Aretha: The Spiritual Power of the Queen of Soul's 'Amazing Grace'": The Ringer's Rembert Browne pays tribute to the inimitable icon who passed away yesterday at age 76. Also make sure to read our critic Odie Henderson's deeply moving obituary.
"At this point in her career, Aretha was already a legend. A year before Amazing Grace, she'd released a greatest-hits album and won her fourth of eight consecutive Grammys for Best Female R&B Vocal Performance. One could argue that while she had a great deal more to achieve, she didn't have much more to prove. And maybe to an average superstar this would be true, but we're talking Aretha Franklin, lest we forget. And on those two days, she reminded everyone that while she may have had contemporaries, she had no peers. Sure, Aretha was not the first to grow up in the church and take a booming voice to the mainstream, gaining worldwide fame from secular music. But on these two days, she came back to the black church. And it wasn't just a sweet reminder that she hadn't lost a step. She was here for her playground respect, ready to send a warning shot to any that had doubted her—she had gotten stronger. Amazing Grace is Aretha, at her most raw and stripped down, resulting in Aretha at her most powerful."
2.
"Dazzling 'Cielo' Provides Dose of Spiritual Awareness": My Indie Outlook review of Alison McAlpine's visually staggering documentary, now playing at Film Forum in New York City.
"In terms of sheer visual majesty, McAlpine's film ranks alongside Warwick Thornton's Australian western 'Sweet Country' as one of the year's great achievements in cinematography. Whereas Thornton's picture, co-lensed with Dylan River, depicts human brutality set against breathtakingly beautiful (and naggingly indifferent) landscapes, 'Cielo' juxtaposes staggering nighttime vistas with intimate vignettes centering on the people who live in northern Chile's Atacama Desert. As photographed by ace DP Benjamín Echazarreta ('A Fantastic Woman'), the skies hovering above this desert terrain—the driest in the world—seem fraught with life, containing secrets that would be impossible for any human mind to comprehend. Some people may be driven mad by the very concept of infinite space, yet I find the undefinable nature of the cosmos to be comforting. Since the dawn of time, prejudice and bloodshed have been propelled by those mortal beings who delude themselves and their followers into thinking they have all the answers. This grand fallacy provides each belief system with a sense of superiority that swiftly crumbles as soon as one's gaze is cleared of all blind spots."
3.
"Trial runs for fascism are in full flow": Powerful commentary published in June by Finian O'Toole of The Irish Times.
"It is easy to dismiss Donald Trump as an ignoramus, not least because he is. But he has an acute understanding of one thing: test marketing. He created himself in the gossip pages of the New York tabloids, where celebrity is manufactured by planting outrageous stories that you can later confirm or deny depending on how they go down. And he recreated himself in reality TV where the storylines can be adjusted according to the ratings. Put something out there, pull it back, adjust, go again. Fascism doesn't arise suddenly in an existing democracy. It is not easy to get people to give up their ideas of freedom and civility. You have to do trial runs that, if they are done well, serve two purposes. They get people used to something they may initially recoil from; and they allow you to refine and calibrate. This is what is happening now and we would be fools not to see it."
4.
"'I Don't Care If It Never Shows in a Theater': Steven Soderbergh on 'sex, lies, and videotape,' 4K HDR and the Studio System": In conversation with Jim Hemphill at Filmmaker Magazine.
"There were a lot of people, as part of the French New Wave and then the British New Wave, experimenting with this idea of unlocking the picture from the sound. I was very intrigued by that, so that whole opening was built to take advantage of the things that you can do when you uncouple those two elements. It was written very specifically to go that way. As it turned out, again, she turned out to be the right vessel to pull people through the story. It's interesting in retrospect, all these years later, to see how focused the movie is on her experience. All the distance and the time enabled me to see it from 30,000 feet up and I realized, oh, part of the appeal of her character is this idea that she's not hip. She's not really with it. She doesn't really get it. She seems to be the least enlightened person in that quartet. And yet, in a critical moment, she has a clarity that none of the other characters are able to muster. There's something very appealing about that, watching that transformation happen with her. She ends up having an experience in this conversation with Jimmy Spader's character that ends up doing something to both of them that neither of them, I think, anticipated. I think that, just from an emotional standpoint, is satisfying, to watch that transformation. All of these characters, without knowing it, are heading into this collision that's going to reverberate for them for the rest of their lives, but they're completely unaware of it."
5.
"Tonawanda's Larry Titzler, 95, writes book about his WWII adventures": Teresa Sharp of The Buffalo News chats with the father of our longtime critic Susan Wloszczyna about his new book.
"'It was the Great Depression and I spent my time at Riverside Park, where they had a swimming pool and baseball diamonds, as well as at the Riverside Theater,' he recently recalled in a conversation in his Tonawanda home. 'Once in a while, my mother would take me on a streetcar downtown where she'd shop at Hens and Kelly and she'd take me to a movie at Shea's Hippodrome or Great Lakes Theater, but that didn't happen very often.' This 1940 Riverside High School graduate completed a one-year program at the former Chown School of Business in Buffalo before joining Great Lakes Engineering Co. in Tonawanda. He was drafted and inducted into the U.S. Army Jan. 23, 1943. 'I had poor eyesight,' he recalled. 'I was nearsighted and the doctor who examined me for the Army said I could either be 4-F or go into the Army. I decided I couldn't stay home when everyone else I knew was going in the service and I felt I should contribute something to my country. You know, my mother and father never knew I had that choice. Never.'"
Image of the Day
This marvelous snapshot of Aretha Franklin at the New Orleans Jazz Festival in 1994 was captured by Leon Morris of Getty Images. Click here to read BBC's coverage of the tributes made to the legendary singer.
Video of the Day
The Guardian presents a stirring compilation of Aretha Franklin performing one of her most beloved numbers, "(You Make Me Feel Like) A Natural Woman" over the span of six decades.