Sunken Avro Arrow model recovered from Lake Ontario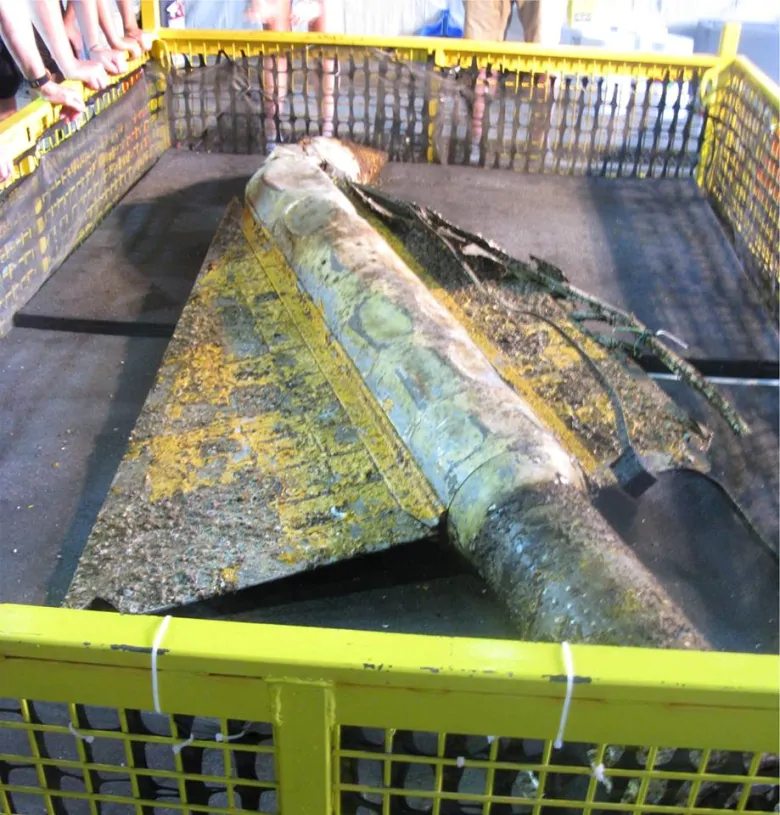 An iconic piece of Canada's aviation history has been pulled out of the depths of Lake Ontario and the recovery team is hoping to find more beneath the waves.
Divers brought what is believed to be a model of the Avro Arrow to the surface last week off Prince Edward County and brought it to the Canada Aviation and Space Museum on Tuesday.
Since last September, a series of models have been found at the bottom of Lake Ontario.
The model is about three metres long — a 1/8 scale of the actual plane, according to Erin Gregory, assistant curator at the museum.
"It looks like a rocket with large triangular wings," she said.
Experts believe the impact with the water bent the nose of the model. (OEX Recovery Group)
Three museums, including the aviation museum, will oversee the conservation and restoration of the test models of the model.
What they found last week, is not the full replica of the Arrow, the search group was hoping to find. Instead they believe it is a smaller model, meant to test the delta wing design — the triangular shape the plane was known for.
"The delta wing was a relatively new concept at that point, so it required a lot of testing to determine whether or not it would perform well, particularly at supersonic speeds," said Gregory.
A team of divers was sent to retrieve the model. (OEX Recovery Group)
The test was conducted at such a high speed the nose of the model likely bent from its impact with the water, Gregory said.
John Burzynski, leader of the search group, said he is happy they recovered this model and he plans to recover anything they can find, but the real prize would be one of the last five versions tested before a fully functional jet was built.
"The original object of the survey was to find one of those last five — it's very identifiable as an exact replica of the flying plane," Bruzynski said.
The program progressed through several models that were flown for testing over Lake Ontario between 1954 and 1957.
​The greatest plane that never was
The Avro Arrow was the first and only supersonic interceptor built in Canada.
The planes were developed in the mid-1950s to respond to Soviet bombers that could attack North America by flying over the Arctic.
In 1959, the Arrow program was suddenly cancelled. The six completed planes and related construction material were destroyed.
Finding the models and being able to see the progression of the program speaks to Canadian ingenuity, Gregory said.
"[It] speaks to the science, technology and engineering that went into the production of the greatest plane that never was."
Four other models have been located on the bottom of the lake, and Burzynski said his team plans to bring them up next summer and hopefully locate more.
"The Avro has been in the forefront of a lot of Canadians' minds over the years. It's really more of a piece of living history."