Residents of Lennox Island briefed on Day School lawsuit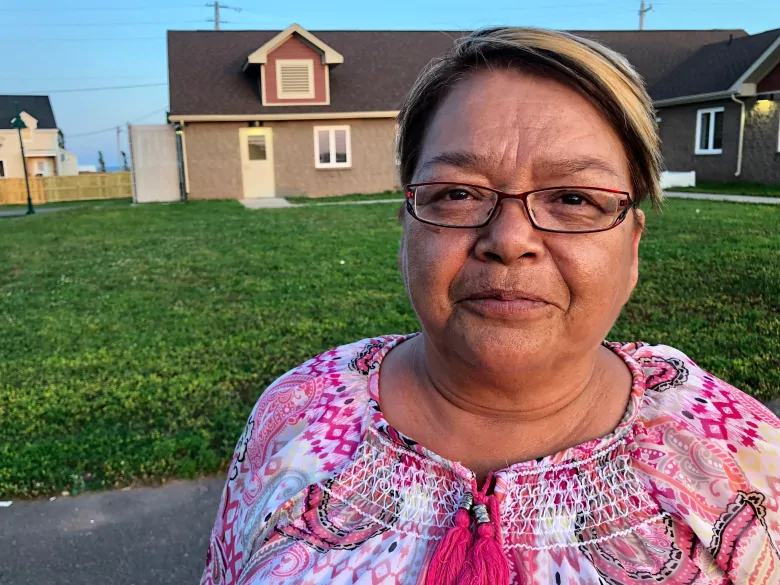 Residents of Lennox Island have been provided with information about a national class-action lawsuit against the federal government which seeks compensation for damages and abuses suffered by those forced to attend Aboriginal day schools.
An information session with the legal team involved with the suit was held last week on Lennox Island and attended by about 30 residents. It included the sharing of stories that prompted some of the Mi'kmaq First Nation residents to recall the day school in their own community.
"They will be thinking about this for days now because it opens that door that has been closed for a very, very long time," said Alma MacDougall, a health-support worker with the Mi'kmaq Confederacy of PEI.
"For them, it could be traumatic, just going back and talking about these things. It's something that you don't do lightly."
Alma MacDougall says it was important for residents to share their stories as part of the healing process. (John Robertson/CBC)
Lennox Island First Nation had a school as far back as 1868 and it ran until the 1970s, according to the Confederacy. It was run by the Catholic Church for a number of those years, starting in the 1940s.
The current elementary school — called John J. Sark Memorial — opened in 1981 and is run by the Lennox Island First Nation.
Required by law to attend school
Day schools were located across the country on or near a First Nation reserve where the Aboriginal students, who were required to attend by law, would go for their education.
The schools were mainly funded by the federal government and often operated by religious organizations which also maintained residential schools.
The students would attend the day schools for class and would be in their own homes in the evenings.
Around 30 community members attended the information session to find out more about the class-action lawsuit. (John Robertson/CBC)
There were a number of health-support workers on hand at the information session to help the residents through the associated emotional memories.
"It is hard to remember things, especially when you thought you were in the wrong," said Jean Tuplin, an addictions counsellor working on Lennox Island.
"You have to look back and say 'Was I in the wrong? I was a child, I was five, I was six, I was seven or whatever it was' and that is kind of sad that children grow up believing that they are not worth anything."
Jean Tuplin says sometimes silently listening is the best thing to do to help those impacted by traumatic experiences. (John Robertson/CBC)
Tuplin said in her 19 years working on Lennox Island, things are getting better but the ripple effects can still be felt.
"I see it in this community, a lot of people are uncomfortable to hug their children because of the abuses that they were subjected to," Tuplin said. "That is sad because we have a whole generation that has grown up without feeling nurtured and loved."
The residents shared their stories and received information from lawyers with Gowling WLG, which is handling the class action. The lawsuit was certified by a federal court in June. It is separate from individuals included in the Indian Residential Schools Settlement Agreement (IRSSA) which came into effect in 2007.
Lawsuit seeks compensation and ultimately reconciliation
In a written statement, Robert Winogron of Gowling WLG said, "Community members who attended day schools or whose families were affected by the day school experience are entitled to information about and resolution of their claims. It is important to reach out to communities to demonstrate that we are working to move the matter ahead and achieve some measure of justice."
Winogron said the "class action is national in scope" and they "conduct presentations at the invitation of any First Nation or organization seeking more information."
He said they will continue working on the case with First Nations, Métis and Inuit across the country.
'What I am hoping for is that this helps future generations in healing,' Alma MacDougall says. (John Robertson/CBC)
"The abuse of children is tragic and unacceptable," said Stephanie Palma, media relations with Crown-Indigenous Relations and Northern Affairs Canada, in a written statement to CBC.
"The Government of Canada remains committed to righting past wrongs, especially those involving Indigenous children, by resolving childhood claims outside of the courts. Negotiation, rather than litigation, is the government's preferred route to settle differences, and right historical wrongs.
Negotiation, rather than litigation, is the government's preferred route to settle differences, and right historical wrongs.– Stephanie Palma
"A negotiated settlement is preferred because it will allow the parties to go beyond the remedies that can be granted by the courts and explore concrete ways to address the culture, traditions and customs that have been lost," said the statement.
Winogron said the hope is that those involved in the class-action lawsuit receive "a recognition of the harms suffered by the class members and ultimately reconciliation."
For those working with community members in Lennox Island, it's all part of the bigger picture and a step toward the future.
"With colonization, with the Indian Act, with the residential schools, with the Sixties Scoop, with the day schools, all of these had an impact, a negative impact on our communities and our people," MacDougall said.
"What I am hoping for is that this helps future generations in healing."
There is no current timeline for the class-action lawsuit.
More P.E.I. news