Putin to walk back some pension reforms that proved unpopular in Russia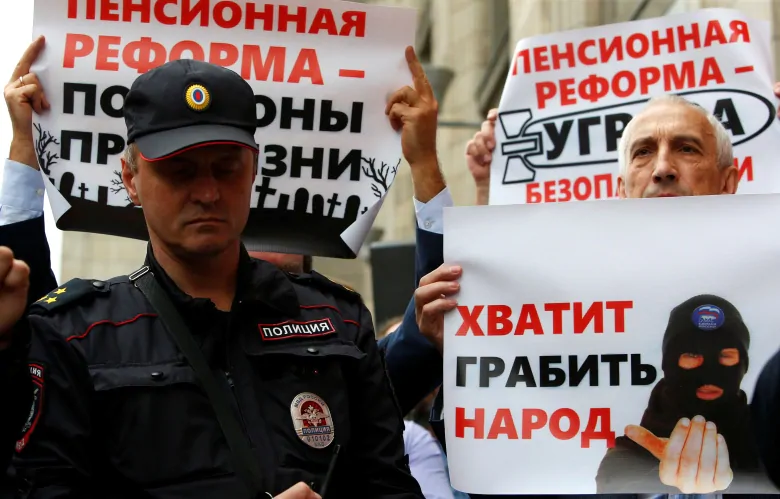 President Vladimir Putin told Russians on Wednesday he has decided to dilute unpopular draft legislation to reform the pension system that has hurt his own popularity, but said a shrinking workforce meant some kind of reform was necessary.
Addressing the nation on television, Putin said the retirement age for women should be raised by five years rather than the eight years proposed by the government, and made detailed proposals to soften other aspects of the legislation.
"The demographic development and labour market trends and an objective analysis of the situation show that we can't put this off any longer. But our decisions must be fair, balanced and absolutely take into account people's interests," said Putin.
"That's why I am proposing a raft of measures that will allow us to soften the decisions taken as much as possible."
Disparity in life expectancy
The original proposals, which envisaged raising the retirement age to 65 from 60 for men and to 63 from 55 for women, have pushed Putin's own popularity down to its lowest level in more than four years and stirred protests.
Putin said the draft legislation going through the State Duma, the lower house of parliament, would be amended to reflect his own ideas in the near future.
A police officer oversees a July 19 protest in Russia against the government's plan to raise the pension age. (Sergei Karpukhin/Reuters)
He did not propose reducing the proposed age at which men will retire. In Russia, the average life expectancy for women is 78 and 67 for men.
Opinion polls showed that about 90 per cent of the population opposed the original proposals, and Putin's political opponents, including opposition leader Alexei Navalny, have tried to tap into public anger by organising protests.
A court sentenced Navalny to 30 days in jail on Monday after convicting him of breaking public protest laws, a move he said was illegal and aimed at stopping him leading a rally against pension reform next month.
With files from The Associated Press