Northland schools hires family wellness workers to help boost attendance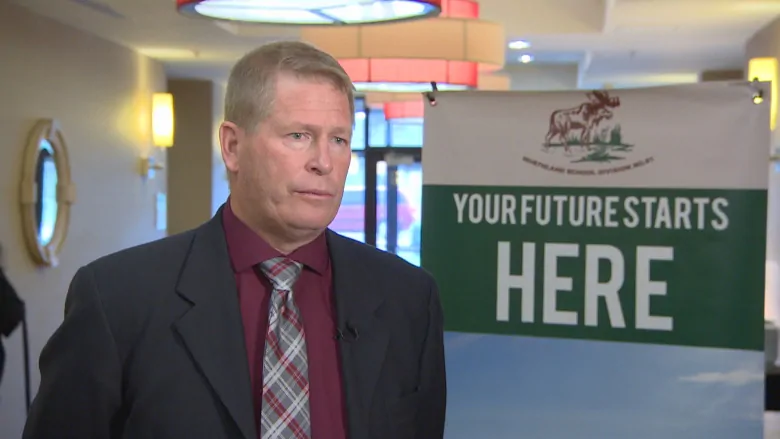 Students returning to school in northern Alberta next week will have the additional support of ten new family wellness workers.
It's part of Northland School Division's overall strategy to boost the attendance of its 2,200 students, most of whom are Indigenous.
Three years ago the school division set out to improve attendance after a report by Alberta's auditor general identified more than one-third of students as "chronically absent."
Already attendance has improved at the 20 schools that stretch across a 228,347 square-kilometre-jurisdiction, about the size of Italy. Last year overall attendance was 80 per cent.
School officials believe social workers will build on that initial success by supporting families when students are struggling as well as instilling trust in an education system after the trauma of residential schools.
"It is important that we build (trust) so that it's a place where people want to come, not where they're forced to come," said Heather Graham, the first family wellness worker to be hired when the district piloted the project last year. "It has to be a place where they feel safe."
Graham said communication with families in kind and positive ways is key, such as calling home to let parents know how well their child is doing or providing meals and snacks. Empathy and a solid understanding of what Indigenous people have faced is key.
Superintendent Gord Atkinson says a new mid-winter break will give families a chance to engage in traditional activities and travel for appointments without missing school. (CBC/Samuel Martin)
'Five hundred years of pain'
On Wednesday, Graham and her peers, many who are Indigenous, spent two days in Edmonton deepening their knowledge around First Nations, Métis​ and Inuit issues as well as reconciliation.
"It gives you that understanding of thousands of years of history into five hundred years of pain," said Graham. "And everyone needs to know that and recognize that these children come to school with history … How would you be able to manage and be present if your home life and your past history is so traumatic that just making it through the day can be difficult?"
The district is placing more emphasis on cultural activities such as this one where a student collects poles to build a teepee. (Northland School Division)
Superintendent Gord Atkinson, who joined the district in 2016, said that medical appointments were the biggest reason for absences at 36 per cent. Around 25 per cent of the student's absences were related to a death in the family, he added.
He noted that an appointment with a specialist that would normally require just a half a day off for a student in the city could mean several days for his students who live in remote areas lacking services.
"They have to travel and then when you do travel they won't leave the other family members. You can't because those kids need to be with their families," said Atkinson.
New mid-winter break
The school division is also introducing a mid-winter break to balance family traditions and time in the classroom.
"So the student's education can continue but the family traditions and the family knowledge and culture is respected," said Atkinson. "In some cases it's actually to get the meat for the winter."
Greater focus will be given to outdoor learning and activities such as culture and land-based learning camps to connect students with their identity.
Attendance strategies include a greater focus on cultural activities such as this one where Cree language instructor Gerald Young teaches students a traditional game in a teepee. (Northland School Division)
'So proud'
Last year, the government passed the Northland School Division Act and elections in October restored an elected board that was dissolved in 2010 over poor attendance and achievement rates.
In January, Alberta Education increased funding by 20 per cent for five years in part to address underlying causes of poor student attendance. A month later, an operational plan was approved by the board to improve attendance. The government is also investing $25 million to modernize and expand Mistassiniy High School in Wabasca-Desmarais.
"I am so proud of all that this new board is achieving," wrote Education Minister David Eggen in an emailed statement.
Department staff said they will work closely with the community and the elected board to address issues related to attendance, high school completion and overall student results.