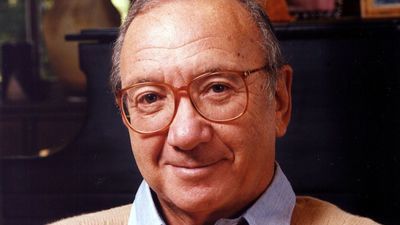 One of the most essential New York playwrights of the 20th century, Neil Simon, passed away today from complications from pneumonia at the age of 91. If you don't know the name, you certainly know the work, and the dozens of writers inspired by Simon's heavily autobiographical approach to humor. He won awards for his writing and influenced television, film, and, most of all, the stage, redefining an entire generation's sense of humor with works like "The Odd Couple," "Brighton Beach Memoirs," and "Biloxi Blues". He was so big on the theater scene of the '60s that he once had four plays on Broadway at the same time, and most of his hit theatrical works became equally successful films, resulting in four Oscar nominations for Best Screenwriting. He was nominated for a Tony a ridiculous 16 times—becoming such a fixture on Broadway that there's a theater there named after him, something that had never happened before for a living playwright.
Simon wrote over thirty plays, but his most influential is probably "The Odd Couple," a play that premiered in 1965 and won Tonys for Simon, director Mike Nichols, and star Walter Matthau. It would go on to be a hit film and TV series, influencing countless other oil-and-water buddy comedies to come.
However, Simon was already a success when that project took him to another level. He really started his career in the '50s on television, writing for "Your Show of Shows" with Carl Reiner and Mel Brooks (imagine being in that writers room) and "The Phil Silvers Show." His debut play, 1961's "Come Blow Your Horn" was a smash hit, followed two years later by a little project called "Barefoot in the Park," and two years after that by the still-hysterical story of Felix and Oscar.
Like so many great comedy writers, Neil Simon grew up in something approaching misery. He was an extremely shy teenager who suffered through the Great Depression and an unhappy home life. He would tell interviewers later in life that he escaped the fighting of his parents by going to the movies, inspired by the works of people like Charlie Chaplin and Buster Keaton. He channeled how much he loved about their work into his own sense of humor when Sid Caesar himself hired him for a new project he was calling "Your Show of Shows."
The rest is history. From the 1960s through the 1980s, Neil Simon was one of the biggest writers in the world. Not only was he a constant fixture on Broadway, but he wrote hit original screenplays too, including "The Out-of-Towners," "The Heartbreak Kid," "Seems Like Old Times," and "The Goodbye Girl," which netted him an Oscar nomination to go along with the ones he earned for adapting "The Odd Couple," "The Sunshine Boys," and "California Suite." Somewhat shockingly, he never won the Oscar.
One of the hallmarks of Neil Simon's work was how much of his own life he poured into it. One didn't have to look hard to see the truth in the stories that were obviously autobiographical like the '80s trilogy of "Brighton Beach Memoirs," "Biloxi Blues," and "Broadway Bound," followed up by "Lost in Yonkers" in 1991. The blend of drama and humor in these plays, along with their keen understanding of how memory amplifies the crucial moments of our lives, earned Simon a Pulitzer Prize for the cycle.
Neil Simon's work was often about human connection. It was a message often hidden in humor, but he was clearly a playwright and screenwriter who believed in empathy and compassion, bringing together disparate personalities to ask a simple but crucial question: If Felix and Oscar can get along, can't we all?
Click here to read some of Roger Ebert's writing about Neil Simon's work.
(Image Credit: Geffen Playhouse)