Monster truck throwdown, the Derby and the blues: What to do with your weekend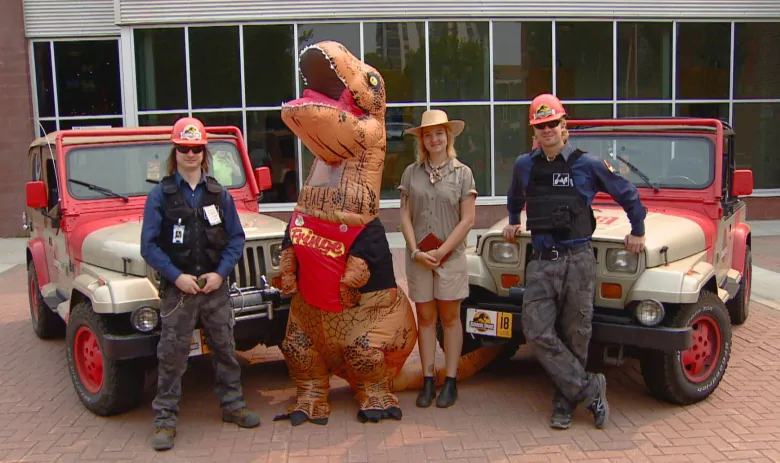 If you're looking to soak up the last few weeks of summer then this list of events, festivals and happenings is for you.
Fuelled by adrenaline, the Monster Truck Throwdown is roaring into Castrol Raceway complete with 360-degree backflips and some of the biggest names in the game including Jekyll & Hyde, Bounty Hunter and Avenger.
It's the biggest event on the Western Canadian horse racing calendar — the 89th and final run of the Canadian Derby at Northlands Park Racetrack on Saturday.
Fringe 'O' Saurus Rex continues to dominate the streets of Old Strathcona in the annual celebration of theatre arts. (CBC)
The 37th annual Fringe Theatre Festival continues until Sunday in Old Strathcona.
The 20th annual Edmonton Blues Festival takes place in Hawrelak Park from Friday through Sunday, including musicians like Booker T., Nikki Hill and Marcia Ball.
Nikki Hill one of the performers gracing the amphitheatre at Hawrelak Park for the Edmonton Blues Festival. (Edmonton Blues Festival)
If you see soldiers parading through the streets in uniform this weekend, know it's for the Freedom of the City. 1 Service Battalion is marking its 50th anniversary with a special parade and other events on Sunday in and around Sir Winston Churchill Square.
Lemonade Stand Day is back for its fifth year in Edmonton. Local kids setting up more than 400 lemonade stands all over the region with a goal to raise money for the Stollery Children's Hospital Foundation.
Emily Murphy Park is the spot for the third annual Chaturanga 4 Change event in support of a program called Making Strides, an equine-based therapy program that helps people in the inner city. This event features yoga classes, meditation and self-defence techniques and training.
Viva Italia Viva Edmonton, the Italian summer festival on Sunday from noon until 8:30 p.m. in Giovanni Caboto Park.
Two newborn red pandas, shown here with their mother, have made their debut at the Edmonton Valley Zoo. (Peter Evans/CBC)
Red Panda-monium! is a chance to learn more about conservation and about the challenges red pandas face in the wild, on Sunday from noon until 4 p.m. at the Edmonton Valley Zoo.
The Musée Héritage Museum hosting a new exhibit dedicated to Indigenous beaded footwear. In Their Footsteps: A Century of Aboriginal Footwear in the Canadian West features more than 100 pairs of moccasins, leggings, slippers and mukluks, on until October 21 in the St. Albert gallery space.
For more fun features and community events, you can catch Our Edmonton on Saturday at 10 a.m., Sunday at noon and Monday at 11 a.m. on CBC TV.
Michelle Tracy shows off a pair of beaded sneakers that will be part of the showcase of Indigenous footwear. (Adrienne Lamb/CBC)