Memorial held for John McCain at U.S. Capitol, where his body will lie in state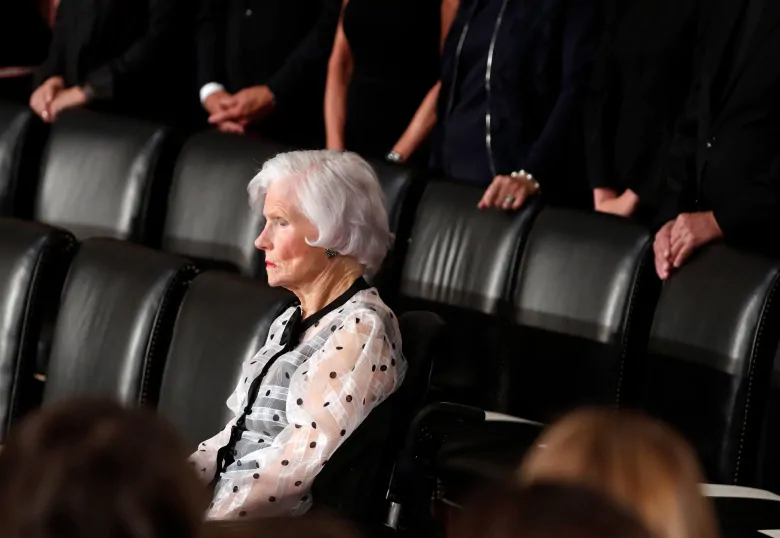 Family, friends, lawmakers and other guests, including some celebrities, are gathered in the rotunda at the U.S. Capitol, where the body of John McCain lies in state, for a memorial service to honour the six-term senator who lived and worked in the nation's capital for over four decades.
Congressional leaders are expected to deliver remarks at the memorial, as well as Vice-President Mike Pence.
McCain's wife, Cindy, and other members of his family watched from the steps of the East Plaza as his casket was carried into the building earlier Friday.
Before heading to their seats, Pence and his wife Karen said a few words to Roberta McCain, the senator's 106-year-old mother.
Senate Majority Leader Mitch McConnell was the first of the prominent speakers, praising McCain as someone who fought "tooth and nail for the common good."
"He had America's fighting spirit, our noble idealism, our solemn patriotism, and our slightly irreverent streak — all rolled into one," said McConnell, a colleague of McCain's for 33 years in the Senate.
Roberta McCain, mother of Sen. John McCain, attends a memorial service at the U.S. Capitol Friday. (Kevin Lamarque/Pool Photo via AP)
On Saturday, McCain's funeral procession will pause by the Vietnam Memorial before heading to the Washington National Cathedral for a formal funeral service. At McCain's request, two former presidents — Democrat Barack Obama and Republican George W. Bush — are expected to give eulogies.
People close to the White House and McCain's family said President Donald Trump, who has mocked McCain for getting captured during the Vietnam War, has been asked to stay away from all events.
McCain's funeral puts him back in the spotlight a few miles from Trump's doorstep, in the city where the senator, who died last Saturday at 81, worked and collected friends and enemies — and some people were both at different times. The procession is expected to continue highlighting what McCain found important, some of which contrasts with Trump's style and priorities.
McCain chose a Russian dissident as a pallbearer after Trump professed repeatedly his affinity and admiration for Russia and its president, Vladimir Putin — praise that came amid special counsel Robert Mueller's probe into Russian meddling in the 2016 presidential election.
The flag-draped casket of Sen. John McCain, R-Ariz., is carried into the rotunda of the U.S. Capitol on Friday. (Morry Gash via Associated Press)
The procession's pause at the Vietnam Veterans Memorial, where his wife is expected to lay a wreath, will highlight McCain's military service and his more than five years as a prisoner of war.
Trump obtained deferments during the Vietnam War for his college education and for bone spurs in his heels. Trump on Friday was expected to leave Washington in the early afternoon to head to North Carolina for an event on retirement security about the same time the public will start filing past McCain's casket.
The McCain farewell began Wednesday and Thursday in Arizona, where he and his wife raised their family. Former vice-president Joe Biden, a Democrat, and others provided a preview of the tributes to come.
Biden advised McCain's friends and family to remember snapshots of him, such as a glance or a touch. "Or when you saw the pure joy the moment he was about to take the stage on the Senate floor and start a fight. God, he loved it."
McCain's flag-draped casket is carried up the steps to lie in state in the rotunda of the U.S. Capitol on Friday. (Alex Brandon/Associated Press)
The service brought to a close two days of mourning for the U.S. senator and 2008 presidential nominee in his home state.
At the end of the nearly 90-minute ceremony Thursday, McCain's casket was wheeled out of the church to My Way, in tribute to a politician known for following his own path.
Defence Secretary James Mattis greeted the McCain family Thursday night when the late senator's casket was flown into Joint Base Andrews, Maryland.