Man with rare testicular cancer seeks special, expensive treatment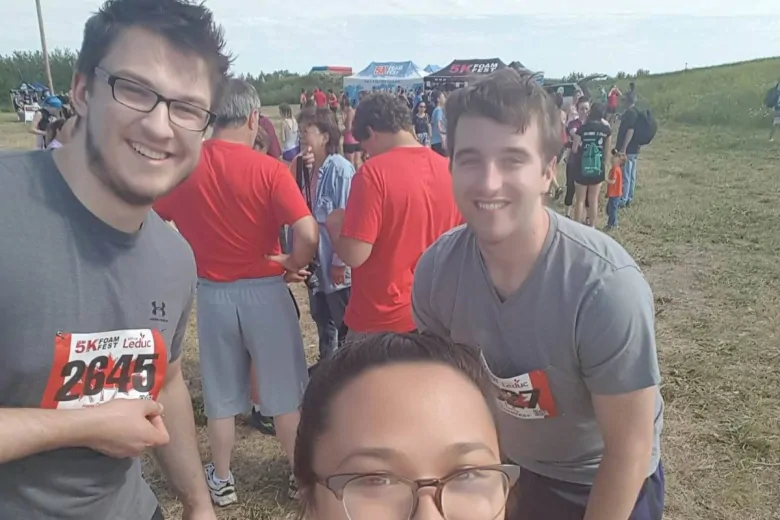 After completing a five-kilometre race last July, Davis Falniuk felt some strange back pain.
Self-described as "not being the most athletic," The 25-year-old Edmonton man figured it was a pinched nerve. But after many appointments with doctors, chiropractors and the like, nothing helped.
A month later, he was rushed to the hospital after coughing up blood. On Aug. 19, he was diagnosed with testicular cancer.
"I don't remember ever being told [that I had cancer]," Falniuk told CBC's Radio Active.
A picture from the now-infamous race, where Davis Falniuk started feeling his symptoms. (Davis and Angela Falniuk 3)
Falniuk's cancer is a germ-cell cancer that is generally curable in most patients. But Falniuk is part of the 0.1 per cent of testicular cancer patients where standard treatments don't work.
After being in and out of the hospital over the past year receiving two rounds of chemotherapy, having an eight-hour surgery and receiving radiation on his brain, the treatments stopped working.
Faced with few options, Falniuk and his wife Angela Falniuk looked at more experimental trials.
"Because of that, we're now very aggressively pursuing this immunotherapy because it seems like the last option that could work for me," he said.
They found one that showed positive results for testicular cancer patients — even one with similar cancer levels and symptoms to Falniuk.
The treatment, though available in Canada, is only covered through treatment of a different type of cancer. This means the Falniuks must cover most of the bill, which will cost more than $75,000.
Davis Falniuk during one of his many stays at the hospital over the past year. (Davis and Angela Falniuk/Supplied)
That's where Oneball stepped in.
Oneball is a Calgary-based charity founded in 2008 that also acts as a support network for young men facing testicular cancer. Testicular cancer is the number one cancer for men aged 15 to 35.
President of Oneball Chris Lloyd is a survivor of testicular cancer himself and said he didn't have much of a support network going through his treatments.
"When you're struggling with questions like, 'Would any woman ever love me? Am I ever going to be able to have kids? Am I going to survive this?' It really pays to have someone who understands your position," Lloyd told CBC's Radio Active.
"Unfortunately, a lot of men suffer in silence because of this feeling with isolation."
Oneball employs a more humorous approach to a serious issue — they have a seven-foot tall testicle as their mascot. The charity will help pay for medical expenses, groceries, rent and will also help fund clinical trials for testicular cancer.
The charity has recently offered support to Falniuk, its first foray into Edmonton. Though they're a small organization, Lloyd said Oneball has plans to expand across Canada.
Davis and Angela Falniuk got married in June. They view the experimental treatments as a last-chance-type of treatment. (Davis and Angela Falniuk/Supplied)
Through the organization, people who donate to Falniuk's GoFundMe page are also eligible for a tax receipt. It's one fewer barrier for people looking to donate to help his cause.
For the Falniuks, the help couldn't come soon enough. Davis is set to start the first wave of the clinical trial next Wednesday — and the GoFundMe page has raised enough for the first set.
"This is very much a big last-chance-type of deal for us," Angela Falniuk said. "We're really hoping that this will work."