Key Trans Mountain decision coming today from Federal Court of Appeal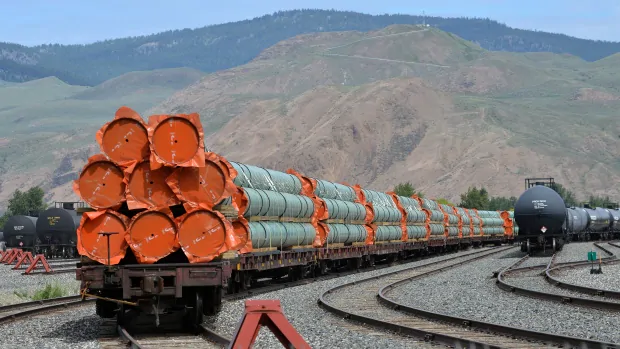 The long-delayed Trans Mountain expansion pipeline faces a crucial decision from the Federal Court of Appeal today as Indigenous groups battle to block further construction, saying they weren't adequately consulted by the government before the project was given the green light.
A panel of judges on the appellate court will decide whether the National Energy Board adequately fulfilled the government's legal obligation to consult with Indigenous people before giving regulatory approvals to build the new $7.4-billion line.
The court could overturn the NEB's approval for the project, which would throw a new set of legal hurdles in its way.
The decision will be handed down at 10:30 a.m. ET.
First Nations, including the Tsleil-Waututh and Squamish on B.C.'s South Coast, have said the NEB didn't do enough and the environmental assessments were botched.
(The Supreme Court ruled previously that Ottawa has a duty to consult with Indigenous People when there is a claim that an Indigenous or treaty right would be breached by energy development.)
Lawyers for the government have said Ottawa conducted extensive consultation, including the addition of an extra layer of consultation beyond the NEB after the Liberal government was elected in 2015. If the government wins Thursday, the project would move forward.
Either way, the case is expected to be referred to the Supreme Court of Canada for a final say.
The project would carry crude 1,150 kilometres from a terminal near Edmonton to Burnaby, B.C. where it would then be exported to Asia.
In the face of uncertainty, Kinder Morgan, the project's proponent, has agreed to sell the entire Trans Mountain line and the proposed expansion to the government.
Coincidentally, Kinder Morgan's shareholders will also hold a vote Thursday on whether they approve of the sale. The Liberal government has offered $4.5 billion.
Kinder Morgan has already won several court victories, including one last week when the Supreme Court of Canada dismissed an application from the City of Burnaby to overturn a lower court decision.