'He's not like everybody else:' 8-year-old powwow dancer with spina bifida inspires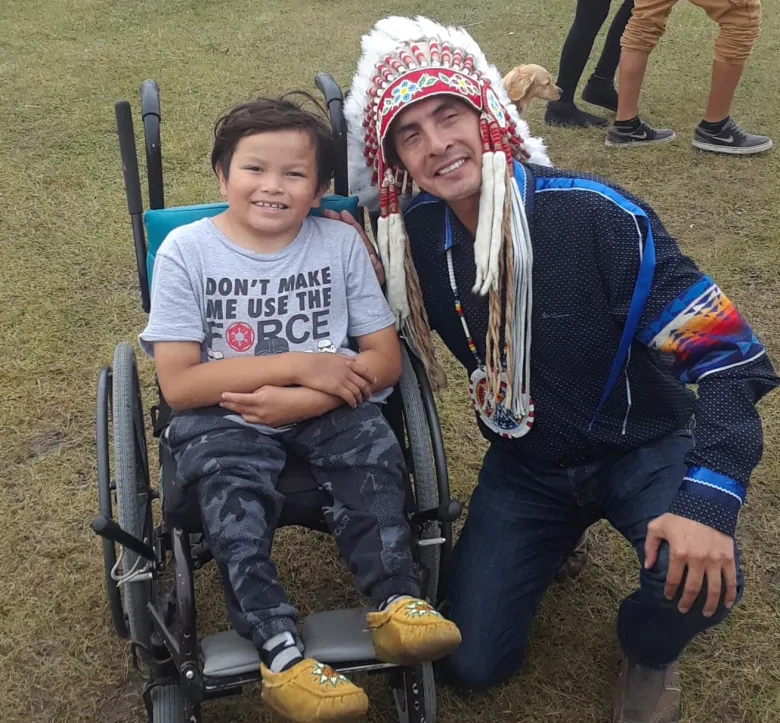 Despite not being able to walk, eight-year-old Liam Bunn-Bird shows no signs of slowing down on the powwow trail.
"People are encouraged and inspired by the strength he shows in dancing," said Justin Bird.
"You can't help but be proud. He's always been that kind of kid to not let anything hold him back. His will is strong. He really likes to push the boundaries and do what needs to be done."
Liam was born with spina bifida and sacral agenesis. The two spinal disorders have left the boy unable to walk, but that hasn't stopped him from dancing.
"He's not like everybody else, where he gets to walk and dance," said Bird.
"He's out there using his arms only. He has so much upper body strength, it's crazy that he's able to dance all day like that."
Liam has grown up on the Black River First Nation about 150 km northeast of Winnipeg, and lives with his dad and his dad's wife, Christy Fontaine.
Three years ago, they made the 40-minute drive to neighbouring Sagkeeng First Nation for a powwow.
Liam instantly fell in love with the dancing.
At first, Bird was hesitant to let his son dance on the grounds, worried about so many people dancing around him.
"We were able to send him out there with my wife's mother and her grandmother," said Bird. "They went out there and watched over him."
On the second day of that powwow, Fontaine's cousin offered to give Liam a traditional powwow regalia.
Since then, he's made friends along the powwow trail and has improved on his dancing skills.
"He's gotten pretty good," said his dad.
Community support
Bird and Fontaine both have children from previous relationships. Altogether, there are six children living in the household, with one on the way.
This summer, the family were able to travel to three powwows with the help of people in their community.
"Everything that he wears has been gifted to him by other dancers," said Bird.
The first two powwows were Sagkeeng and Brokenhead. They also knew there was a big powwow in Ebb and Flow First Nation.
Bird said one of their friends from Black River who has family in Ebb and Flow helped them out with a blanket dance. A blanket dance is an old practice that is used to help support families who need assistance. It usually happens with a song, and a friend who will walk around the powwow arbour with a blanket collecting monetary donations.
"We got a lot of help from our community this year, to go out on his powwow outings," said Bird.
They crossed paths with Assembly of Manitoba Chiefs Grand Chief Arlen Dumas twice.
Liam Bunn-Bird takes a photo with AMC Grand Chief, Arlen Dumas. (Justin Bird)
"He remembered seeing Liam in Sagkeeng and couldn't help but talk about him in Ebb and Flow, too," said Bird.
At the end of the day, he said it makes him happy to know that his son is touching the hearts of people along the powwow trail.
MORE FROM CBC INDIGENOUS: