Frustration over involuntary celibacy led to killing, former security guard claims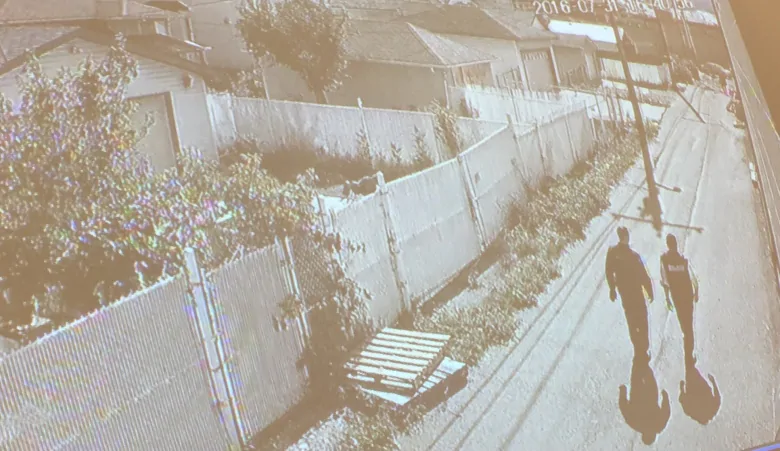 A former private security guard told an Edmonton judge Wednesday that years of involuntary celibacy left him so frustrated he stomped a man to death two summers ago.
Sheldon Bentley, 38, was sentenced to four years in prison for the manslaughter and robbery of a homeless, intoxicated man.
Bentley was employed as a security guard at the Lucky 97 grocery store in central Edmonton on July 31, 2016, when he his partner encountered a man sleeping in an alcove off the alley behind the store, 107th Avenue and 97th Street. Bentley stomped on Donald Doucette, 51, who died within minutes from massive internal bleeding.
The Crown asked Court of Queen's Bench Justice Paul Belzil to impose an eight-year sentence.
"This was a completely unprovoked attack," Crown prosecutor Kristen Logan said. "Mr. Doucette could not have been more vulnerable. He was simply taking a snooze. Mr. Doucette was literally and figuratively kicked when he was down."
Private security guards Sheldon Bentley and his partner were captured on surveillance video in the alley behind the Lucky 97 store on July 31, 2016. (Court exhibit )
Before he was sentenced, Bentley stood in the prisoner's box and asked for a glass of water. After a long swallow, he turned toward Doucette's family and friends and asked for forgiveness.
"Your father did not deserve to die that day," Bentley said. "My actions on that day were nothing short of reprehensible. I'm sorry for what I've taken from you. I can understand if you all can never truly forgive me. I understand you all despise me."
Still standing, hands clasped behind his back, Bentley, 38, confessed he didn't like the person he had become.
"I'd like you to know that at the start of my security career, I was not like this," he said. "The years of dealing with the sorts of things that I had to deal with in my course of work, unfortunately, simply took its toll. In addition to my personal issues."
Those "personal issues'" were described in more detail in reports prepared for the court by a forensic psychiatrist and a probation officer.
Bentley often spoke of his frustrations that he could not attract a woman, despite efforts in person and online, probation officer Ashley Mikasko wrote.
"During the time of the offence, the subject spoke to how he had built up stress from not having any sexual relations."
The probation officer said Bentley told her the only romantic relationship lasted for five months, when he was 27.
"He indicated it was the happiest time of his life, as he had his first sexual experience and felt loved," Mikasko wrote.
Bentley blamed his mother for the end of that relationship.
Wanted to be like Captain America
He told the court his role model was Captain America.
"I would like you to know I'm truly not a bad person," he said. "I've tried to live a life of goodness."
But according to the report, Bentley told his probation officer the security job had taken its toll, "because he had to deal with homeless, heavily intoxicated individuals" who were often "verbally and physically aggressive and would call him Pee-Wee every day, a nickname he despised."
Bentley also told the probation officer he had a low opinion of people with addictions.
Tianna Doucette-Moody declined comment outside court, after her father's killer was sentenced. (Anna McMillan/CBC)
"A decent person does not engage in rampant, moral depravity such as drug and alcohol use," he told the officer, according to the report.
After meeting with Bentley, forensic psychiatrist Dr. Oto Cadsky wrote that he could understand why the man had difficulties with relationships.
"He appears to be a rather fearful man, afraid of the world around him," Cadsky said in his assessment. "His personality, and his obsessional need for precision and correctness, have almost certainly impeded him in the area of work and relationships."
Defence lawyer Amanda Hart-Dowhun told court her client was a member of the working poor who could only afford to live at the YMCA shelter, and was unable to escape his stressful working environment because he could never afford a vacation, or even dental work.
"Obviously that's no excuse for his behaviour on that day," Hart-Dowhun said.
'I am no treat to the public'
She asked the judge to impose a 28-month sentence, the equivalent of the amount of time Bentley had already served in pretrial custody.
Bentley asked the judge to give him freedom, saying he was potentially interested in joining the military.
"I would like this court to understand," Bentley said, "I am no threat to the public."
Justice Belzil imposed a four-year sentence.
"Bentley told cops he was frustrated with his lot in life," Belzil said. "He couldn't get a girlfriend. The fact he had a frustrated state of mind in no way justified attacking a defenceless individual."
Tianna Doucette-Moody, the victim's daughter, read her victim impact statement in court.
"My father was an innocent man who didn't deserve to die alone in an alley," she said. "No one deserves to be treated so inhumanely.
After the judge left the courtroom, Bentley's distraught mother told reporters she is worried her son will kill himself behind bars, or that someone else will kill him.