European measles cases skyrocket over 2 years, at least 37 dead in 2018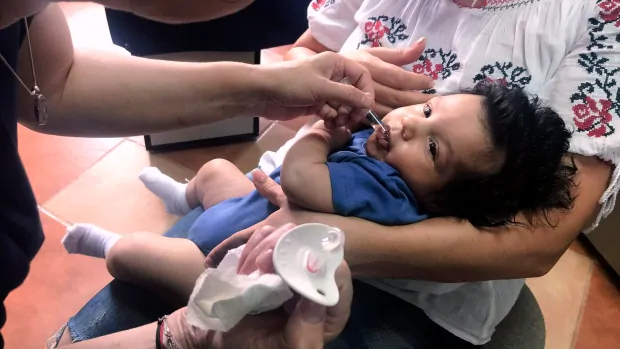 The number of measles cases in Europe jumped sharply during the first six months of 2018 and at least 37 people have died, says the World Health Organization.
The UN agency's European office said Monday more than 41,000 measles cases were reported in the region during the first half of the year — more than in all 12-month periods so far this decade.
The previous highest annual total was 23,927 cases in 2017. A year earlier, only 5,273 cases were reported.
The agency said half — some 23,000 cases — this year occurred in Ukraine, where an insurgency backed by Russia has been fighting the government for four years in the east in a conflict that has killed over 10,000 people.
France, Georgia, Greece, Italy, Russia and Serbia also had more than 1,000 measles infections each this year.
Measles, among the world's most contagious diseases, is a virus spread in the air through coughing or sneezing. It can be prevented with a vaccine that's been in use since the 1960s, but health officials say vaccination rates of at least 95 percent are needed to prevent epidemics.
Vaccine skepticism remains high in many parts of Europe after past immunization problems.
Measles typically begins with a high fever and also causes a rash on the face and neck. While most people who get it recover, measles is one of the leading causes of death among young children, according to the WHO.
Italy has introduced a new law requiring parents to vaccinate their children against measles and nine other childhood diseases. Romania also passed a similar bill, including hefty fines for parents who didn't vaccinate their children.
The UN agency on Monday called for better surveillance of the disease and increased immunization rates to prevent measles from becoming endemic.