Edmonton park rangers to undergo training to handle migratory birds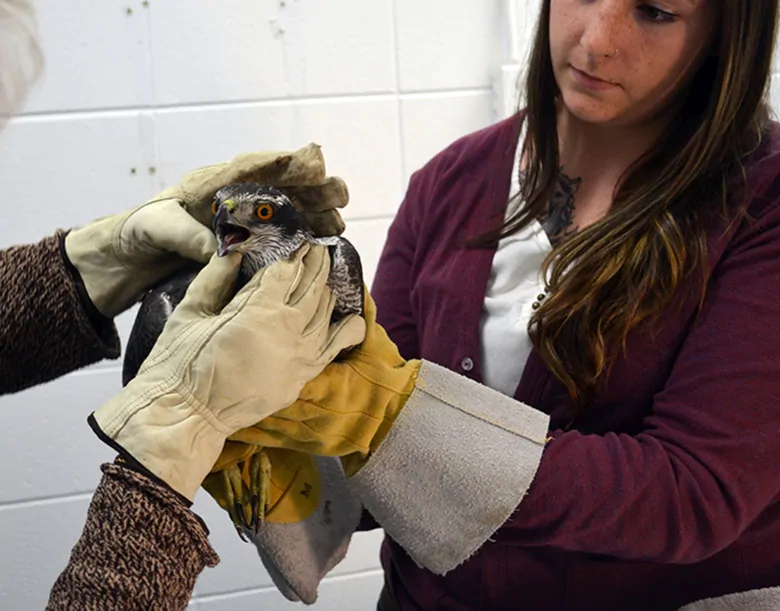 City of Edmonton park rangers can receive several requests a week to help migratory birds in distress, but their training limits how they respond to those calls. Now, the city is working with animal rescue group WildNorth to change that.
WildNorth rescue manager Dale Gienow said the partnership will help park rangers get the training they need to handle migratory birds, like ducks and Canada geese.
"Migratory birds — the ones that are coming and going seasonally — are protected federally, so the Canadian Wildlife Service monitors who's allowed to deal with these birds, and you need special permits," Gienow told CBC Edmonton's Radio Active.
A group of about 10 city park rangers and animal control officers need to be added to WildNorth's permit, he said. The group will undergo required training about humane capture and restraint of migratory birds in late September so that can happen.
WildNorth rescues orphaned and injured birds. (WILDNorth/Supplied)
Kara Abel, a park ranger who has done the training, said it will grow the city's capacity to respond to reports about urban wildlife, as more officers will be allowed to help the animals, instead of having to call WildNorth.
"That will decrease our response times. That will give a higher chance of survival for migratory birds," Abel said — something that's more important than ever, as the city and WildNorth are seeing an increase in calls to help wildlife.
Last year, WildNorth's calls increased by about 20 per cent compared to the previous year, Gienow said. More than 3,000 animals are admitted to the rescue centre a year, and about 80 per cent of them are birds.
"We're just reaching the point where we're outgrowing our resources. And so help with the park rangers will definitely be a huge assistance to the public here in Edmonton and the animals we share our space with," he said.
Dale Gienow out for a winter rescue for WildNorth. (WILDNorth/Supplied)
Gienow said he thinks reports of injured and orphaned animals are on the rise due to a growing awareness of urban wildlife.
"People realize that there is some framework there where there are people around to help," he said.
"And I think just social awareness. I think people just are becoming more interested in the other wild neighbours that they can find here in the city."
WildNorth is hosting a masquerade fundraiser on the Edmonton Riverboat on Friday. All proceeds will support the rescue organization's work.
Listen to Radio Active with host Adrienne Pan, weekday afternoons on CBC Radio One, 93.9 FM/740 AM in Edmonton. Follow the show on Twitter: @CBCRadioActive.