Comic-Con 2018: Bill Morrison Tells Us of His Yellow Submarine Graphic Novel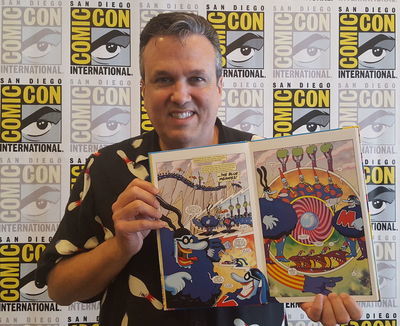 The Beatles animated film "Yellow Submarine" turned 50 this past July. But for those who were born too late to truly appreciate the Summer of Love and the Beatles psychedelic phase, you can still celebrate: this week, Bill Morrison's graphic novel of the movie comes out (Titan Comics) complete with a new poster. You can also watch a cleaned-up restored version of the movie on Amazon Prime Video.
Roger Ebert considered "Yellow Submarine" in one of his Great Movies essays, reminding readers that the movie out the same year as "2001: A Space Odyssey." Like some say about Kubrick's film, "Yellow Submarine" was considered a "head movie"—it might look better when you're stoned. Ebert wrote that it was a "time capsule from the flower power era" and he approved of the 1999 restoration, writing "the digital stereo is like somebody turning the lights on." "Yellow Submarine" was later restored for a limited 2012 release and again in 5.1 surround sound for its 50th anniversary.
Morrison is well-known in the comic-book world. He worked with Matt Groening as one of the co-founders of Bongo Comics and served as creative director (1993-2012). He was an illustrator for "The Simpsons" and a director of "Futurama." More recently, he became the editor of MAD Magazine as of this year.
Morrison, during an interview at SDCC, said he was born into a Beatle-loving family. He was about five, when his father took him, his two older sisters and brother to a drive-in to see "A Hard Day's Night" (1964). He remembers watching the Beatles on the "Ed Sullivan Show" and watching "Help!".
Of course, when "Yellow Submarine" came out, his family went to see it. It was "eye-popping" and he loved the character designs, but he also feels it has "a great story that still resonates today," one of "good conquering evil" and a place where "love conquers hate and restores a land." People are not killed off, but music changes them and brings the Meanies "into the fold."
The movie begins in the music-loving Pepperland where the Yellow Submarine rests on a pyramid. The music-hating Blue Meanies from the blue mountains at the edge of Pepperland attack. The Lord Mayor of Pepperland (voiced by Dick Emery) sends Old Fred (Lance Percival) to pilot the Yellow Submarine to get help. First finding Ringo (Paul Angelis), Old Fred then collects the other three lads, Paul (Geoffrey Hughes), John (John Clive) and George (Peter Batten and Paul Angelis) and "All Together Now" they learn how to navigate the submarine and journey through the Sea of Time, the Sea of Science, the Sea of Monsters, the Sea of Nothing, the Foothills of the Headlands, the Sea of Holes and the Sea of Green. The Blue Meanies are transformed by music.
Morrison's favorite of the 11 songs is "Hey, Bulldog" because of the rhythmic keyboard sound. As a teenager, Morrison followed Paul McCartney and the Wings, along with John Lennon, George Harrison and Ringo Starr's solo careers. Having taken drumming for six years, he really appreciates Ringo as a "brilliant drummer" and hears songs differently now. But his favorite Beatle was Harrison. "I love his music," Morrison told me. "l love his personality. He was the quiet, spiritual one. He would wait for his moment and then say something great."
Morrison hopes that old and new fans of the Beatles will appreciate his graphic novel as "a companion to the film." As a fan himself, he knew he had to bring something that wasn't in the movie: a psychedelic poster, true to the spirit of this flower power time capsule. It all looks pretty groovy.
To buy Morrison's "Yellow Submarine" graphic novel, click here