Bachelor in Paradise Season 5, Episode 5 Recap: So Many Love Triangles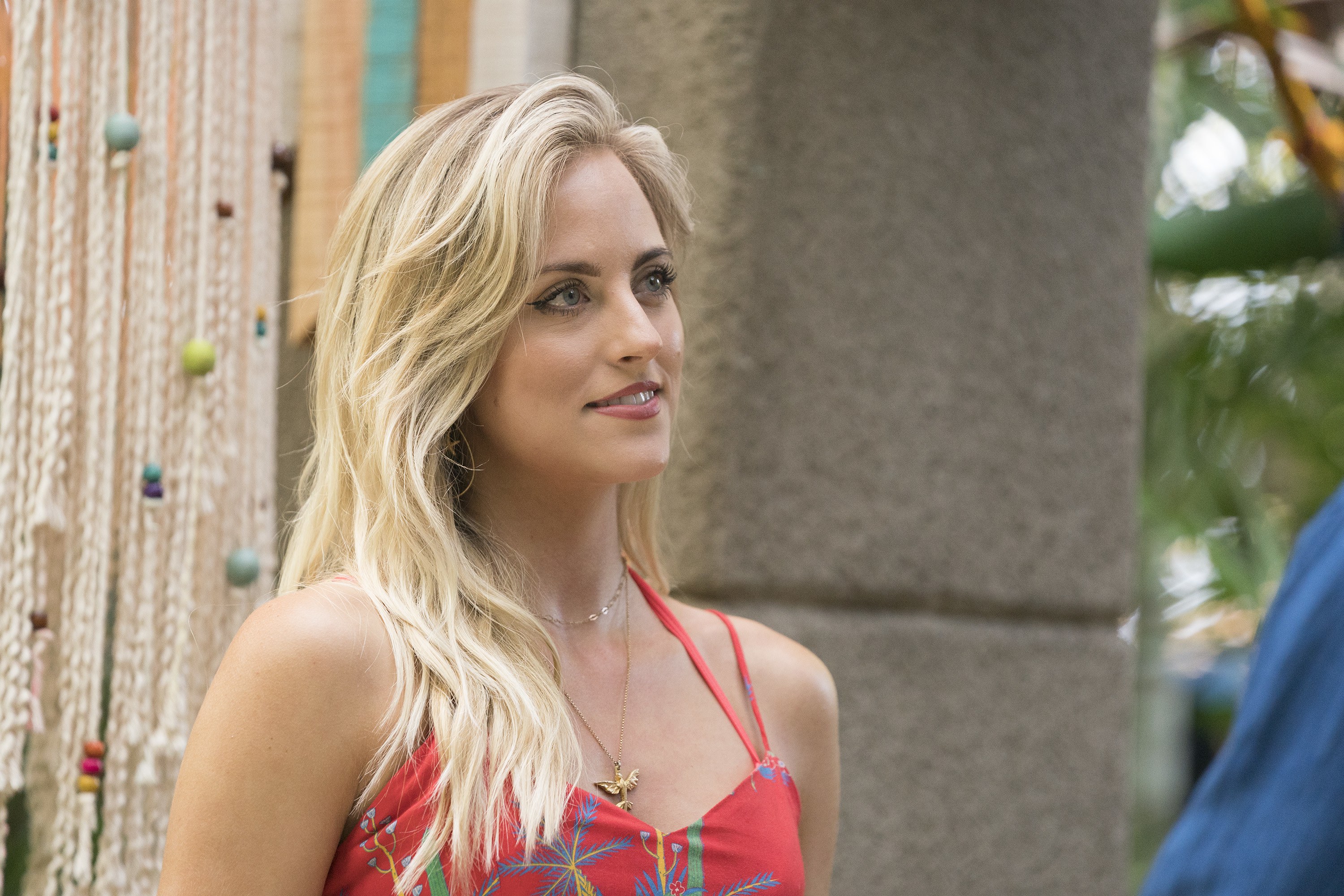 Caution: Spoilers for Bachelor in Paradise ahead.
The episode begins with Krystal giving the villa a much-need sage cleansing. And you know what? I think it actually worked because this episode had everything I want from BiP: very little Chris screen time, and the arrival of my favorite French-Canadian snack Benoit. (Remember him from Bachelor: Winter Games?)
But I'm getting ahead of myself: Let's back up to the morning after last episode's rose ceremony. Brownie the dog has been saved from the ocean, and the women all feel sympathy for Jenna, who must put up with Jordan for another week. Jenna agrees, apparently: "I would rather date anyone else on this beach [than Jordan]."
Even though she's clearly over him, Jordan thinks they'll get over this speed bump which involved, never forget, him throwing a giant stuffed dog into the ocean like a child.
This seems like a good moment for Leo to enter and stir shit up. Kendall and Jenna are attracted to him, but Chelsea literally has an intense physical reaction. She's actually sweating she's so nervous to be around him. However, Leo asks Kendall on the date and she says yes.
Joe, who confessed earlier he "might" be falling in love with Kendall, is bummed. He tries to give her a Grocery Goodbye, but it gets awkward:
Everyone feels bad for Joe.
As for Leo and Kendall, their date involves a photography session with former BiP bartender Jorge. He says he's written a romance novel and wants them to pose for the cover. Sound good…until Jorge gives a rundown of the plot. Arie Luyendyk Jr., Lauren Burnham, Ben Higgins, and Amanda Stanton are all brought in to play characters in Jorge's book, and it is a hot, hot mess.
Thankfully, we don't spend too much time with Arie and move on to Leo and Kendall making out in the pool instead. Meanwhile, back in Paradise, Joe's all like, "Whaddaya gonna do?!" to Wells about his situation with Kendall.
When she returns from her date, she talks to Joe one-on-one, and it derails quickly. He straight-up asks if she kissed Leo, but when she answers honestly and says yes, he accuses her of "kissing all the guys." She calls him out on that, and Joe admits he's upset because there's nobody else for him here. She tells Joe she still likes him…but she likes Leo too. Oh, and now she's questioning whether her relationship with Joe could really last.
But maybe Kendall should pause on Leo, because even though he's "in like" with her, that doesn't stop him from making out with Chelsea hours after their date.
The next day, a date card comes for…Colton. UGH. We really need another date with Tia and Colton? Really? They've been together-ish for like a day, but Tia's already sure Colton will ask her to be his girlfriend on the date.
Once Tia and Colton are on their date, it becomes clear why they were picked: Raven and Adam, who met on Bachelor in Paradise and are still dating, are here to give some advice. Raven and Tia are close friends, as evidenced by the fact that Raven wastes no time telling Tia she doesn't trust Colton. To this, Tia says, "But I'm really good at reading people." Raven, however, isn't buying it. Tia, of course, seems unswayed.
"If this ends badly, I'll cut his penis off so he can't ever lose that virginity." – Raven
After Raven and Adam leave, Tia tells Colton about her friend's concerns. They talk for a bit, Tia cries, and eventually they decide they're boyfriend and girlfriend. Tia's already saying, "I could see us getting engaged at the end of this." Tia, girl, just enjoy the moment!
Speaking of enjoying a moment, my love Benoit has entered Paradise. Jenna gets it:
He asks Jenna out on a date, and she shows up in a très chic red lip and black jumpsuit for the occasion. The night goes well—for them, not Jordan—and the two spend most of the date making out. So much so that Benoit gets that red lipstick all over his face.
When they return, Jordan asks Jenna for a moment alone. He takes her to the beach, where he wrote "I'm sorry" in the sand. "What's a guy gotta do, you know?" he asks. Um, more than this? Jenna tells Jordan that she has a good connection with Benoit, so she's not sure what will happen. In an unprecedented display of maturity, Jordan tells Jenna he thinks she's special, so he's OK losing the battle if he can win the war. It's kind of sweet, for Jordan.
See you next week for the following: "He's about to get a foot up his ass if he doesn't watch out." "Leo's on a warpath." "The drama!" "Good luck with Grocery Store Bitch."