Aretha Franklin: 1942-2018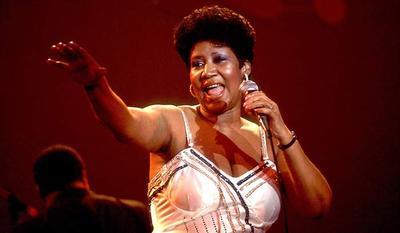 Let's call this piece exactly what it is. It's a tribute to Aretha Louise Franklin, the Detroit native who was many things in this lifetime: church soloist, Natural Woman, untouchable soul singer, incredible pianist, Diva, Legend, Queen. Her lyrics told you to think, but her voice taught you to feel. She was a fountain of useful knowledge, too: She could tell you who was zoomin' who, where Dr. Feelgood's office was and the exact speed limit on the Freeway of Love. She also knew that the only path to immortality was through her art, so she infused every one of her performances with an otherworldly staying power. Alas, while the performance lasts forever, the performer does not. On August 16, 2018, the Queen of Soul put down her scepter, tossed off her fur coat and exited the stage for the last time. She was 76.
Franklin leaves us with a career of memorable hits that one can immediately associate with certain events in one's life. Perhaps she gave you the boost of self-esteem you needed when you played one of her songs. Maybe she consoled your broken heart as you nursed the dissolution of a romance. Quite possibly, she warned you about that trifling man you were with, scolding you for putting up with him but also telling you she understood why you were still there. Whatever the occasion, she gave you what you needed on your soundtrack of life.
And you always knew it was her whenever you heard that voice. There are a lot of singers out there who used their amazing church-grown abilities in service to the "devil's music," but nobody brought it like Aretha Franklin did. She was more than just a singer, she was also a brilliant interpreter, knowing which words to stress for maximum emotional effect, sometimes bending a word into a ridiculous amount of syllables, each one sending chills up the listener's spine. A performer's memorability and longevity can be measured by whether they're referred to by one name only, like Cher, Madonna or Pavarotti. Aretha Franklin was so good, fans reduced her name to one syllable.
That one syllable, "Re" was also the first part of her signature song. In 1967, Re covered Otis Redding's "Respect," a paean to what he wanted from the woman he was seeing and supporting. Such a song was not uncommon, especially with the societal roles for men and women back then. In fact, Redding's song was rather ordinary and familiar when sung by a man. A completely different story could be heard when it came from Aretha Franklin. She didn't bother to change Redding's lyrics, which put her—and women in general—in a position of power that was bold and enlightening. Plus she added that famous spelling bee of a retort that wrestled the song from Redding's authorial hands forever: "R-E-S-P-E-C-T! Find out what it means to me … " It was highway robbery of the finest feminist order, and Redding later joked about the theft. He learned what many others would also learn: When Aretha Franklin stole a song from you, you let her keep it.
In a career that spanned six decades, Re sang songs from just about everybody from Al Jolson to Carole King to Luther Vandross to Lauryn Hill. She even sang Puccini, subbing for Luciano Pavarotti at the Grammys and singing "Nessun Dorma" in English and Italian. In a few glorious moments, she went from soul diva to literal Diva, blowing away everyone but the most picky of opera lovers. Pavarotti himself told those folks to shut up. Because when Aretha Franklin steals a song …
Re also wrote her own material, including the memorably bluesy "Dr. Feelgood," whose opening line, "I don't want nobody always sittin' around me and my man" takes 18 delicious seconds for her to render. She frequently played piano—an instrument she taught herself to play by ear—on her recordings. I've always thought her piano playing didn't get enough credit; to me, it's almost as brilliant as her voice and just as expressive. Listen to it on the aforementioned "Dr. Feelgood" or whenever she plays "Natural Woman" live. There's real power in her chords on the Keith Richards-produced cover of "Jumpin' Jack Flash," and as a bonus, she stretches the song's last word like salt water taffy before yelping "Hallelujah!" as a closer.
Speaking of live versions of "Natural Woman," Re's 2015 performance for Carole King's Kennedy Center Honors is the perfect summation of everything that made Aretha Franklin unforgettable. Armed with a fur coat and a purse she held onto in a way that evoked your favorite aunty, Re played piano, sang the hell out of the song and exuded enough attitude to power a hundred episodes of "VH1 Divas Live" and "RuPaul's Drag Race." At the height of her performance, Re tossed off that fur coat like a reckless royal, eliciting the desired crazed response from the audience. Carole King almost fell off the balcony from the vibes Re was sending her!
Since this is a movie site, I'd be remiss if I didn't mention "The Blues Brothers," where Re sings "Think" while vocally assisted by her sister Carolyn and flanked by two White guys "who look like Hasidic Jews." "The Blues Brothers" was the first R-rated movie I ever snuck into, and the usher caught me and my cousins just before this number. Thankfully, a teenager I'd never seen before told the usher we were with him and we were allowed to stay. I'm so happy I got to see Re steal the movie as a grease-stained cook who put a different spin on the same profanity every time she uttered it. Even when she wasn't singing, her way with words was still impeccable. As an encore, Re did an amazing version of "Respect" in the craptastic sequel "Blues Brothers 2000."
Like many singers who started out in the church, Re occasionally went back to her roots to make a joyful noise onto the Lord. Her Amazing Grace album is an astonishing work of gospel music that sold two million copies and featured "Wholy Holy," a song by her fellow church shouter Marvin Gaye. This album was the first thing I went to when I heard the news—you can take the boy out of Baptist church but you can't take the Baptist Church out of the boy—if only because on it she sings the only tolerable version of a song I've hated ever since I first got baptized, the funeral staple "Precious Lord, Take My Hand." I listened to it and I wept like I was mourning one of my own family members. Which in a way, I was.
I listened to Thomas Dorsey's classic hymn. And then I played that duet Aretha did with George Michael ("I Knew You Were Waiting For Me") like nine times in a row. And I felt better. Better and joyous. That's how you feel when Aretha Franklin is in your ears and in your heart.
RIP, Queen of Soul.