73-year-old Sherwood Park man completes 100th marathon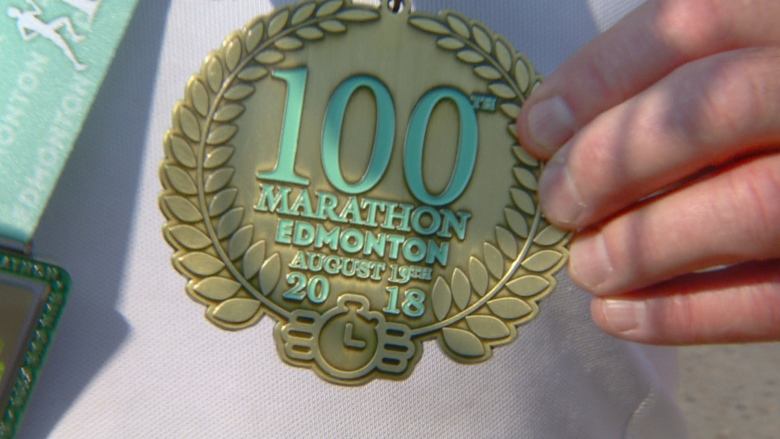 A 73-year-old Sherwood Park man finished his 100th marathon in downtown Edmonton on Sunday.
Ken Davison crossed the Edmonton Marathon finish line at noon, about five hours after starting the 42-kilometre race.
"It felt great," he said. "There were so many people out there cheering me on and taking my photo with them. It was just unbelievable, the atmosphere."
Davison started running about 35 years ago and said he didn't set out to complete 100 marathons. But by the time he finished 80 of them, he figured tackling 20 more was doable.
"I just wanted to run so many a year because I really enjoy them," he said. "Once I got up a little bit higher, then the goal was 100."
Davison ran his 100th marathon in honour of his old training buddies that have passed away. Sunday's race, however, made for an opportunity to meet new people.
"I just really do it for the friendship, the people, the camaraderie," he said.
Davison was awarded a custom medal for his accomplishment. (Nathan Gross/CBC)
The avid runner was awarded a custom medal, along with a proclamation from Premier Rachel Notley. Davison said he plans on framing the proclamation — a nice addition to his collection of hundreds of medals.
Davison said he won't be stopping any time soon, but might take on fewer races in future years. He expects his marathon count will hit 103 by next summer in Edmonton.
Female champ wins second-ever marathon
The female champion of Sunday's marathon had only run one marathon previously.
Leanne Klassen completed her first marathon last year in Edmonton, finishing in about 3 hours and 18 minutes.
This year, the 31-year-old Calgarian was 18 minutes faster — cutting down enough time to take the win.
Leanne Klassen was the first woman to cross the finish line on Sunday. (Nathan Gross/CBC)
Klassen said taking the top title for women was surreal.
"It feels pretty awesome," she said. "And to think last year was my first marathon at the same [race], and then to come back and win it this year, it's pretty cool."
She said she was worried smoke from B.C. wildfires would make for a difficult race. But the haze that plagued the city for days beforehand cleared by Sunday, making for blue skies and ideal racing conditions.
"I was surprised with the air quality because I came from Calgary yesterday and [the air index] was a 10 plus," she said.
Lucas McAneney won the marathon. (Nathan Gross/CBC)
Lucas McAneney, who was born in Edmonton but currently lives in Burlington, Ont., was the overall winner of the marathon. He finished in two hours and 26 minutes.
McAneney previously won the marathon in 2013 and was shooting for the course record of two hours and 23 minutes, but was happy with his race.
"I paid for the aggressive start and wanting to run the course record," he said. "And the last 7 kilometres were all just a mental battle for me."
McAneney said he hopes to improve his time at his next marathon in October.