Woman charged after 8 distressed dogs rescued from Alberta hotel room has history of animal cruelty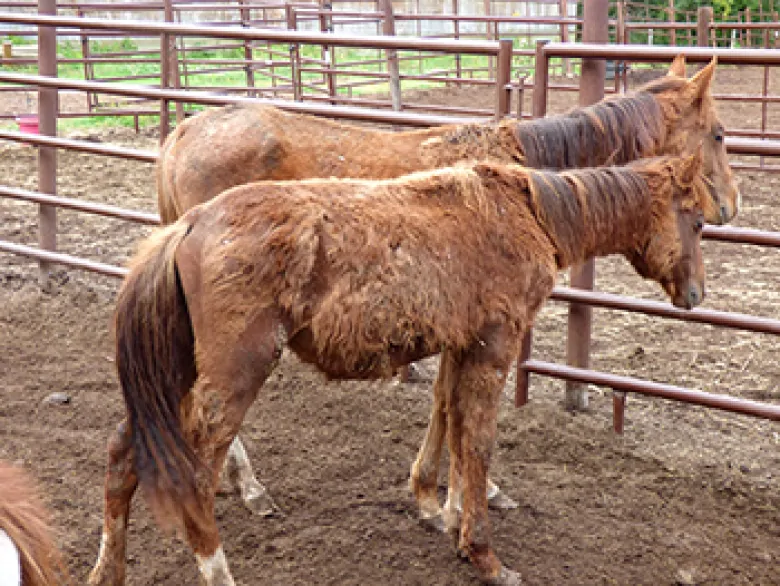 Police say a woman who was arrested in Innisfail, Alta., after keeping eight distressed dogs in a hotel room is former British Columbia resident Karin Adams, who was found guilty of animal cruelty in that province four years ago and banned from owning animals.
RCMP were investigating reports of a suspicious woman Tuesday morning when they found the woman at a hotel in the town 30 kilometres southwest of Red Deer.
Police confirmed Thursday the woman in custody is Adams, 46, of no fixed address. She now faces numerous charges that include impersonating a peace officer, trespassing, mischief and harbouring dogs, driving without a licence and failing to have dog licenses.
Police were acting on reports that a woman had posed as a law enforcement officer and tried to take a dog from its owner after asking questions.
Investigators want anyone approached by a woman asking questions about dogs, or have had their dog recently stolen in the area, to call RCMP at 403-227-3342 or contact Crime Stoppers.
The dogs were taken to Klassic Kennels north of Red Deer to be cared for.
Adams was released by a justice of the peace on multiple conditions, like a prohibition from owning, having the custody or control of or residing in the same premise of any animal.
Convicted in 2014
She plead guilty in 2014 on similar charges, along with her daughter Catherine Adams, and was banned in British Columbia from owning animals for 20 years after officials seized 18 horses, 18 dogs, 15 birds, two cats and 104 fish from a property near Houston, B.C. The animals were malnourished and kept in unsanitary, overcrowded conditions.
The mother-daughter duo, who at one time lived in Houston, B.C., pleaded guilty to animal cruelty in 2014 after 18 horses, 18 dogs, 15 birds, two cats and 104 fish were seized from their property suffering from severe neglect. (BC SPCA)
The two were ordered to pay nearly $5,500 in restitution to the B.C. SPCA to cover care costs, and to stay in regular contact with the B.C. ministry of justice.
In that case, Karin was sentenced to 15 days in jail and two years probation, while Catherine was given six months conditional house arrest and three years' probation.
Earlier this year, Catherine was again convicted on animal cruelty charges, this time in Alberta. Nine malnourished horses, 25 dogs and 17 birds were seized from the Adams's property in Hanna, northeast of Calgary, in 2015. Charges against Catherine's mother were dismissed.
On July 4, SPCA officers in B.C. again seized 16 dogs in distress that the two women were keeping on a property in Quesnel, according to a release.
The dogs were being kept in crates too small for their size in a poorly ventilated area, with little or no access to water and with feces and urine-soaked matting, the SPCA said.
"It is extremely frustrating when we deal with repeat offenders, particularly those who breach the terms of their sentencing," said Marcie Moriarty, chief prevention and enforcement officer for the B.C. SPCA.
"However, we are pleased that these dogs are now safe and are getting the attention and care they need."
The SPCA says it will recommend new charges of animal cruelty.
Court date set in Red Deer
Karin Adams is set to appear in Red Deer provincial court on July 31 at 8:30 a.m. to face the latest charges. It has been determined that Adams legally owned seven of the eight dogs, police say.
RCMP said in a release that anyone looking to rehome a pet should conduct a thorough background check before giving anyone their animal.