With room to roam and looser liquor laws, Taste of Edmonton's new site gets thumbs up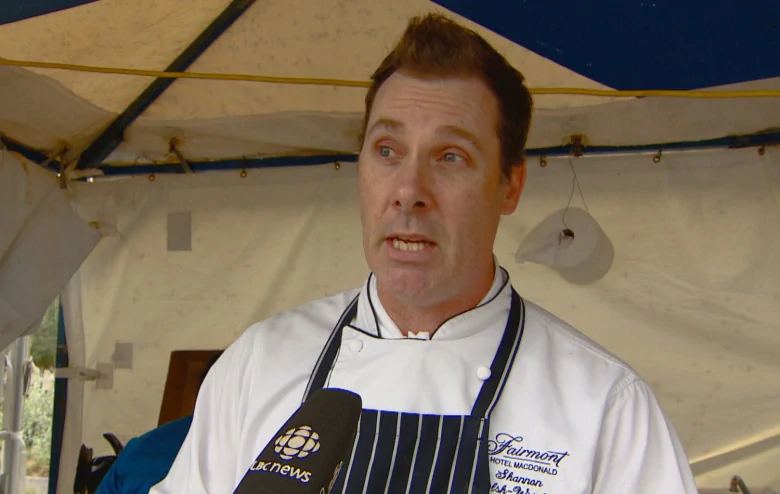 Edmonton's popular food festival, the Taste of Edmonton, is on solid footing in a new location on the Alberta Legislature grounds, vendors and guests said Wednesday.
The event moved to Capital Plaza at 108th Street and 99th Avenue, several blocks from its usual spot at Churchill Square. The move was necessary to make way for construction crews who are working on the Valley Line LRT around City Hall.
During the soft opening Wednesday of the 12-day festival, several people told CBC News they prefer the new site.
Shannon Wrightson, sous chef at the Fairmont Hotel Macdonald, said there's more space for his staff to work and more space for guests. Furniture, fountains and plaza all add to the comfort and atmosphere, he said.
Shannon Wrightson, the Fairmont Hotel MacDonald's sous chef, said there's more room and more furniture at the legislature location. (CBC)
"There's a lot more space to lounge, I think, and people can appreciate it," he said "More comfortable with the chairs and better experience all around."
By noon Wednesday, the plaza was packed with people, including Karen Fitzpatrick who is a regular patron at the event.
"I think it's way better than Churchill," she said. "There's more room, there's more aisle space. You're not all squished in to those little spaces and everybody trying to find a place to sit down."
The festival, in its 34th year, has 60 food and dessert vendors, including a handful of food trucks set up along 99th Avenue.
Volkhart Caro runs the Churros King truck and applies for permits to set up at several festivals in the summer. He agreed the Capital Plaza location has more room and a better view.
"This area is magnificent," he said. "The scenery's nice."
Vendors at Taste of Edmonton are set up in Capital Plaza and on 99th Avenue at 108th Street.
Caro also noted that the festival is well organized with "very good food vendors."
Also new this year, the Alberta government is allowing vendors to sell alcohol in the Capital Plaza, meaning customers can wander from stall to stall with an alcoholic beverage in hand within the designated perimeter.
Infrastructure Minister Sandra Jansen joined organizers in launching the festival Wednesday to announce the province's updated policy allowing "responsible liquor consumption."
Vendors set up in the Capital Plaza for the first day of Taste of Edmonton on Wednesday. (CBC)
"I think it's really a reflection of the times," she said."We know this policy is a good fit for Edmonton and the province."
She said the variety of food at the Taste of Edmonton deserves an accompanying libation.
"We also have great craft breweries and we have all sorts of interesting ways to pair great beer and great wine with great food, and I think it's a natural fit."
Sandra Jansen, Alberta's Minister of Infrastructure, announces a new policy on legislature grounds, allowing large festivals to serve alcohol outside. (CBC)
When the festival was held at Churchill Square in previous years, there was also a designated area for people to drink beer, wine and spirits but it was separated from the food stalls. Last year, the city allowed a bigger licensed space where youth were allowed inside as well.
Paul Lucas, general manager of Events Edmonton, which organizes Taste of Edmonton, called the grounds a "magnificent, iconic site, that rivals anything, in my opinion, in Europe or for that matter, in the world."
He and Jansen didn't rule out the possibility that the festival may be held on the legislature grounds again in future years.
The festival started in 1984 at the Convention Centre with eight restaurants. Lucas said nearly 20 per cent of the event's 350,000 visitors are from out-of-town tourists, injecting an estimated $10 million to the local economy.