U.K. police say 2 more people exposed to Novichok nerve agent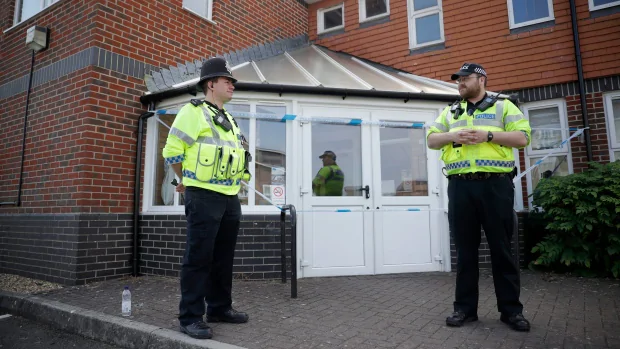 The same nerve agent that recently poisoned a former Russian spy and his daughter in the U.K. has left another two people in critical condition, according to British counterterrorism police.
The latest poisoning, with the nerve agent Novichok, occurred just a few kilometres from that of Sergei and Yulia Skirpal.
The Wiltshire police force declared a "major incident" on Wednesday after a man and a woman in their 40s were hospitalized after being found unconscious at a residential building in Amesbury, 13 kilometres from Salisbury, where the Skripals were poisoned on March 4.
Police said they received test results Wednesday night from Porton Down, a military research centre, that showed the pair had been exposed to Novichok.
At this stage, nobody else has appeared with similar symptoms, police said. Police haven't determined the means of transmission, saying about 100 counterterrorism detectives are working with local police to try and determine how the pair were exposed.
<a href="https://twitter.com/TerrorismPolice?ref_src=twsrc%5Etfw">@TerrorismPolice</a> national lead AC Neil Basu confirms the two people found collapsed in <a href="https://twitter.com/hashtag/Amesbury?src=hash&amp;ref_src=twsrc%5Etfw">#Amesbury</a>, Wiltshire were exposed to novichok nerve agent Investigation now being led by Counter Terrorism Policing <a href="https://t.co/sqreXxAl8x">pic.twitter.com/sqreXxAl8x</a>

&mdash;@TerrorismPolice
"We have cordoned off a number of sites in the Amesbury and Salisbury areas that we believe the two individuals visited in the period before they fell ill," said Neil Basu, Scotland Yard's assistant commissioner for counterterrorism
"This is a precautionary measure while we continue to investigate how they came into contact with the substance"
Both victims are British nationals, Wiltshire police deputy chief Const. Paul Mills said earlier in the day. He did not release their names, but friends named the couple as Dawn Sturgess, 44, and Charlie Rowley, 45 — though the names were not confirmed by countererrorism police.
The poisoning of the Skripals sparked a diplomatic row as the U.K. said some evidence in the Skripal case suggested the attack was carried out at the behest of Russia and British media reported in April that the agent was traced to a Russian military facility.
The British government eventually moved to expel Russian diplomats, and Russia, which insists it is not to blame in the Skripal case, retaliated and kicked out dozens of British officials.
Police did not point to any individuals or nations in the more recent case, with Basu saying "we are not in a position to say whether the nerve agent was from the same batch that the Skripals were exposed to."
He said investigators will be exploring whether the two cases are linked.
"It is important, however, that the investigation is led by the evidence available and the facts alone and we don't make any assumptions."