Sure, the game only lasts 90 minutes, but to these World Cup fans the 27-hour train ride was worth it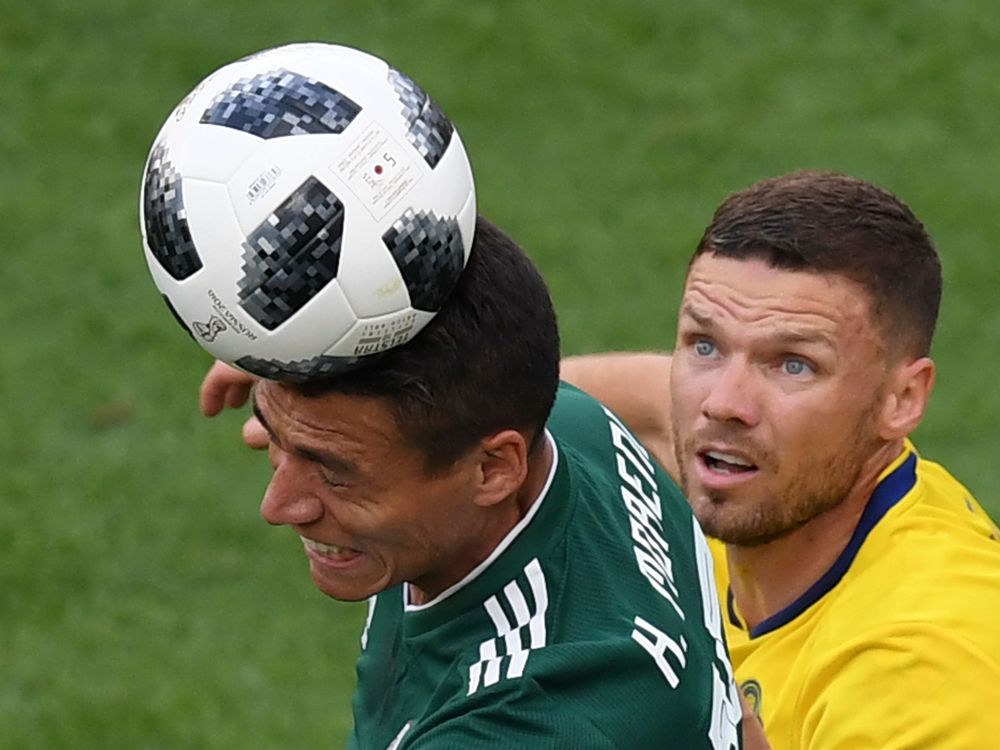 Mexican defender Hector Moreno (left) and Swedish forward Marcus Berg vie for the ball at the World Cup on June 27.
Photograph by: Jorge Guerrero
YEKATERINBURG, Russia — After nearly 27 hours and 1,500 kilometres on a train from Moscow, Hans Josefsson's pedicure remained immaculate.
Before leaving Sweden 10 days earlier for the World Cup, he had his toenails painted blue and gold, the colours of the national soccer team.
"A professional did it. I knew I would do a lot of walking in these sandals," Josefsson said before arriving here Tuesday afternoon in the easternmost Russian city in which matches are being played.
A fellow passenger on the daylong trip, Luis Aragones, 24, an architect, had watched in Mexico City as Mexico stunned Germany, the defending champion, in its opening game. He had joined a delirious celebration whose mass jumping may have caused the equivalent of a minor earthquake.
Inspired, Aragones cancelled plans to attend a wedding in Argentina. He sold his television and an Xbox console, got a loan from his mother, bought a one-way ticket to Moscow, stayed awake for two days without a hotel room and then boarded Train No. 118 to Yekaterinburg on Monday. He promptly fell asleep for 10 hours.
"I just knew I had to be here," he said.
There may not be more exuberant and adventurous fans at the World Cup than those from Sweden and Mexico, whose teams met in a crucial match on Wednesday in this city where Europe becomes Asia. Sweden won 3-0, but both teams still advanced to the knockout phase of soccer's world championship.
About 15-20 fans from each team boarded a Soviet-era train early Monday afternoon at Kazansky Station in Moscow, riding the rails instead of taking a much shorter, and surely duller, airplane trip that thousands of their compatriots were taking across the Ural Mountains.
In a cabin for four, Patrik Brunnberg and Anton Dimitrov, both 31 and longtime friends from Stockholm, became bunkmates by chance with their countrymen Claes Hedlund and Orejan Jonsson, both 59 and teachers from Goteborg.
"At least they will be snoring in Swedish," Hedlund said.
It was a trip for those who preferred thrift and exploration over speed and luxury. The journey can expand to six days on the Trans-Siberian Railway to Beijing.
"It's a chance to try something different," said Brunnberg, an IT project manager. "You don't see anything when you're flying."
The staff aboard Train No. 118 were patient and solicitous. The cabins were basic but clean and comfortable, though sometimes hot. Security guards patrolled the narrow aisles unobtrusively but carried batons and handcuffs.
The World Cup passengers were friendly and united by their common sporting passion. But much to the surprise of some as dinnertime approached on Monday, the train lacked even a dining car, much less access to the internet.
"We thought we would have a big party, with a restaurant and a bar where they would be playing music and dancing," said Oscar Bonfil, 45, a native of Mexico City who is a supermarket executive in Lima, Peru. "It's kind of boring."
The problem, explained Alexandra Popova, an attendant working her maiden trip, is that so many trains are headed south from Moscow during the World Cup and family vacations. As a result, some eastbound trains are left without certain amenities — namely, restaurants.
That did not seem to hinder nine Swedish supporters in car No. 13. They brought their own party and restaurant on the trip. Their lubricated intent was inscribed on one fan's T-shirt: "Beer, please."
"No drink!" an attendant in the car admonished the group, but this seemed to be more of a suggestion than a hard and fast rule.
Certain beverages stronger than water were carried in plastic bags, along with orange juice that was not technically being administered for its abundance of vitamin C.
"It's a long trip — you've got to stay hydrated," said Brunnberg, who later detected in himself an odd medical deficiency, adding, "I've got too much blood in my alcohol system."
Two hours into the journey, the train made its first stop, in the town of Vekovka. Vendors on the platform offered crystal ornaments, tea services and plaques mounted with taxidermied squirrels.
The stop was long enough for the most gastro-curious passengers to walk across the tracks to a small store that sold bread, sliced carrots, cheese and what may or may not have been chicken cutlets.
Others smoked and wondered about the missing restaurant car.
"We don't have dishes," Popova, the attendant, explained in English. "Just Ramen, snacks, sweets and instant mashed potatoes."
Emmanuel Gonzalez Rodriguez, 22, a student at the University of Texas-El Paso, stood on the platform in a green Mexico jersey. Mexican fans have been criticized for the use of a homophobic chant, made when opponents perform goal kicks. Asked about it, Gonzalez Rodriguez said he was proud of his fellow El Tri fans for not using the chant against the most recent opponent, South Korea, on Saturday.
He noted that some Mexico supporters helped clean up their area of the stadium after that match, borrowing a practice from the Japanese. Supporters have also drawn praise for helping to lift a wheelchair-bound Egyptian fan above the crowd at a Fan Zone in Moscow, allowing him to watch a match with an unobstructed view.
"Let's show the world that we are on the first level," Gonzalez Rodriguez said.
As the train left Vekovka, Oleg Vysotskiy tried to watch Russia's match against Uruguay on his cellphone. The reception was intermittent, not unlike the air conditioning.
It was just as well, as Russia lost, 3-0. Still, the team advanced to the second round for the first time since the collapse of the Soviet Union. Not bad for a squad rated one of the lowest of the 32 teams in the tournament.
"It's already an excellent achievement," said Vysotskiy, 28, a construction consultant travelling on vacation with his wife and daughter. "We've been looking for this quite a long time."
The landscape was mostly unwavering: birch and pine forests dotted with clusters of wooden cottages the colour of Easter eggs.
"Trees, trees, trees," said Marcia Bergstrom, 54, Josefsson's wife, who works in business development. "It looks like Sweden."
Cleverly, she had brought along children's picture books to help overcome the language barrier in Russia. She showed an attendant the picture of a knife and quickly secured cutlery to slice a chunk of cheese and the cutlets.
Josefsson, 56, the chief executive of a facilities management company, was also traveling with a longtime friend, Janne Hedman, 56, a municipal gardener. They had grown up together in the Swedish village of Krylbo and have carried a flag bearing the hamlet's name to each of the countless matches they have attended.
They have been traveling to the World Cup since 1990. In 1994, when the tournament was held in the United States and Sweden finished third, they apparently became among the first of the country's fans to slather their faces in team colours.
A number of newspapers and Time magazine carried their photographs, the men said. Hedman remembered one caption that said something like, "Dearth of sanity perhaps, but a lot of passion."
Now, Josefsson said: "I'm too old to paint my face. We have to try new things."
So he had his toenails painted as a talisman. So far, Sweden has defeated South Korea and lost excruciatingly to Germany on a dagger of a free kick five minutes into added time.
"The worst football moment of my life," Josefsson said of Saturday's 2-1 defeat. "I felt empty. It hurts still to talk about it."
At dusk on Monday, Popova, the attendant, offered salami and mayonnaise sandwiches to hungry passengers in car No. 11. Hot water was available to make tea and to cook noodles. Another attendant vacuumed the carpet in each cabin. A Russian passenger went down the aisle, graciously handing out ring-shaped bread snacks called sushki.
A few Mexican fans gathered in the car to sort out food options and broader implications of the World Cup. Mexico is considered by some to have a legitimate chance of winning the tournament. And the country was recently chosen as one of the hosts of the 2026 World Cup, along with Canada and the United States.
Yet the team's longtime star, Rafael Marquez, has been placed on a U.S. Treasury Department blacklist of people suspected of helping to launder money for drug cartels, which he has vehemently denied.
Then there are the internal tensions in Mexico, with its presidential election approaching on Sunday, and external tensions with the United States over trade and immigration.
"Things are not doing well," said Edgar Bonfil, 49, Oscar's brother and an executive for Pepsico in Mexico. "The World Cup is very positive for us. If we do well, it will show that we can do better things, not only with sports but in general."
The lullaby rocking of sleep on the train gave way to a sunny and scorching Tuesday morning. Attendants cleaned the aisles and the toilets, and offered key chains, pens and pocketknives for sale. The land briefly opened and filled with wildflowers, similar to those that Swedes traditionally wear as crowns to celebrate the summer solstice.
In the early afternoon, the train stopped for half an hour in the town of Druzhinino. The temperature had been stifling in the upper bunks, and a number of passengers stood in the shade and ate ice cream.
"I'm ready to start feeling like a functioning human again," said Dimitrov, the Swedish fan who owns an online business.
Finally, at 6 p.m., in a time zone two hours ahead of Moscow, Train No. 118 arrived in Yekaterinburg.
Soccer is urgent at the moment, but mid-July will summon a notorious moment here from the Russian Revolution: the 100th anniversary of the killings of Czar Nicholas II, his wife, Alexandra, and their five children.
"In a way, that's the reason I exist," Dimitrov explained.
His mother, a tour guide, became enamoured with the story of the imperial Romanovs, learned to speak Russian and Bulgarian and, on a trip to Sofia during the communist era, met the man who became her husband and Dimitrov's father.
Dimitrov said he planned to visit the Church on the Blood, built on the site where the Romanovs were executed in 1918. "The circle is complete," he said.
Had his mother concentrated on romance languages and fallen in love with an Italian or a Frenchman, he added with a laugh, his life would be entirely different, but "we would have a few more World Cup titles" in the family.
Original source article:
Sure, the game only lasts 90 minutes, but to these World Cup fans the 27-hour train ride was worth it