Statistics Canada reports manufacturing sales up 1.4 per cent in May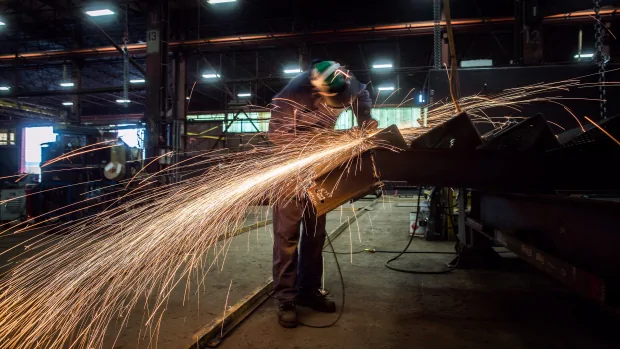 Statistics Canada says manufacturing sales increased 1.4 per cent to $57.1 billion in May.
The improvement followed a drop of 1.1 per cent in April.
Economists had expected an increase of 0.5 per cent in May, according to those polled by Thomson Reuters Eikon.
Derek Holt, vice president, head of capital markets economics at Scotiabank said the numbers were "much stronger than expected."
Statistics Canada says sales rose in 14 of 21 industries, led by the chemical, machinery, and wood product industries. Sales were up in seven of ten provinces, led by B.C. and Alberta. Newfoundland, on the other hand, experienced a 29.7 per cent dip in manufacturing sales from last month.
The transportation equipment industry posted the largest decline. TD economist Omar Abdelrahman said the 6.6 per cent decline in motor vehicle sales is "well off its cycle peak. Even outside ongoing trade uncertainty, U.S. demand for autos appears to have peaked, limiting growth in the sector."
Manufacturing sales in constant dollars were up 0.9 per cent.