St. Albert group aims to raise $500,000 for initiatives in memory of four Bronco players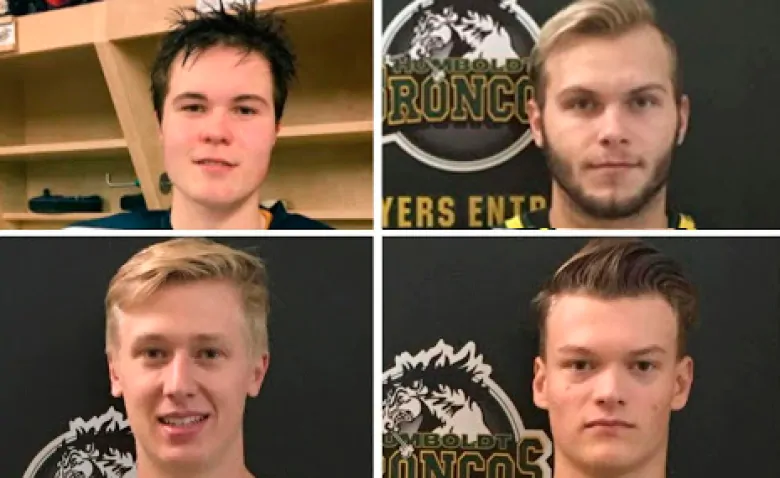 A group in St. Albert announced their plan to raise $500,000 for memorial initiatives in the names of four Humboldt Broncos who played hockey in the city.
Jaxon Joseph, Conner Lukan, Stephen Wack and Logan Hunter were killed after a semi-trailer truck hit the Humboldt Broncos team bus at a rural intersection outside of Tisdale, Sask., in April.
Sixteen people were killed in the crash and 13 were injured.
The funds will be used to purchase four park benches, a public art piece made of hockey sticks, and create four scholarships in memory of the players.
"This is also a great way for us to build our hockey community stronger and build our community stronger," said Nolan Crouse, chair of the St. Albert Humboldt Remembrance Committee.
"It's trying to turn something that is tragic into a long-term sustainable scholarship fund and some artistic features," he said, "but they're all about the memorial of four hockey players."
Four of the Humboldt Broncos hockey players killed in a bus accident in April came through the St. Albert hockey system. Clockwise from top left: Jaxon Joseph, Conner Lukan, Stephen Wack and Logan Hunter. (Supplied)
The group will be holding a "jersey gala" on Oct. 26 at the Enjoy Centre, located on the west edge of St. Albert. The gala, which encourages participants to wear a jersey, has a fundraising goal of more than $500,000 to go toward the memorial initiatives.
With jersey-clad supporters by his side at the Tuesday news conference, Crouse said the committee regularly checks in with family members of the four former Broncos.
"It's been absolutely phenomenal support by the parents of the four boys," Crouse said. "All along, without question."
The gala will be hosted by Hockey Night In Canada's Ron MacLean, while Peter Mansbridge, former host of CBC's The National, will be a keynote speaker.
Crouse expects the foundation to have raised $150,000 by the end of Tuesday.