Recovering drug addicts and rescued pit bulls: An unlikely therapy brings unexpected results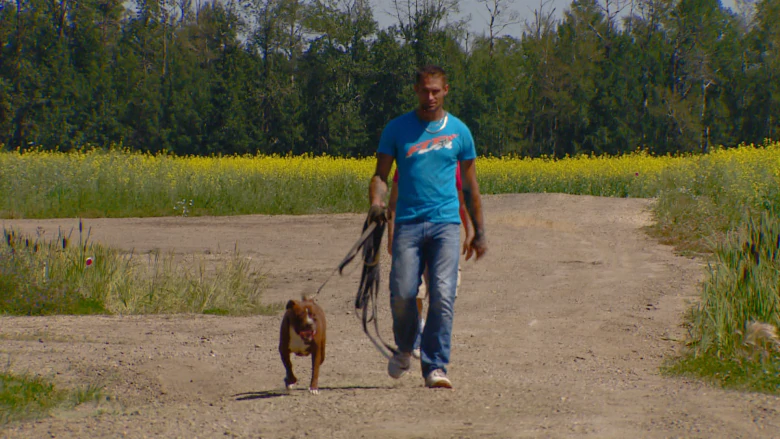 Nine months ago, Rodney Ariss was in a bad place.
For 15 years prior, he was addicted to illegal drugs like fentanyl and heroin.
But that changed last November when he became a client at Our House Addiction Recovery Centre in west Edmonton.
"I've come a long way from where I've been," he said.
Shortly after joining the year-long addiction recovery program for men, Ariss joined some other Our House clients in volunteering with Pit Bulls for Life Foundation of Alberta, a not-for-profit that rescues and rehabilitates pit bulls.
Rodney Ariss and rescue dog, Hendrix, walk near the Pit Bulls for Life Foundation of Alberta kennels in Parkland County. (Scott Neufeld/CBC)
The group travels to Parkland County on Mondays and Fridays to spend three hours with the 12 pit bulls and pit bull-crosses located at the kennels.
Among other chores, the men help walk the dogs, clean the kennels and socialize the rescue dogs.
"It's a kind of therapy you don't normally get. It's a special bond with an animal. Most people don't even get the chance to do that," Ariss said.
As he goes through Our House's recovery program, Ariss has become attached to one of the dogs, Hendrix.
He has worked with a trainer to socialize the dog, who wouldn't do things like play fetch, and after months of training, he has seen a huge improvement in the dog's behaviour.
Working with the dog has also helped him cope with his drug addiction, he said.
Ariss said it's a unique bond, as there are often stigmas associated with addictions and misconceptions about pit bulls as a dog breed.
"I think it helps us because we're kind of shunned, they're kind of shunned. We work together to show that 'Hey, this is really something and it can be something. Please notice us,' " Ariss said.
When you put the two together, you get something. It isn't what people think it is.– Rodney Ariss, Our House client
"When you put the two together, you get something. It isn't what people think it is."
Tia Lenz, president of Pit Bulls for Life Foundation of Alberta, said they started the partnership with Our House in October 2017.
Since then, she said many of the dogs have had behavioural changes after bonding with the men in the recovery program.
"I think they have an understanding of one another. The misconceptions of the breed and the misconceptions of addicts. Everyone needs a little help and it's cool that they get to help each other and we receive that help, too. It's like a little community working together," she said.
The program was originally just one day a week, but the clients and the dogs were both benefiting so the organizations decided to increase it to two days a week of volunteer work.
Our House client Michael Craig has worked with rescue dog Molly to help socialize her. (Scott Neufeld/CBC)
Like Ariss, Our House program client Michael Craig looks forward to seeing one of his favourite dogs, Molly, each week.
Craig has been at Our House for three-and-a-half months for an alcohol addiction. Like him, Molly is also recovering from her past, he said.
"It works for both of us.There's nothing like coming to see the same dogs. Just a win-win all around," he said.
The future of the partnership
Ariss is expected to graduate from the Our House program in a few weeks but not before he helps bring some of the rescue animals to the Our House accommodations on Stony Plain Road near Winterburn Road.
He, along with the foundation, hope to help both man and man's best friend move forward during their recovery process.
For Ariss, part of that recovery process will include adopting Hendrix once he graduates and settles into his new life.
"I thought I was just going to come walk dogs," he said. "Now I have a bond with a dog."