Planned Parenthood to Open 14 New Health Centers Across the American South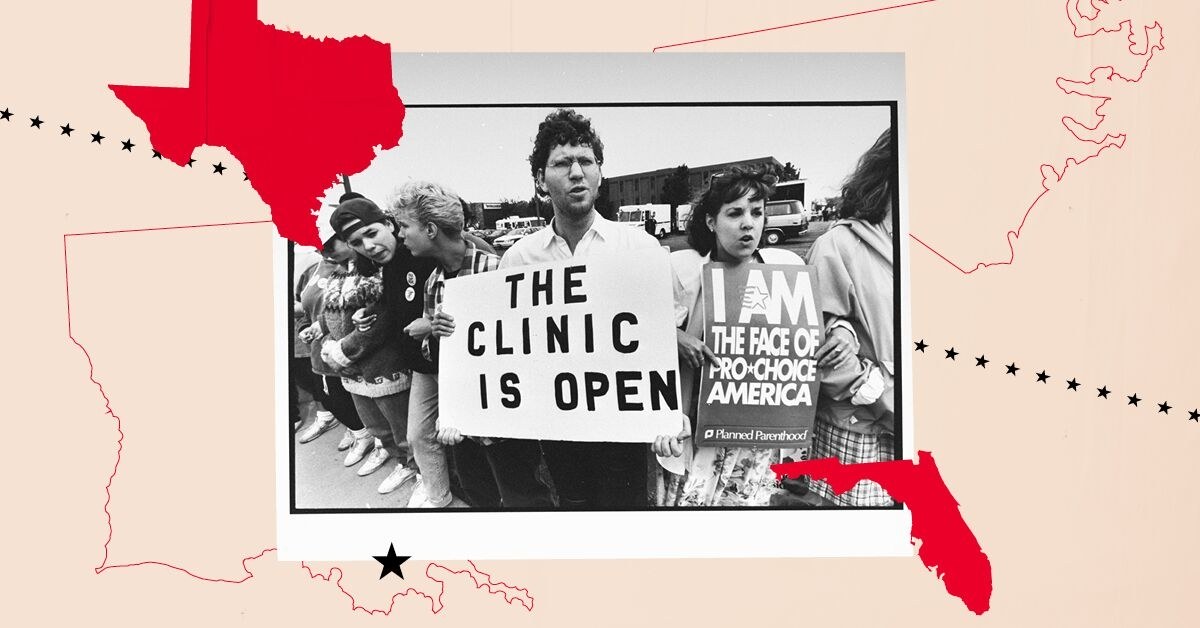 Most news events aren't met with a consensus reaction, but the announcement of Supreme Court Justice Anthony Kennedy's retirement from the bench last month seemed to solicit one: his departure, the New York Times predicted, would not just jeopardize Roe v. Wade, the 1973 decision that legalized abortion nationwide, but promised to "reshuffle the landscape" of reproductive freedom in the United States. (If that fact was in doubt, President Trump's nominee Brett Kavanaugh put an end to them. Sen. Kirsten Gillibrand (D-N.Y.) called him "more dangerous than any previous justice nominee…ever.")
Of course, the battle didn't start this summer. The anti-choice movement has laid this groundwork for decades. A few more recent examples: In 2015, House Republicans grilled now-former Planned Parenthood President Cecile Richards for almost five hours in an effort to discredit the organization, which is the country's largest provider of reproductive health services. (It didn't work. In 2017, a national poll found that 75 percent of Americans support federal funding for Planned Parenthood.) Between 2011 and 2016, 288 abortion restrictions—including bans on later-term procedures, mandated wait periods, and laws requiring clinics to meet burdensome, non-medical standards—were enacted, according to the Guttmacher Institute. The Trump administration has also announced a proposal that would strip federal support (which total $260 million) from women's clinics that perform abortions or tell women where they can go to get them.
Such efforts prove it: The struggle isn't ahead. It's here.
And since there's no evidence that this Trump pick will crash and burn, or that cooler heads will prevail the next time the GOP tries once more to defund Planned Parenthood, advocates believe it's critical to do more than secure the reproductive rights we have now—the movement needs to gain ground.
Quietly, Planned Parenthood has set in motion plans to do just that—with a particular focus on the southern (and for the most part, deep red) United States. By the end of 2017, even as Richards prepared to step down, Planned Parenthood opened nine new centers, with five more in the pipeline. The facilities are in some less-than-expected states, some of which have laws on the books now that would ban abortion if Roe v. Wade were overturned: Oklahoma, Texas, Louisiana, Alabama, Mississippi, Tennessee, Kentucky, North Carolina, and, just last month, Florida.
The expansion makes a statement—that no matter the partisan winds, Planned Parenthood intends to ride out the storm. It's a commitment that was underscored in late June when, less than 48 hours before news of the Supreme Court retirement broke, Planned Parenthood cut the ribbon at one of its newest facilities: a state-of-the-art health center in Tallahassee, Florida. The outpost will provide the full spectrum of sexual and reproductive services; patients can receive birth control prescriptions, breast exams, treatment for STIs, information on safe sex practices, and, also, abortion services.
In our current climate, the centers have political reverberations. But their purpose isn't to treat just Democrats or Republicans. Each exists to meet a need. In Florida, for example, the area around the new location has some of the worst health outcomes in the state, including the highest number of newly diagnosed chlamydia cases statewide. (Similar problems are endemic in the South; Mississippi, Louisiana, Georgia, North Carolina, South Carolina, and Oklahoma are six of the 10 states with the highest rates of gonorrhea and chlamydia in America, based on 2016 data from the Center for Disease Control.)
"Georgia, Mississippi, Alabama—women will cross state lines to come to us."
And while the mere fact that a clinic has opened can't drive STI rates down, the numbers mount a persuasive case: Between 2015 and 2018, just after Planned Parenthood at last replaced the small, two-exam-room clinic it used to operate in New Orleans with a new, much bigger location, reproductive health care visits swelled from 500 a month to 800, according to Planned Parenthood Gulf Coast President and CEO Melaney Linton. The new location in Tallahassee expects to be able to serve four times the number of patients, both from in the state and surrounding states, as it has in the past, according to Lillian Tamayo, President and CEO of Planned Parenthood in South, East, and North Florida. "Georgia, Mississippi, Alabama—women will cross state lines to come to us," says Tamayo. All three states have ruled that women must have at least two appointments with their providers to get an abortion; Georgia and Mississippi enforce a 24-hour wait period. Alabama insists on 48 hours between visits. Thanks to a recent decision from Leon County Circuit Judge Terry Lewis, Florida has none, despite its current conservative leadership.
Given the national mood, Tamayo adds, her mission is more important than ever: "We want to be a beacon."
That's been Richards' mission on a national level, but the native Texan is attune to the unique needs of the South. Under her leadership, Planned Parenthood committed to increase access there, despite fierce political opposition to its presence.
"Of course I've 'officially' left," she explains of her tenure that ended in April 2018. "But these are the last two acts I will do for Planned Parenthood." The recent dedications of new centers in Charleston, South Carolina, and, now, Tallahassee, are her encore appearances. Richards is too polite to revel in how broadened access to care trolls Planned Parenthood's critics, but she will admit that the new centers deliver not just affordable health care in "state-of-the-art facilities," but also "demonstrate that even in some of the most politically challenging states in the country, we're here and we will expand."
She isn't alone. In state houses nationwide, likeminded lawmakers seem to have taken a similar tack. In 2017, 645 bills were introduced to protect access to reproductive health care services, a marked uptick in the wake of the presidential election. And earlier this month, Oregon passed the Reproductive Health Equity Act, which includes a mandate that all insurers cover abortions. Like the proposed laws, Planned Parenthood's new centers "are part of an effort to remove the stigma and shame that has surrounded reproductive health care," Richards says. The facilities are open to the street, filled with sun and framed photos. Each detail is meant to telegraph respect and warmth. Richards is insistent: "The people who walk in here should leave and feel like, 'Oh, that's what it's like to be honored and cared for.'"
That said, Richards is all too aware of this administration's commitment to undo decades of hard-won victories. She isn't one to "rest on our laurels," she says. With millions of people unable to access affordable health care and a federal government committed to anti-choice policies, all the work Planned Parenthood has done, all the bricks that have been laid—so much of it could disappear.
"Roe v. Wade has been the law of the land for 40 years. There are millions of women in the United States who have never lived under a government that's outlawed it," she says. "I think it's important that we show we're not going back, and we do that when we expand access to health care in the toughest parts of America."
To find a local Planned Parenthood, visit https://plannedparenthood.org/health-center.