New Mexico bus crash leaves 3 dead, 22 injured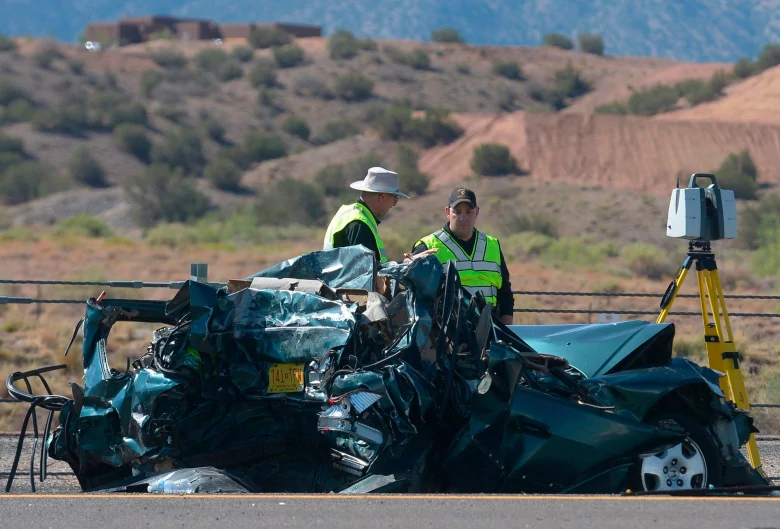 Authorities say a crash involving a passenger bus and three other vehicles on a highway in New Mexico has killed three people and injured 22 others, three of them critically.
Three people died in the wreck early Sunday, but it's unclear if they were bus passengers or in a semitruck, pickup truck or car also involved in the collision.
Photos from the scene show a mangled car that's almost entirely flattened and the bus on its side on Interstate 25, about 30 kilometres north of Albuquerque.
A car involved in the crash was almost entirely flattened. It wasn't immediately known whether the three people who died in the collision were in the car or another vehicle. (Greg Sorber/Albuquerque Journal/AP)
Rio Rancho Fire Rescue said emergency crews had to extricate several people who were trapped in the bus using a tool that pries open parts of a vehicle.
Authorities said the injuries range from broken bones and lacerations to head and internal injuries.
Twelve of the injured were taken to University of New Mexico Hospital, including the three in critical condition.
Eight patients were transported to Sandoval Regional Medical Centre, where authorities say six people were treated and released.
Sandoval County Fire Chief James Maxon said authorities didn't immediately know what caused the collision. He said 35 people were on the bus and emergency responders dealt with 38 people at the scene.
It's also unclear whether the bus involved was a tour bus and where it was coming from or headed.