Holyrood Gardens housing redevelopment gets Edmonton council approval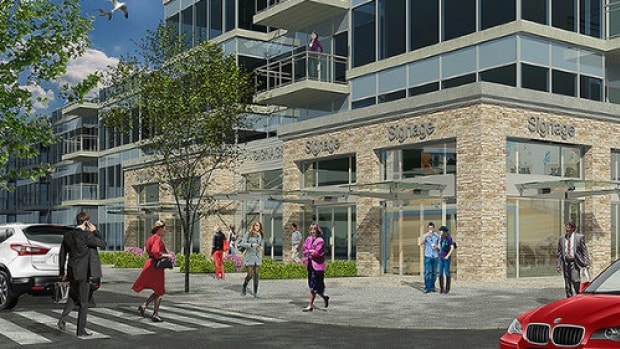 A controversial Holyrood housing project finally has the green light from Edmonton city council.
Council approved the Holyrood Gardens redevelopment proposal after a lengthy public hearing on Monday.
After months of changes and redesign, the housing redevelopment plan will now have eight buildings, according to city documents.
The housing proposal includes a slim 25-storey high-rise tower and other buildings ranging from four to 12 storeys.
The redevelopment will be along the east side of 85th Street between 90th Avenue and 95th Avenue.
'Not been an easy process'
Coun. Ben Henderson represents the area where the future development will be located.
He said getting the project to the approval stage has "not been an easy process."
"I know there has been a lot of hard work. I know not everyone in the community will be happy but I do think this is a substantially improved project with a lot of benefits added for the community," he said.
There will be up to 1,200 units in total for this project, according to city documents on the revised plan.
The original plan included only seven buildings, but included more high-rise towers.
Holyrood Gardens is currently the site of about 160 townhouses. The area has been designated as a neighbourhood station for the new Valley Line LRT, which will run along 85th Street.
Holyrood is one of the first neighbourhoods in Edmonton to incorporate a transit-oriented design (TOD).
Members of the Holyrood Community League have been involved with many of the proposed changes to the project and have worked with the developer, Regency Developments.
Dave Sutherland, a Holyrood Development Committee member, said one of the community's successful requested changes was for the developer to build a narrow high-rise so the shadow of the building would "pass over areas a lot faster."
"It was always about tradeoffs," he said. "The city wants intensity around LRT and TOD, transit-oriented development. It was always a question of how to integrate it into a mature neighbourhood and what would be needed to make it economically viable to even build it. It was a challenge"