Goodbye to the Sigh Guy: A Tribute to Tab Hunter, 1931-2018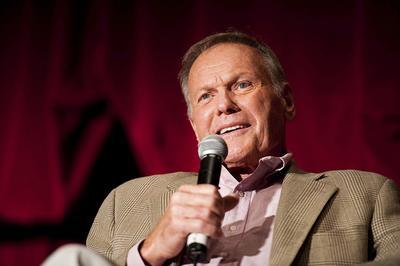 When Tab Hunter was at the apex of his stardom in the Fifties, virtually every aspect of his career and life was under the control of a Hollywood studio system that determined everything from the roles that he would play to his very name. As a result of this, he had a few years of fame before he was inevitably pushed to the side for a new wave of hot young things ready to take his place. And yet, it was the very things about him that the system sought to repress—such as a sly, self-effacing sense of humor and his homosexuality—that helped breathe new life into his career a couple of decades down the line. Now that he has left us, three days before his 87th birthday, Hunter will be remembered not just as a pretty face with an admittedly memorable name. He'll also be celebrated as a trailblazer whose accounts of his experiences as a gay matinee idol in Hollywood at a time when such things were unheard of helped pave the way for acceptance.
He was born Arthur Andrew Kelm in New York City on July 11, 1931 and, following his parents divorce a few years later, moved to California with his mother and older brother. After taking his mother's surname of Gellen, he competed as a figure skater and even joined the Coast Guard at the age of 15, though he was soon discharged once his real age was discovered. The turning point in his life came when he made the acquaintance of actor Dick Clayton, who suggested that he take up acting as well and who later introduced him to agent Henry Wilson. Wilson, who specialized in guiding the careers of actors whose talents were, more often than not, secondary to their looks—his clients included the likes of Robert Wagner, Guy Madison and, most famously, Rock Hudson—signed him on despite his lack of acting experience and even gave him his soon-to-be-famous stage name. He made his screen debut with a tiny role in the film noir "The Lawless" (1950) and had his first lead role two years later with "Island of Desire" (1952), a soapy romance in which he played a Marine stranded on an abandoned South Pacific island with an older nurse (Linda Darnell). The film wasn't much but it was a minor hit back in the day for reasons attributed almost entirely to the fact that he spent much of the running time bare-chested. Over the next couple of years, he appeared in such programmers as "Gun Belt" (1953), "The Steel Lady" (1953) and "Return to Treasure Island" (1954) and also made his first stage appearance in a production of "Our Town."
Hunter's first truly notable film performance came in 1954 when he was hired to play the key supporting role of Robert Mitchum's younger brother in William Wellman's frontier-based psychodrama (and future cult favorite) "Track of the Cat" (pictured above). Yes, I am aware of the potential absurdity of casting Mitchum and Hunter as brothers, but it actually works surprisingly well. Hunter more than holds his own in it acting against the likes of such veterans as Mitchum and Theresa Wright. At this point, Hunter was sufficiently hot enough to earn him a contract with Warner Brothers that first saw him playing a small part in the John Wayne war drama "The Sea Chase" (1955) and then wooing another older woman, Dorothy Malone this time, in "Battle Cry" (1955). Both films were among the top-grossers of the year and the studio decided to promote him to leading man status by co-starring him with Natalie Wood in a pair of films, "The Burning Hills" and "The Girl He Left Behind." He even transferred his screen stardom to the music world with the hit song "Young Love," which was #1 for nine weeks in 1957, and the #11 charting follow-up "Ninety-Nine Ways." His singing success was so great that Warner Brothers studio head Jack L. Warner forbade Dot Records, who Hunter had been recording for, from releasing an album he had cut because of his contract and established Warner Brothers Records specifically as an outlet for his music.
During all of this, Hunter's personal life was beginning to become a source of some controversy within the industry. In 1955, the scandal sheet Confidential ran an article about a 1950 disorderly conduct arrest that also included numerous innuendos regarding the actor's sexuality. (Ironically, the article ran because Wilson arranged with the magazine to print that in exchange for keeping a story about the more-popular Rock Hudson buried.) This revelation did not have any discernible effect on Hunter's rise but it did open up gossip about whether he was gay or not—if he was, that would have effectively killed his career right in its tracks. To combat this, the studio publicity department went into overdrive to convince the public that he was as manly as can be, hyping up non-existent relationships with such women as Wood, Debbie Reynolds, future co-star Etchika Choureau and Joan Perry, the widow of Harry Cohn. There were even rumors of impending marriage with the latter two but while all of this was supposedly happening, he was in the middle of relationships with the likes of Anthony Perkins and figure skater Ronnie Robertson.
1958 would prove to be the apex of his career. He reunited with William Wellman to star in "Lafayette Escadrille," in which he played an American pilot who goes to France to fly for the country during World War I—when preview audiences objected to his character's death, the ending was reshot so that he lived. He followed that up with a role as Van Heflin's hot-headed son in the Western "Gunman's Walk," a part that he would cite as his personal favorite. His next film would prove to be one of his most notable, the big-screen version of the Broadway musical hit "Damn Yankees" (pictured above) that saw him playing Joe Hardy, the magical incarnation of a middle-aged man who has sold his soul to the Devil in exchange for his beloved Washington Senators, with his help, to beat the New York Yankees for the pennant. Hunter was the only major member of the cast who was not part of the original stage incarnation and indeed, he would later complain that director George Abbott (who made the film along with Stanley Donen) was more interested in replicating what he did on stage than in making it a movie. Perhaps as a result of this, Hunter gets a little bit of the short shrift (especially with the removal of a couple of his songs) in the end product. Still, Hunter more than holds his own in a film that is a reasonably solid film version of a stage classic.
After a couple more films, including the war movie "They Came to Cordura" (1959) and the romantic drama "That Kind of Woman," in which he co-starred opposite Sophia Loren for up-and-coming director Sidney Lumet, Hunter elected to end his contract with Warner Brothers in order to get better offers on his own. This proved to be a mistake as he now had no studio with an interest in promoting him and newer stars like Troy Donahue were being groomed for the same heartthrob roles over which he once held sway. After failing to win the lead in the film version of "West Side Story," he moved to television with "The Tab Hunter Show" (1960), a sitcom featuring him as a hip and swinging bachelor that had middling ratings and was cancelled after a single season. For the next couple of decades, he found himself making guest appearances on such shows as "Combat!," "The Virginian," "Cannon," "McMillan & Wife," "Forever Fernwood" and "The Love Boat." He also found himself appearing in such second-tier films as "Operation Bikini" (1963), "Ride the Wild Surf" (1964), "Birds Do It" (1966), "Won Ton Ton: The Dog Who Saved Hollywood" (1976) and the immortal "Katie: Portrait of a Centerfold" (1979). He tried changing things up a couple of times but these efforts led to nothing—he appeared on Broadway in the Tennessee Williams play "The Milk Train Doesn't Stop Here Anymore" in 1964 but it lasted only five performances and his attempt at shattering his image by playing a sexually dysfunctional psycho killer in "Sweet Kill" (1972) was a dud that is notable today only for marking the directorial debut of Curtis Hanson. He had a funny bit in the dark comedy "The Loved One" (1965) and was good in the Western "The Life and Times of Judge Roy Bean" (1972) but at this point, it seemed as if his career was destined to be stuck in a rut of crummy TV movies, forgettable features and the dinner theater circuit.
And then, true redemption and reinvention finally came Hunter's way in the unexpected form of John Waters, best known then for the cheerfully demented underground cult films as "Pink Flamingos" (1972) and "Female Trouble" (1974) that he made in collaboration with the force of nature known as Divine. His next project, "Polyester," was going to be an overt spoof of the Fifties-era soap operas made by the likes of Douglas Sirk. For the role of Tod Tomorrow, the handsome hunk who sweeps unloved and ignored housewife Francine Fishpaw (Divine) off her feet, Waters hit upon the idea of casting an actual star from that era in the part. Considering the notorious nature of Waters's previous efforts—this was his first project aimed at a broader audience—signing on for such a thing would have been regarded as a huge risk, especially since this would be the first time that Waters had ever worked with a "real" actor. Nevertheless, Hunter took on the part and was pretty brilliant in it, demonstrating a flair for comedy and self-parody that he rarely was allowed to show in his movie star heyday. Not only that, he and Divine actually managed to generate a kind of chemistry between that helped to further sell the story. The idea of hiring Hunter may have seemed like a gimmick at first but it proved to be a genuinely winning and effective one and the end result is arguably Waters's best film to date.
Although not a smash hit, "Polyester" got a lot of attention for Hunter and this was parlayed into a string of roles, many of which also goofed on his former image. In "Grease 2" (1982), he plays substitute teacher Mr. Stuart and leads the now-infamous "Reproduction" musical number—the film is bottomlessly horrible (though still preferable to the even-worse original) but that sequence is one of the few moments when it actually comes to life. That same year, Hunter then turned up in the silly mad slasher spoof "Pandemonium" and then reunited with Divine for "Lust in the Dust" (1985), a Western comedy that he produced and which was directed by Paul Bartel (and not Waters, as many have assumed). The movie is pretty silly and nowhere nearly as good as "Polyester" but he gets to goof of the Man with No Name image of Clint Eastwood (his former "Lafayette Escadrille" co-star) and he and Divine are still fun to watch, especially with the addition of Lainie Kazan to the mix. He and Divine would turn up again in the thriller "Out of the Dark" (1988) and he would also appear in the horror film's "Cameron's Closet" (1988) and "Grotesque." His last feature film was "Dark Horse" (1992), a gentle family drama about a girl and her horse that he also wrote the story for.
Then came the unexpected third act of his career. In 2005, he, along with co-author Eddie Muller, wrote his autobiography, Tab Hunter Confidential, in which he acknowledged that he was gay and described the lengths to which he and the studio went in order to keep his true sexuality completely under wraps. At the time, such revelations were still considered to be shocking, especially coming from someone who was still alive, and the book became an instant best-seller. The book also became the basis for the acclaimed 2015 documentary of the same name that was produced by Hunter's longtime partner, Allan Glaser, and which featured interviews with the likes of Waters, Eastwood and Reynolds, among others. The end result, like the book, was a fascinating portrait not just of Hunter but of the studio system that spawned him and then spat him out when it was done with him. And yet, Hunter seemed to bear no particular grudge against the industry and would turn up as a talking head in a number of documentaries on the history of Hollywood in his later years.
Was Hunter a great actor in the conventional sense of the word? Probably not, though to be fair, he was rarely given a chance to do much more than look handsome. However, he did have a flair for comedy that he was unfortunately not really given a chance to demonstrate until long after his heyday. His name will always instantly invoke a style of filmmaking that has long since passed, and it will also be remembered among members of the LGBTQ community for his struggles within the industry. It may be a cliche to say but in this case, it is true—the passing of Hunter really is the end of an era.