Chemical company's Edmonton sites the scene of multiple fires since December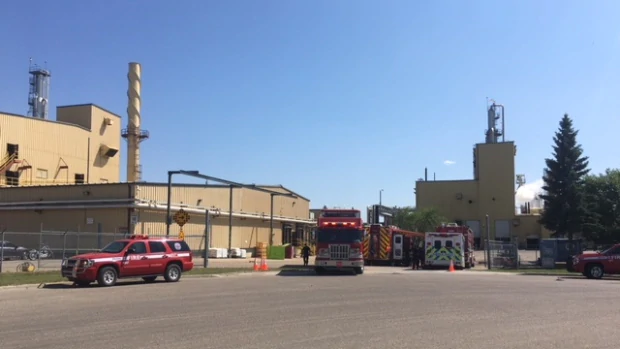 Edmonton firefighters have responded to a rash of fires — the most recent of which was last week —​ at locations used by American chemical company Hexion Inc.
Three separate fires since Dec. 28, 2017, have caused nearly $1 million in damage to structures and products owned by the company, said Edmonton Fire Rescue Services spokesperson Maya Filipovic.
In last week's incident, fire crews responded to alarms at a complex near 154th Street and 128th Avenue. They discovered a burning vessel used to house chemicals in one of the buildings, Filipovic said.
Three hazardous materials units helped firefighters evacuate the building. The fire was brought under control and put out within three hours of the initial alarm.
One person, an associate of the company, "was taken as a precaution to the hospital for treatment," said Hexion Inc. spokesperson John Kompa.
Kompa emphasized the fire was small and said Hexion is conducting an internal investigation "to identify the causes and any necessary measures to prevent such an occurrence in the future."
Filipovic told CBC News that a chemical reaction caused the July 11 fire. Damage to the product is estimated at $100,000, she said.
In an incident on May 24, firefighters responded to a minor fire involving bales of wood shavings in a storage yard belonging to a Hexion Inc. site near 126th Avenue and 156th Street.
On Dec. 28, 2017, firefighters extinguished flames in a lab at the same site. At the time of the fire, the chemical phenol was being heated using an electric oven in the lab, Filipovic said.
Damage caused by the December blaze was estimated at a total of $800,000 — $300,000 in damage to the structure and an additional $500,000 to the contents, she said.
Prior to the spate of incidents since December, the most recent fire linked to Hexion Inc. in Edmonton was in 2013. That incident involved power poles on the property that are not owned by the company, Filipovic said.
Hexion Inc. declines to comment on fires
Hexion Inc., an Ohio-based company with about 60 plants worldwide, has been linked to various fires reported by news outlets in the United States and elsewhere over the past decade.
The chemical company, which specializes in thermoset resins, formed in 2010 following a merger between Momentive Performance Materials Inc. and Hexion Specialty Chemicals Inc. The newly formed company was first known as Momentive Specialty Chemicals, until the name was changed in 2015 to Hexion Inc.
While Hexion Inc. did talk to CBC News about the July 11 fire at its site in northwest Edmonton, it declined to comment on any other incidents.
The company, under its various names, has been the subject of of multiple investigations and fines by the federal Occupational Safety and Health Administration (OSHA) in the United States.
Between 2012 and 2014, OSHA opened nine files on Momentive Specialty Chemicals Inc., according to its public online database.
Four of the inspections resulted in combined fines of more than $18,000 for violations of health and safety regulations. Those initial fines were reduced to just over $8,500 in total, following formal and informal settlements between OSHA and the company.
Two more files on the company were created by OSHA following the 2015 name change to Hexion Inc.
Hexion Inc. faces just over $1,200 in penalties for five violations stemming from a 2016 inspection in Springfield, Ore. The initial fines were reduced from just over $2,400 total.
Fines by OSHA can be adjusted or eliminated through formal or informal settlements, which can involve commitments by the company to correct hazards and violations.
According to the OSHA Field Operation Manual, fines are "designed primarily to provide an incentive for preventing or correcting violations voluntarily, not only to the cited employer, but to other employers."
Alberta's Occupational Health and Safety branch was not immediately able to provide similar statistics for the company's activities in Edmonton.