Canada Day fireworks ready for take-off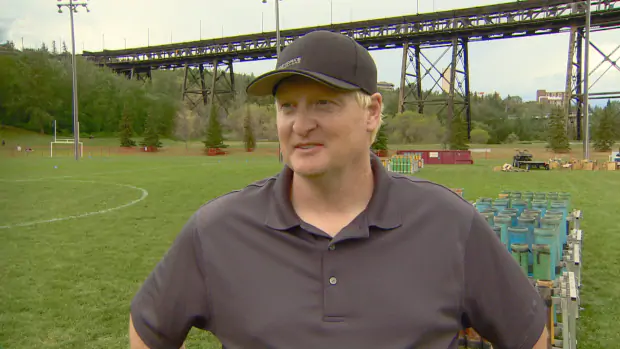 The technicians behind one of the largest fireworks shows in western Canada spent Saturday at Kinsmen Park getting thousands of rockets, sparklers, flares, fuses and mortars set up for the annual Canada Day finale that gets underway at about 11 p.m.
Brad Dezotell, from Fireworks Spectaculars, has been in the light-up-the-sky business for 15 years and makes an effort to bring something new to every show.
Not, he noted, that people can necessarily tell the difference.
"The reality is that fireworks are this magical thing, they're there and gone so fast that sometimes people have seen things before and claim they never have," he said Saturday.
The fireworks are the capper to a day of activities that include events at the Legislature, starting at noon, and at Mill Woods beginning at 1 p.m.
Dezotell said the Edmonton display, one of 35 being put on by his company for Canada Day, is unique in that the location allows for an "in the round" viewing experience.
"It's really one of those fireworks shows that still exist where people can bring a lawn chair a blanket and that kind of stuff," he said.
The fireworks show will last 15 to 17 minutes. Parts of it will be synchronized to a light display on the High Level Bridge.
Road closures and parking restrictions will be in effect in these locations:
Whyte Avenue, between 101 Street and 109 Street
Jasper Avenue, between 101 Street and 112 Street
109 Street, between 99 Avenue and 104 Avenue
109 Street, between 82 Avenue and Saskatchewan Drive
107 Street, between 99 Avenue and 102 Avenue
105 Street, between 102 Avenue and 104 Avenue