Are Edmonton men the best dressed in Canada?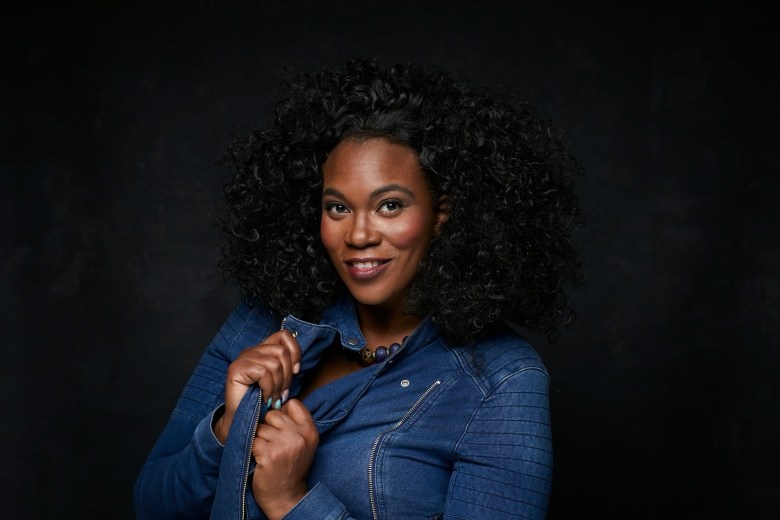 Depending on whether you live in northern or southern Alberta, a recent online poll about Canadian men's style habits is either a good news or fake news kind of story.
That's because the Google survey of 1,000 Canadians, conducted by Montreal-based online stylist MFMK, ranking Canada's best dressed men, generated a few shockers.
Overall, Montreal men received the highest percentage of votes for being best dressed, taking 31.8 percent of the total votes cast.
The big shocker — among (an unidentified number) of women who responded to the poll, 84.3 per cent selected Edmonton men as the best-dressed in the country.
Almost as shocking: Calgary men received 7.2 percent of the overall vote, relegating it to the national style clearance bin.
CBC Calgary's Andrew Brown, who regularly fills in as host of CBC Calgary News at 6, may have summed up Calgary men's reaction to the poll most succinctly.
"So [women love] Oiler jerseys?" he asked.
Calgary comedian and stylist Adora Nwofor has advice for Calgary men looking for style guidance: get out of the stale uniform. (Bud Moore Photography)
'These men look dapper'
One of Calgary's best-dressed women of 2017, according to Avenue Magazine, comic and stylist Adora Nwofor, was a little more positive about the news when shown a random selection of photos featuring Edmonton men that appeared on an Edmonton website.
"These men look dapper, but Edmonton Canada's best? Nah. They do follow the rules — but style is about breaking those rules and being oneself on the outside. They will have do better than that for most stylish."
Former Edmonton Journal columnist and Giller nominated (for The Garneau Block) novelist and story consultant Todd Babiak, said Edmonton men's penchant for dressing well comes from having to.
Calgary actors Joel McNichol and Todd Hawkwood took issue with the city's poor showing in a recent poll rating the best dressed men, with 84.9 per cent of women who voted choosing Edmonton's men. (Courtesy Todd Hawkwood)
"Edmonton doesn't have anything like, say, the oil industry in Calgary — a single economic activity that can sustain us.
"And historically, Edmonton has been underestimated and misunderstood by the rest of the country. Until the last 5 years or so, we'd say where we're from and people would say something demeaning. We've never enjoyed anything like your Calgary swagger."
"Edmonton men have to try a bit harder, to overwhelm the stereotype, the old fashioned ideas about our city and its people. With clothes, you can tap into your imagination and creativity in a fun way.
"You can surprise people."
Designer Gary Mushens was chosen as one of Calgary's best dressed men by Avenue Magazine in 2017. (Jessica Pechet, Courtesy Avenue Magazine)
Todd Hawkwood, a lifelong stylish Calgarian, weighed in on the poll results with a mixed opinion.
"I went to school in Edmonton," he said. "There's a population [there] that is very stylish — very cutting edge stylish. But I wouldn't say Edmonton as a whole [is very stylish]. I never go up there and go wow — these people can dress."
Calgary lags in the single digits
Hawkwood also disputed the fact that Calgary men pulled a paltry 7.2 per cent in the poll.
"A lot of visiting artists I've worked with from across Canada or wherever, comment on, 'wow, — men in Calgary are good looking — and well dressed. Mind you, they're all staying in hotels downtown, but they comment on that."
Calgary actor Joel McNichol, who appeared with Brad Pitt a few years back in The Assasination of Jesse James by the Coward Robert Ford, doubled down on Hawkwood's observation.
"Something I've noticed more and more here is that the men [in Calgary] are finally taking risks and mixing things up with fashion, from their thrift store finds mixed with Simon's house brand or high end Italian designers with a little western flair thrown in," he said, "[Together with] a good pair of metallic Fluevogs just to round things out.
"Even Stampede has some awesome outfits this year," he added. "Cowboy hipster."
Chirag Shah was voted one of Calgary's best-dressed men by Avenue Magazine in 2017. (Jessica Pechet, courtesy Avenue Magazine)
Avenue Magazine editor Kathe Lemon — whose magazine annually selects the best dressed Calgarians — hadn't seen the poll, and wanted to know how the question was worded, because the whole thing sounded a bit suspect to her.
"There are some stylish men in Edmonton. I don't want to slam them that way," she said.
"But in terms of what Calgary men need to do to score higher? Don't dress for random polls. Dress for yourself and your own style in your life."
She expressed confidence in Calgary men's ability to get dressed in the morning.
"There's a lot of different styles represented in Calgary. There's a wider variety of stores opening in Calgary. There's a reason why Saks just opened here — and didn't open in Vancouver. Same with Nordstroms.
"Certainly men and women in Calgary are spending money on clothing. Now I wouldn't say spending money is necessarily a direct line to style, but people around here are thinking about style, for sure."
Independent men's stores
Darren Biederman, who owns the Supreme Men's Wear shop in downtown Calgary, had his own theory of why Edmonton men are so well-dressed in an interview about the poll results he did with another well-dressed Calgarian, CBC Calgary's Rob Brown, on The Homestretch.
"Calgary has the best selection of independent men's wear stores in the whole country — and the amount of clients we're getting from Edmonton [and Fort McMurray and Red Deer] is absolutely unbelievable," he said.​
And Babiak, the Edmonton style icon, had some choice words for Calgary men hoping to move our numbers into the double digits next time those stylists take an online poll.
"Tap into some self-doubt," he said. "It's great to think you live in the greatest, world-classiest city in human historyl but it can make a man complacent as he dresses in the morning."
---
Source link