Anti-icing agent could be back on Edmonton streets this winter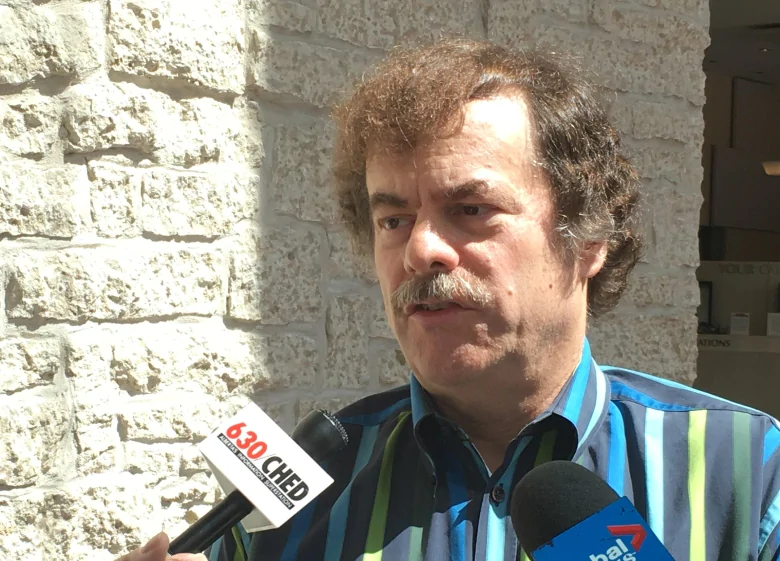 An anti-icing agent may be used on Edmonton streets again this winter after 2016-2017 pilot project showed the city saved $4.3 million by using a combination of calcium chloride, sand and salt.
The city's community and public services committee gave its initial consent Wednesday to let the operations branch continue working on a plan to expand the pilot.
The city used calcium chloride in an effort to reduce collisions, but there are concerns about the effect of the anti-icing chemical on vehicles, infrastructure and the environment.
Environmental impacts related to last year's pilot aren't available yet, staff told the committee. They were directed to report back in October with that data.
Coun. Scott McKeen is trepidatious about the unknown long-term implications.
There are trade-offs in all of this– Coun . Scott McKeen
"I think we probably all walk out with a certain amount of concern about the impacts on city infrastructure and people's vehicles and the river," McKeen said Wednesday.
He said he's worried the corrosive nature of calcium chloride will have long-term effects.
"There's trades-off in all of this," he said. "We could throw more chemicals down and get it down to bare pavement but what are the costs of that to people's vehicles?"
Arthur Potts, a chemical engineer with Fluid Clarification, came to the committee meeting on Wednesday to express concern that calcium chloride is corrosive and will damage vehicles over time.
"There was absolutely no mention made of any measurement related to corrosion or how they were going to assess that," he said.
Arthur Potts, a chemical engineer in Edmonton, thinks the city needs to study the effects of calcium chloride before using it on more city roads and sidewalks.
"I think the city needs to be careful and not decide to expand the pilot program without deep consideration for how they're going to assess the true cost to the individual Edmontonian who own vehicles."
He said the anti-icing agent is bad for concrete, making it susceptible to breaking apart.
The city tested the calcium chloride on just over 2,800 km of roadway in three areas: Yellowhead Trail, parts of St. Albert Trail, Calgary Trail and Gateway Boulevard.
Calcium chloride was also used on 13 km of bike lanes, shared-use paths in four city parks,167 bus stops and on sidewalks at Northgate and Central Lions Senior Centres.
During the pilot, the city used 68 per cent less sand and therefore had to do less sweeping, which saved money.
The operations branch recommends expanding the pilot this winter, to include more routes, sidewalks and bike lanes — all within the current budget.
Janet Tecklenborg, the director of infrastructure operations said anti-icing agents like calcium chloride are shown to reduce collisions.
"There is a correlation that with achieving bare pavement, that you will reduce the number of accidents," she said.
Tecklenborg said collisions are reduced between 30 and 66 per cent but that data is based on research from other municipalities.
The city doesn't data readily available from their pilot project last winter, she said.
"We didn't have enough to be statistically significant one way or the other," she said. "Therefore we're hoping through next winter that we'll be able to collect more data and be able to show a positive trend."
The snow and ice removal plan also calls for new equipment to optimize the use of sand and salt, but that equipment will cost more.
The city also wants to test calcium chloride in residential areas but staff couldn't say how many or where at this point. They intend to consult neighbourhoods first.
McKeen asked city staff to look the success of calcium chloride in other provinces in reducing collisions where snow tires are mandatory.
The operations branch is expected to report back Oct. 3 with results.