Union of B.C. Indian Chiefs condemns Trump immigration policies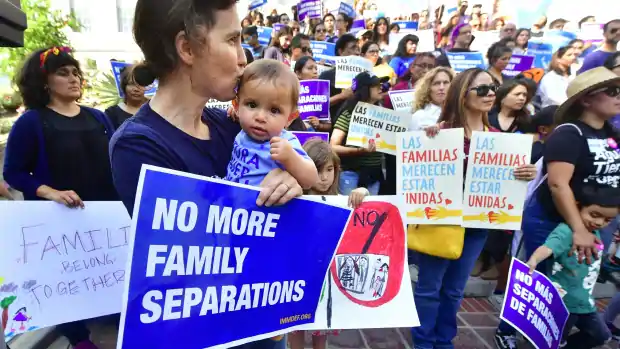 The Union of British Columbia Indian Chiefs has written an open letter to U.S. President Donald Trump and Prime Minister Justin Trudeau condemning the separation of immigrant children from their parents.
"We fully condemn this atrocious state-sanctioned violence that is being perpetuated against immigrant children and families under President Trump's administration," the letter states.
The union says what is happening is reminiscent of the policies of Indian residential schools and boarding schools in Canada and the U.S., respectively, where Indigenous children were separated from their families and communities.
In the letter, the UBCIC says "our hearts break for the many Maya, Aztec, Zapotec and Olmec Indigenous children who are being jailed in child camps simply for travelling through their own traditional territories," and calls the actions of the U.S. government a violation of the United Nations Declaration on the Rights of Indigenous People.
We oppose President Trump's recent Executive Order claiming to stop this horror. The Executive Order continues the "zero-tolerance policy" that criminalizes anyone who crosses the border without legal papers, including those seeking asylum. <a href="https://twitter.com/JustinTrudeau?ref_src=twsrc%5Etfw">@JustinTrudeau</a> <a href="https://twitter.com/realDonaldTrump?ref_src=twsrc%5Etfw">@realDonaldTrump</a> <a href="https://t.co/MRUMzx63cb">pic.twitter.com/MRUMzx63cb</a>

&mdash;@UBCIC
Read more from CBC British Columbia