Two-spirit thriller North Mountain to have theatrical premiere in Toronto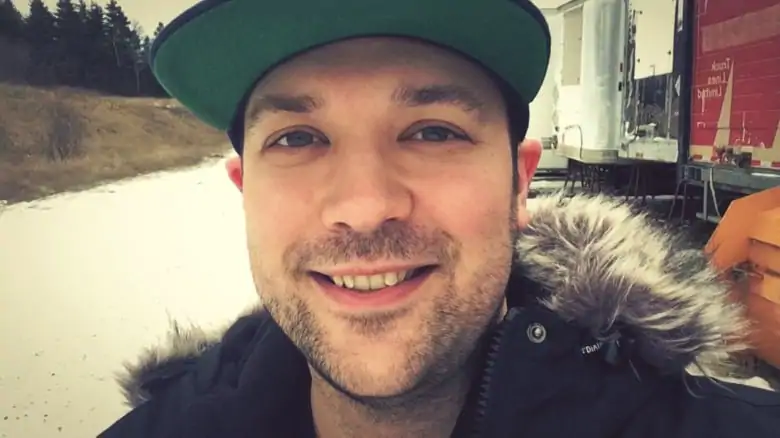 After three years on the film festival circuit, a two-spirit action thriller is having its theatrical debut in Toronto.
North Mountain, a two-spirit Indigenous romance, is Bretten Hannam's feature film directorial debut.
With the film, Hannam, who is Mi'kmaw, Ojibway and Scottish, hopes to open up the conversation of two-spirit identity by portraying it onscreen.
"I think it's important, especially for youth, to see they're not invisible," he said.
Bretten Hannam is a Nova Scotia filmmaker of Mi'kmaw, Ojibway, and Scottish ancestry. (Northern Banner Releasing)
"We're in a time now where two-spirit people are stepping forward and integrating into communities. It's about showing that the stories exist and that there are other ways to see the world and that people exist outside of those binary systems."
Hannam said there was a big impact from colonialism — especially with religious influences — on gender identity and sexual identity across Indigenous communities.
North Mountain, set in rural Nova Scotia, is a suspense thriller about two Mi'kmaq men, Wolf and Crane, who are drawn together by fate and end up forming an unlikely, intergenerational romance.
Changing times
Wolf is a young man who lives on North Mountain, spending his time hunting and trapping. While out hunting, he stumbles across Crane, an ex-con who has been wounded and is carrying a lot of money. As Wolf nurses Crane back to health, a romance develops before Crane's past catches up with him, leading to dark, violent situations.​
Glen Gould, who plays Crane, is an actor, producer and director with a Mi'kmaq and Spanish background. He grew up in the 1970s when, he said, the term two-spirit wasn't heard.
Glen Gould is an actor, producer and director with a Mi'kmaq and Spanish background. (Northern Banner Releasing)
"When I was growing up, there was a lot of homophobia and a lot of racism," said Gould.
"Generations ago, two-spirited people in our communities were considered sacred, but there was a lot of homophobia pushed on Indigenous people."
He said the film is a signal of changing times, where sexual orientations outside of the heteronormative structure are more accepted than they used to be.
North Mountain is screening for a week at the Carlton Cinema in Toronto, starting Friday.