Teams battle high water to rescue boys missing in Thai cave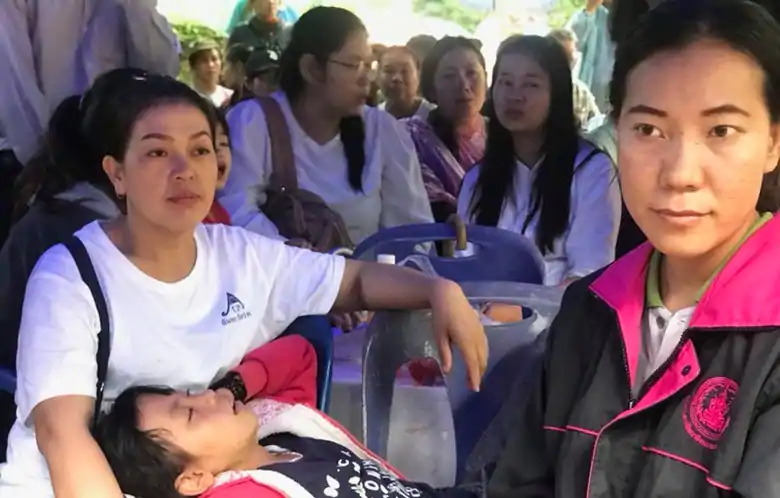 Thai soldiers, volunteers and members of a navy SEAL unit including a team of divers worked through the night to try to find a group of young soccer players trapped inside a cave, as the search for the team entered a fourth day on Wednesday.
Rescue workers took turns pumping water from inside the cave amid difficult weather conditions including heavy rain overnight which caused water levels to rise inside the Tham Luang cave in the country's northern Chiang Rai province.
"Last night we worked non-stop in order to drain water out of the cave as much as possible," Maj. Buncha Duriyapan, commander of the 37th Military District in Chiang Rai, told Reuters.
The boys, aged between 11 and 16, and their 25-year-old assistant coach, went missing on Saturday after soccer practice. Messages exchanged between the team members showed they planned to explore the cave and had taken flashlights and some food.
Sgt. Kresada Wanaphum from the Royal Thai Army said high water levels inside the cave is the biggest challenge, along with low oxygen levels.
"Water is the biggest challenge. There is a lot of debris and sand that gets stuck while pumping," Kresada told Reuters.
Relatives of the boys and their coach waited under a tented area for any updates in the search, on Tuesday in Mae Sai, northern Thailand. (Tassanee Vejpongsa/Associated Press)
"We have to switch out units because there is not enough air in there," he added, before entering the cave.
Nopparat Kantawong, the team's head coach who did not attend soccer practice on Saturday, said he believes the boys are still alive, adding that messages on a group chat showed the boys took flashlights and some food with them inside the cave.
"I believe up until this very moment that my team members and my assistant coach still have some light left. They will not abandon each other," Nopparat told reporters.
Deputy prime minister Prawit Wongsuwan told reporters in Bangkok on Wednesday the country's army chief would travel to the area.
"I have asked the army chief to go up to Chiang Rai," Wongsuwan told reporters.
Asked whether the missing boys and their coach would be found, Prawit said: "We hope that they will be found because they have been missing for many days."