Right turns on red lights under review in Edmonton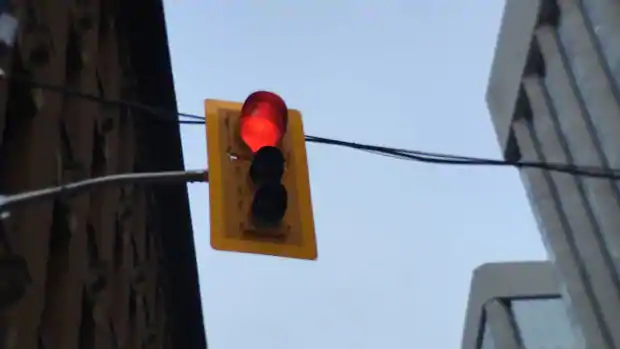 Turning right on red lights at some of Edmonton's busiest intersections may become prohibited as the city considers new ways to prevent pedestrian injuries.
The city is considering the ban at certain intersections across the downtown core and Whyte Avenue where foot traffic is especially high, said Gerry Shimko, Edmonton's director of traffic safety.
There are already a few intersections across the city where "right on red" is prohibited, and the city is interested in expanding the ban, Shimko said.
'It's going to take a while'
"We will look to see what the safety factors are and the collision history, and make some decisions based on that," Shimko said Monday, in an interview with CBC Radio's Edmonton AM.
"It's really letting the evidence lead us to where we could consider them, and looking at things like traffic flow and road use."
A review of the busiest streets is already underway, Shimko said. He couldn't say how long it will take for the city to complete its review.
"We're still looking at the criteria and it's going to take a while to get there."
Edmonton saw an increase in traffic collisions and road deaths last year compared to 2016 but fewer collisions involving pedestrians, cyclists and motorcyclists.
A city report, released in May, showed that total collisions increased 3.3 per cent year over year, from 23,139 in 2016 to 23,906 in 2017.
Shimko said 10 of the 27 traffic deaths in Edmonton in 2017 involved pedestrians. Another 57 people were seriously injured after being hit by vehicles as they walked, Shimko said.
Shimko believes a ban could help prevent pedestrian collisions without causing too many headaches for drivers.
"We know that many drivers and pedestrians do make mistakes which result in injuries and sometimes fatalities so we're looking for that balance," he said.
"We want to make Edmonton as safe as possible."
Shimko presented his plan for the red-light ban during last week's Edmonton police commission meeting.
Alberta's Traffic Act prohibits turning on a red when crossing lanes of traffic. The fine for failing to obey a traffic control is $233.