Jasper man shatters pelvis while cliff jumping at Horseshoe Lake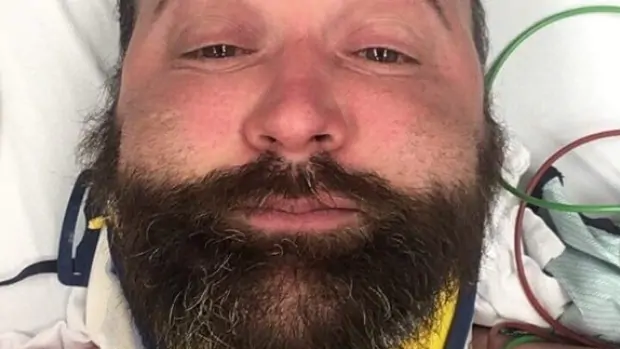 A Jasper man is facing a lengthy recovery after shattering his pelvis in a cliff jumping accident at Horseshoe Lake this week.
Ron Cooper was hanging with friends at the lake in Jasper National Park on Tuesday afternoon when the incident happened. Horsehoe Lake is one of the deepest lakes in the park, making it popular for scuba diving and cliff jumping.
Cooper said the group jumped off some of the lower cliffs before working their way up to an 80-foot cliff. Cooper watched his roommate jump first, and after seeing she had no issues, he followed.
​​"I kind of just ran up the edge and jumped, and didn't land too good," Cooper said. "I hit the water and I felt this crunch, it went up my back."
Cooper managed to swim to shore but couldn't walk, so his friends carried him out on a paddle board. They drove him to the hospital in Jasper. He was then taken to a hospital in Hinton, before being airlifted to Edmonton.
He had surgery on his pelvis at the University of Alberta Hospital on Friday and expects to be using crutches for at least six weeks.
"I just got metal plates put into me yesterday," he said. "So yeah, it's been not fun."
Cooper, who has lived in Jasper for about four years, works as a chef at Olive Bistro. He says he will likely not be able to work for the next four months as he recovers. He says he's hopeful he will make a full recovery and that the injury won't affect him in the long term.
He does not have medical benefits or disability insurance. A GoFundMe page has been started to help cover some of his bills during his recovery.
Despite his injury, Cooper says he intends to return to Horseshoe Lake.
"It's really nice out there," he said. "I don't think I'll go to the 80-footer again. Maybe I'll stick to like, 70."