Get your roll on: Southgate's pop-up roller rink to benefit youth organization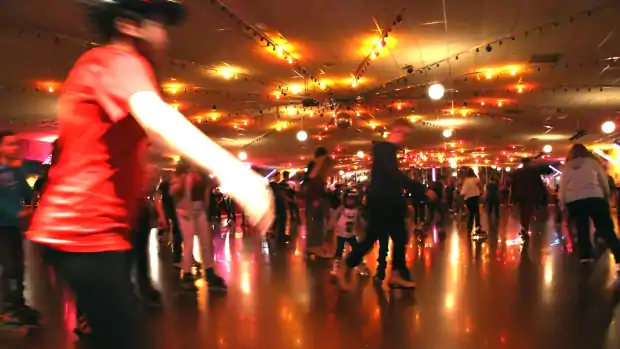 Southgate Centre is hoping Edmontonians will get into the spirit of Drake and get their roll on at a pop-up roller rink — and skate for a good cause.
The mall is opening the Stardust Retro Roller Rink Thursday inside the mall.
Claire Kolmatycki, marketing director for the mall, said roller-skating rinks are making a comeback. Just check out Drake's Nice for What on YouTube.
"It's gaining a resurgence in the [United] States, so it has that nostalgia feel to it," Kolmatycki told CBC's Radio Active. "It's definitely gaining that popularity with the millennial crowd."
The rink will be open for 40 days from June 28 to Aug. 6.
Admission is $3 for a 15-minute skate, $5 for a half hour, $10 for a family of four. All proceeds go to Edmonton's Youth Empowerment and Support Services, or YESS.
Jessica Day, program manager at YESS, said the chance to work with an organization on a unique project like this was something they couldn't pass up.
"The kids call the staff old for getting as excited as the staff have been," Day said. "Secretly, they're excited to just get out and try new things."
About 650 kids go through YESS's daytime program every year — and Day said she's thrilled to help organize events for them.
"A lot of the youth we interact with don't necessarily have the opportunity or the means to do fun and exciting rec things in the community," she said.
"This is a great opportunity for us to reconnect that over the summer and really bring that back."
Kolmatycki said they'll hold various events over the course of 40 days, including a $2 skate every Tuesday, a free skate if you're wearing red and white on Canada Day and potentially a speed rollerblading event.
She hopes the rink will raise $10,000 for YESS over the summer.