Fort McMurray councillor who violated conflict of interest rules withheld key information, report says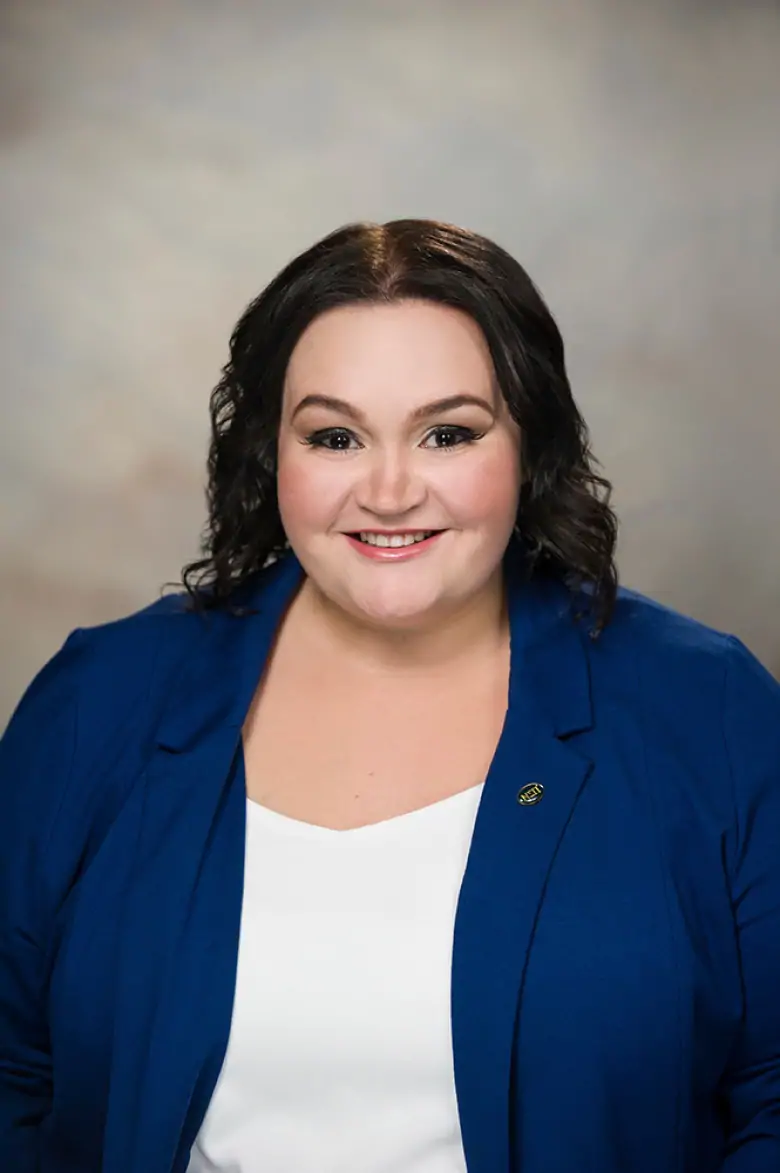 Fort McMurray Coun. Krista Balsom would not have been approved to vote on 2018 budget matters if she had disclosed all of her business contracts with groups that receive funding from the Regional Municipality of Wood Buffalo, a report has found.
While the municipality's legal services department knew about one potential conflict, it has now come to light that Balsom failed to disclose several other contracts her marketing company held with organizations that receive funding voted on by councillors.
The new information was divulged in an investigation report commissioned by the municipality. CBC News obtained the report through a freedom of information request.
After a summary of the report was released on Friday, Balsom said she will continue to serve on council and will not step down.
She faces possible disqualification as a councillor or a lesser sanction, such as reduced remuneration.
Wood Buffalo council will weigh its options at Tuesday's meeting.
The summary released Friday by the regional municipality said Balsom violated conflict of interest rules when it came to voting on budget allocations for six groups.
She owns Balsom Communications, a marketing firm which publishes Your McMurray Magazine and provides other services for clients.
In a statement Friday, Balsom said she had sought advice from the municipality's legal counsel. She was told she wasn't in a conflict, she said.
Councillor Krista Balsom maintains she's been open and transparent about her conflicts. (Greg Halinda/ RMWB)
However, the slightly redacted 48-page report, obtained Monday by CBC, indicates Balsom failed to tell the legal services department all the organizations her company did business with.
Had the councillor disclosed all of her connections, the legal department would not have OK'd her to vote, the report said. She would have been advised to get an external legal opinion, it said.
'Heightens the concern even more'
In the report, David Leflar, director of the municipality's legal services department, said he had discussions with Balsom on February 5, 2018 prior to the budget vote, and then followed up with an email two days later.
In those discussions, Leflar said, they spoke solely about Fuse Social, a non-profit that receives municipal funding.
The report said Balsom told the legal department she no longer had an existing contact with Fuse Social.
But Leflar said Balsom failed to disclose she had existing contracts with the Regional Recreation Corporation of Wood Buffalo, the Wood Buffalo Library and the Arts Council of Wood Buffalo.
She then participated in votes allocating money to these organizations during the 2018 budget process.
When the investigator informed Leflar about Balsom's business connection to these organizations, Leflar told the investigator "that just heightens the concern even more," the report said.
In the report, Balsom said she did bring up her contracts with other organizations with Leflar and showed the investigator an email where some of those businesses were mentioned.
"I truly believe that I was following the legal opinion given and the Municipal Government Act," Balsom told the investigator. "I'm in this community. It's not about the money."
Balsom: 'An opportunity to attack me'
Prior to legal services discovering the extent of Balsom's conflict, at least one organization was uncomfortable about Balsom's participation in budget votes.
Rachel Orser, interim CEO of the Regional Recreation Corporation of Wood Buffalo, told investigators she thought it "odd" Balsom did not recuse herself from voting on funding for her organization.
She told the report's investigator, "I struggled with it, even if it is a perceived or real conflict of interest. However, at the end of the day she should not have voted on that request."
Balsom herself acknowledged that her conscience bothered her, telling the investigator she understood there would be a perceived conflict, but felt the municipality's legal opinion was sufficient.
"I believed in those programs but recognized that me doing that would be questioned, but I took that risk because I cared about those programs."
The councillor then said the whistle-blower complaint, which sparked the investigation, was vindictive.
"I recognize that I have some enemies who would take that as an opportunity to attack me," Balsom said.
Connect with David Thurton, CBC's Fort McMurray correspondent, on Facebook, Twitter, LinkedIn or email him at david.thurton@cbc.ca