Family of Jon Styres suing man who killed him for $2M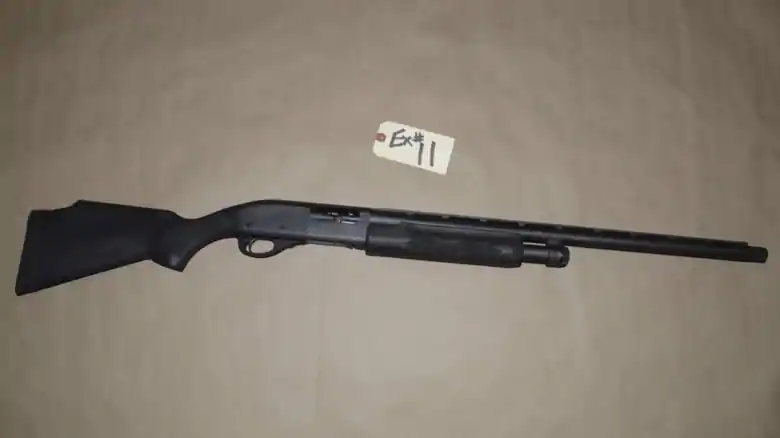 The spouse and two daughters of Jon Styres are suing the man who shot and killed him for damages totalling more than $2 million, alleging Peter Khill shot the First Nations man as he "fled."
Court documents filed on Jan. 31, 2018 lay out the suit filed by Hamilton's Hooper Law Offices on behalf of Lindsay Hill and her daughters, age two and three.
Khill, a former Canadian Forces reservist, admitted he shot and killed Styres in Feb. 2016. He was found not-guilty of second-degree murder Wednesday after a two-week trial in Hamilton Superior Court.
The civil lawsuit alleges Khill shot Styres "as he fled the property with the intention to kill." None of the allegations in the suit have been tested in civil court. The allegations in the lawsuit contain some significant differences from the evidence heard in the criminal trial.
Suit notes no 911 call
During that trial, court heard how Khill and his wife were woken up around 3 a.m. by a loud banging noise, looked outside and realized the lights were on in their truck. Khill then grabbed his 12 gauge shotgun from a bedroom closet, loaded it with two shells and went outside to confront whoever was out there.
The suit notes "[Khill] did not attempt to contact the authorities prior to confronting Jon Styres" a fact Khill testified during his criminal trial was true, saying he was following his military training, which did not include calling 911.
Jurors in that trial were told Khill found Styres, a 29-year-old from Ohsweken on the Six Nations of the Grand River reserve, bent over the front seat of his truck and yelled "Hey! Hands up!"
That command marks a second significant contradiction between trial evidence and allegations in the civil suit. The first being that Styres was shot while fleeing and the the second that Khill fired "suddenly and without warning" during the confrontation.
Hamilton police seized Khill's 12 gauge Remington shotgun after the shooting. (Ministry of the Attorney General)
During his testimony in the criminal trial, Khill told court that as Styres turned he raised his hands, leading him to believe the other man had a gun, so he fired twice in self-defence, hitting him once in the chest and a second time through the back of his right shoulder, from close range.
Styres did not have a gun, jurors were told. He did have a folding knife, but it was closed and found in the pocket of his pants.
The criminal trial did not hear from any experts who testified Styres was fleeing when he was shot, but prosecutors and defence lawyer Jeff Manishen sparred over the position he was facing when Khill fired.
Both a blood spatter expert and doctor who reviewed notes from Styres' autopsy said it was their opinion he was shot while facing into the truck, although they allowed it was possible he was facing slightly away and toward Khill when he was hit by the two, lethal blasts.
Mental distress
The suit claims damages of $2 million, aggravated and punitive damages of $250,000, pre and post-judgement interest and any other costs the court deems just.
Even if the court does not agree Khill committed assault and battery when he shot Styres with the intention to cause injury or death, the suit asks that he at least be found of negligence for firing in a confined space, causing Styres to be accidentally shot.
"The defendant knew or ought to have known that his actions of using a firearm in the confrontation would result in harm," it states.
Family and friends of Jon Styres hug outside court after hearing Khill was found not guilty on June 27, 2018. (Laura Clementson/CBC)
Damages are based on a loss of income and services from Styres as well as a loss of "care, guidance and companionship as the result of his death."
Styres' family is also claiming damages for negligent infliction of mental distress, and psychological damage.