Alberta revamps child intervention system, following criticism over deaths of children in care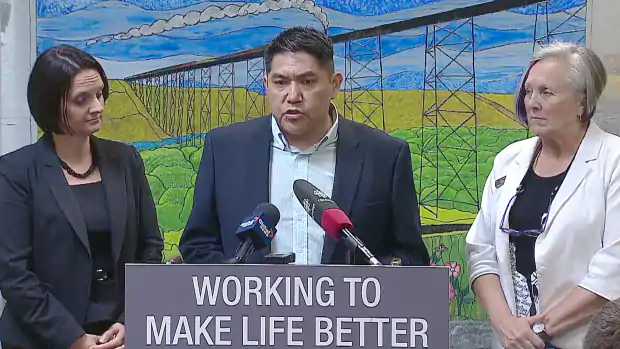 Alberta unveiled a new system for child intervention Thursday, following recommendations from a year-long ministerial review of what some have criticized as a flawed child welfare system.
The four-year strategy is comprised of 39 steps the government plans to take to improve services, increase supports and address funding gaps, including a $4.3-million immediate investment to create early intervention and prevention services, an Indigenous advisory body and amend existing legislation within the year.
"This work is what's needed to help reduce the number of Indigenous kids in care, to help end generations of disparity, and to forge a stronger safer tomorrow for those children," said Danielle Larivee, Minister of Children's Services, at the Lethbridge announcement.
The review was undertaken in response to criticism that the government wasn't doing enough to ensure the wellbeing of children in care, following the death of a four-year-old Indigenous girl.
The Child, Youth and Family Enhancement Act grants the province to intervene when it believes children are, or are at risk of, being abused or neglected.
In 2016 and 2017, an average of 10,300 children and youth in Alberta received intervention services (in and out of care) each month. Staff respond to approximately 55,000 reports of child abuse each year, and 12 per cent of those lead to children receiving support, with four per cent of children being removed from their homes and placed into care.
6 of 10 children in care are Indigenous
Of those receiving services, 59 per cent were Indigenous, even though Indigenous people make up just six per cent of the province's population.
Between May 2009 and 2018, 223 children receiving intervention services in the province have died, at an average of 25 per year. Of those, 84 were in care, either in kinship homes, foster homes, group homes, or treatment facilities. Just over half of all children who died were Indigenous.
One of the first actions under the new system will be the full implementation of the Jordan's Principle, a rule that is meant to ensure all children receive immediate support, with questions of jurisdiction and funding between First Nations, Alberta and Ottawa to be settled later.
Racism in social services
"We are starting to work together to use these traditional ways that we have learned. It's important that they are being acknowledged, valued and implemented," said Kelly Provost, head Piikani Child and Family Services.
"This is where true partnership and commitment begin. It's a nice beginning in dealing with issues of funding barriers…. There is racism and colonialism that still occurs in socials services in Alberta so we need to start working to ensure that that doesn't happen."
The new system also says it will address the funding gap by 2022 that currently means First Nations receive lower child welfare funding from the federal government than the province contributes to non-First Nations communities.
Other goals include creating an Indigenous cultural framework, reducing the number of Indigenous children in care by providing more kinship home supports and creating a "holistic" assessment tool, and increasing the number of staff servicing rural and remote communities.
The province is also committing $1 million toward youth suicide prevention initiatives.