A glimpse of the past: First Nations University aims to put names to faces in century-old photos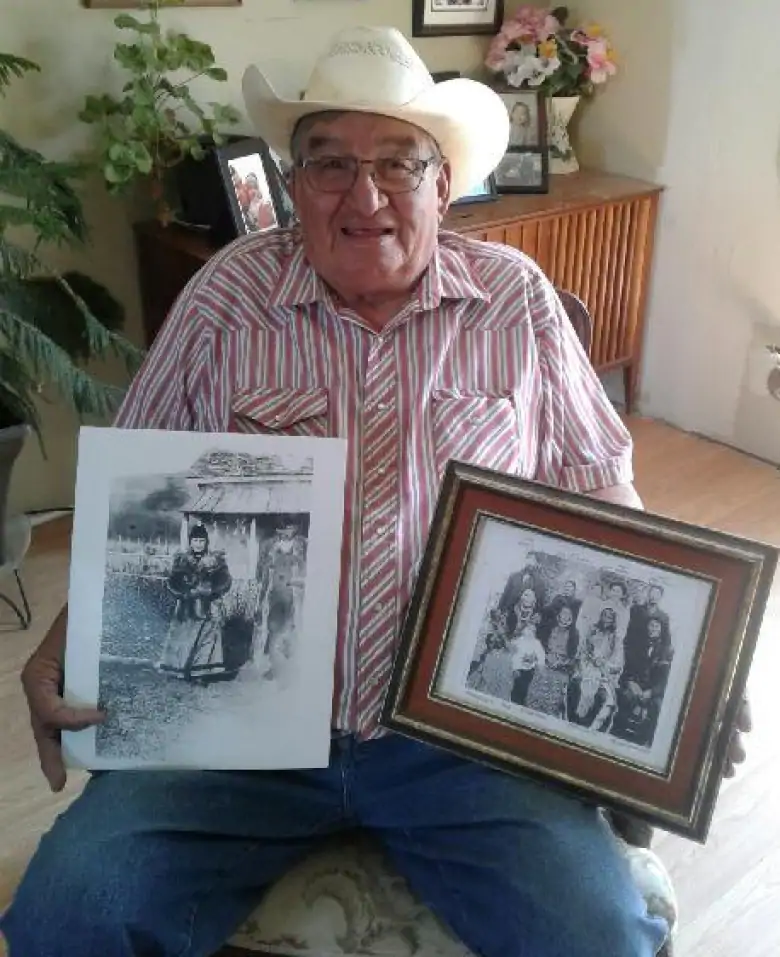 Imagine going to an event and finding an old photo you never knew existed, but the person in the picture is a close relative.
Well for Wayne Goodwill, a 77-year-old Dakota man from the Standing Buffalo Dakota Nation in the Treaty 4 area of central Saskatchewan, that is exactly what happened.
After attending the annual Treaty 4 gathering in Fort Qu'Appelle in the summer of 2017, Goodwill entered a room filled with a recently rediscovered photo collection from the archives of the First Nations University of Canada in Regina.
I told him that was my grandmother, well my great-grandmother.– Wayne Goodwill, Dakota Elder from Standing Buffalo Dakota Nation
"I happen to walk into this playroom and that's where I saw my grandma's picture. I said, 'Hey, this is my grandma!.'" said Goodwill.
Wayne Goodwill poses with the photo given to him of his great-grandmother Martha Tawiyaka, left, by Andy Miller and a photo that has been in their family for decades. (Bryon Goodwill )
"The young fellow that was there took some notes and he asked me if I knew her. I told him that was my grandmother, well my great-grandmother."
The photo showed a much younger version of his great-grandmother Martha Tawiyaka, around 1897-1899.
The "young fellow" that Goodwill had run into was Dr. Andy Miller, an associate professor of Indigenous Language, Arts and Culture from the First Nations University.
Goodwill gave as much information about his great-grandmother to Miller as he could, and Miller then gave him a copy of the photo, which Goodwill shared with other family members.
Collection without names
Miller was showcasing the collection of nearly 600 photos titled A Glimpse of Our Past. The collection had unknowingly been stored in the university's special collection archives for more than 30 years.
Each photo captures a snapshot in time of the 1800s on the Saskatchewan prairie. The only hitch was that none of the photos were labelled as to who was in the pictures.
"You look at the back of them and there is nothing… nothing there," said Miller.
He flips over several photos to show the backs that are blank except for a smudged black ink stamp of the Saskatchewan Archives Board in the bottom right hand corner.
Some of the vast collection Andy Miller is trying to identify. (Penny Smoke/CBC)
"These were someone else's photos," he said.
"Someone else's family. I just couldn't turn away. I had to find out."
So began the endeavour of trying to identify the people in the photos. Miller began to take the collection around to local Elders, reserves and events with hope that someone would recognize anything from the photos.
Connecting a family with history
For Goodwill, finding a photo of his great-grandmother not only brought back memories of her and stories she told, it also gave him a chance to see his great-grandmother as he had never seen her before.
"Grandma was always old when I was young, because she had died at hundred and something," he said.
"I had never seen her young. I had always seen her old in pictures. When I was born, she was already in her 60s."
Goodwill can't say for sure when she was born, but said that according to stories passed down in the family, Martha Tawiyaka was born before the town of Fort Qu'Appelle became a trading post in 1864.
Family stories also place Goodwill's great-grandmother, a child at the time, at the last ceremonial Ghost Dance held by Sitting Bull before his return to the United States. Goodwill remembers his grandmother telling the story to him in the Dakota language when he was a child.
This photo has been in Goodwill's family for generations. It helped confirm that the photo in the collection was in fact Martha Tawiyaka. (Wayne Goodwill )
A large part of the collection is still unidentified, and Miller said most of the people with memory of these photos have likely passed on. But he said he hopes that touring the photos around to local elders will help rekindle memories of places or stories.
His ultimate hope is to identify as much of the collection as he can, and he is working to digitize the collection for use by other Indigenous Studies students in the future.