Youth walk out of class to protest Trans Mountain pipeline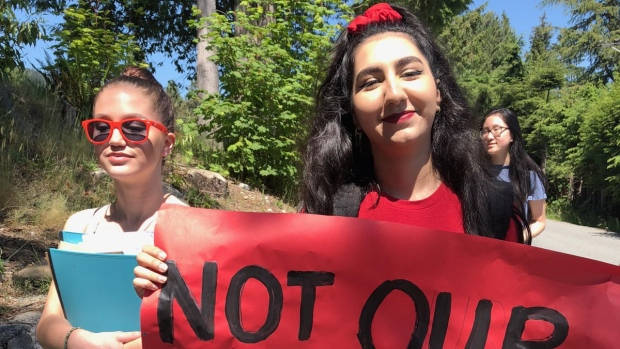 Some youth in a number of Metro Vancouver municipalities walked out of class Wednesday afternoon to protest the Trans Mountain pipeline expansion.
"This is a chance to show our elected leaders and Kinder Morgan that our lands, livelihoods and future are more important than a pipeline," said Ta'Kaiya Blaney in a Facebook livestream before her friend rallied people to get up and leave their class at Sentinel Secondary in West Vancouver.
The event was organized in response to the recent political tangle over the expanded pipeline's future and the commitment from Ottawa to help fund the project, amid an ultimatum asserted by Kinder Morgan.
The pipeline company is looking for certainty that the twinned pipeline will be built and has set a deadline of May 31 for political assurances on this front.
On the event page posted on Facebook, the organizers wrote they want to send a message to the prime minister "that our land, climate and water and future are more important to us than this dangerous pipeline that does not have Indigenous consent."
They went on to write that their walkout was inspired by Ta'ah (Amy George), a grandmother and matriarch from Tsleil-Waututh who called for people to "warrior up" to stop the pipeline.
"Let's show Ta'ah that we can do this!"
More than 40 First Nations have signed financial benefit agreements with the pipeline company, but opposition from within those communities and other nations like Tsleil-Waututh, Squamish and Coldwater, remains strong.
Heiltsuk youth hold walkout in Bella Bella
The walkout in Metro Vancouver was scheduled to begin at 2 p.m. but started earlier in other parts of the country.
At around 10 a.m., Jess Housty an elected councilor with the Heiltsuk Nation, posted that more than 50 Heiltsuk youth were holding their own walkout in Bella Bella.
Hope you hear this loud and clear, Feds. Divide and conquer doesn't work anymore. We stand with our relatives in their fight against Kinder Morgan the same way they stood with us against Enbridge Northern Gateway. No consent? No project. <a href="https://twitter.com/hashtag/Heiltsuk?src=hash&amp;ref_src=twsrc%5Etfw">#Heiltsuk</a> <a href="https://twitter.com/hashtag/solidarity?src=hash&amp;ref_src=twsrc%5Etfw">#solidarity</a> <a href="https://t.co/Rr6ZRZvdnF">pic.twitter.com/Rr6ZRZvdnF</a>

&mdash;@heiltsukvoice
Housty posted that the youth were joined by hereditary and elected leadership from the nation with support from community members who cheered them on for taking action.
It's not yet clear where other walkouts may have taken place.
Youth, performers and speakers are scheduled to begin a rally at the Vancouver Art Gallery at 3 p.m.
More to come.