Woman denied entry to Indigenous burial site near Grande Prairie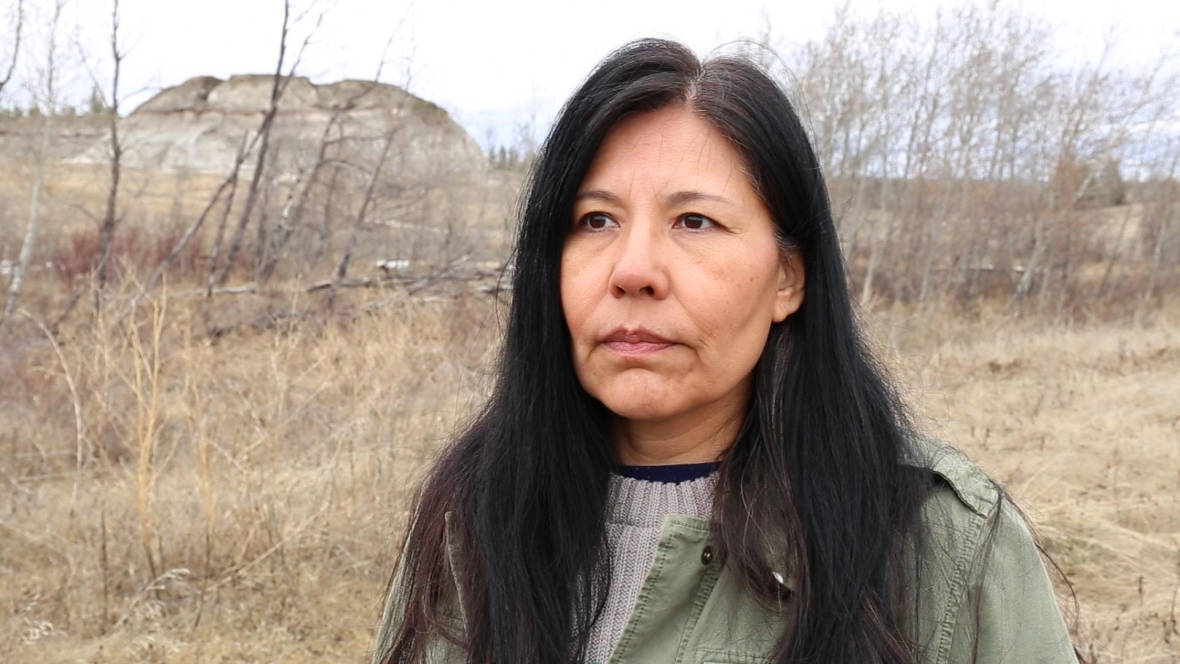 About 30 kilometres northeast of Grande Prairie, a series of grassy hills rise 100 metres above the otherwise flat landscape. 
Crocuses push through the ancient layers of clay and sandstone, one of hundreds of plants that grow wild in a sprawl of forest and fields.
Kleskun Hill is Alberta's northernmost badland — and a sacred ancestral site of prayer for the Beaver First Nation.
But when Victoria Wanihadie, a Beaver descendant, tried to pray there just before sunset on Thursday, April 26, she said the park's caretaker told her to leave because it was after hours.
The area is closed on weekdays over winter and spring, with limited hours on weekends. 
Victoria Wanihadie, who visits Kleskun Hill to pray, says she has been told twice to leave the site. (Zoe Todd/CBC)
Wanihadie said the caretaker demanded to see her status card and questioned her right to be on the land.
She compared the feeling to being barred from a church or any other place of prayer. 
"We have thousands of years of history here and being prevented from praying in our way, it hurt," Wanihadie said. 
"We just feel closer to the Creator and closer to our ancestors when we're on these sacred places and that's what I was trying to do."
Kleskun Hill, located about 25 km northeast of Grande Prairie, was designated by the province as a natural area in 2001. The park is managed by the County of Grande Prairie on behalf of the province.
A campsite and historical village, the
Kleskun Hill Museum
, sit adjacent to the hills, which are surrounded by a chain–link fence.
A fence surrounds parts of the Kleskun Hill natural area near Grande Prairie, Alta. (Zoe Todd/CBC)
The area is supervised by a park host, who lives next to a public parking lot near the entrance. He is responsible for enforcing park hours, which are from 1 to 5 p.m. on weekends during the campground's off-season from October to May.
Kleskun Hill, which translates from the Beaver language to "white mud" hill, is the site of an Indigenous burial ground.
The hills are considered a sacred place of prayer and healing by Beaver people, Wanihadie said.
An area to reflect
Wanahadie, a part-time teacher and Indigenous educator in Grande Prairie, started visiting Kleskun Hill regularly about three years ago.
She is a strong advocate for revitalizing Beaver heritage in the region and uses the land for traditional ceremonies to help her community connect with its culture. 
The Beaver language and culture in northern Alberta started to slip away several generations ago when many of its young members were sent to residential schools, Wanihadie said.
The encounter on April 26 was the second time in six months the park's caretaker has told her to leave because she visited the burial ground unannounced and after hours, Wanihadie said.
The first time it happened, in November 2017, Wanihadie was at Kleskun Hill to pray with two other Indigenous women.
Wanihadie called the County of Grande Prairie to complain, after which she received special permission to visit the park after hours.
The Kleskun Hill park sits on a burial ground used by the Beaver people. (Zoe Todd/CBC)
The county has apologized and is investigating the most recent incident, said Christine Rawlins, manager of parks and recreation.
"We are going to be investigating and following through further with that individual to make sure it never happens again," Rawlins said.
She confirmed the county has a verbal agreement with Wanihadie whereby she can visit the site at any time, as long as she calls ahead. Wanihadie must also give the park host an arrival and departure time.
"It's more of a courtesy," Rawlins said. "It's not about permission to access the land because it is a park and we absolutely acknowledge that cultural significance … it's the county's responsibility as stewards of the land to make sure that people are able to access it in a safe manner."
She added the park host, a county contract employee, has been aware of the agreement with Wanihadie since it was made in December 2017.
He did not receive a call from Wanihadie before her visit on April 26 and therefore stopped her in the parking lot when she arrived, Rawlins said.
Wanihadie video recorded the encounter, capturing a man's voice asking to see her status card and threatening to report her. She showed the footage to CBC News.
"Were you the one in here last fall?" the man in the video asks.
Are you native? Do you have your card? Is that why you're calling this trump, or what?
"Are you native? Do you have your card? Is that why you're calling this trump, or what?" 
He also challenges Wanihadie about her right to access the land and says he has taken a picture of her license plate for authorities, adding "they'll send you whatever it is they're going to send you."
Rawlins said she has not had access to the recording but added it does not align with the county's position on Indigenous rights.
"The county is treating this matter extremely seriously and we are investigating it thoroughly with the contract employee involved in the incident," she said.
The current host started his job at the site last year, Rawlins said. He is responsible for visitor safety and park infrastructure, which includes the Kleskun Hill Museum. 
The historical village was built adjacent to the Kleskun Hill natural area. (Zoe Todd/CBC)
The Kleskun Hill Museum Society is not aware of any incidents involving Wanihadie and the park host, its former president Jim Robertson told CBC News.
The society has been respectful of the site's Indigenous cultural significance since the historical village opened in 1994, he added.
She also does not want to prevent non-Indigenous people from enjoying the landscape, Wanihadie said.
The Beaver people have a culture of sharing, she explained. The sacred land should be open to anyone who wants to use it, as long as they are respectful of its history and do not disturb the plants or wildlife.
"We can share but I feel like it's being taken over," Wanihadie said. "The problem is they blocked us from continuing to do our prayers.
​"We shouldn't have to get permission from the parks or anyone else to do our sacred prayers and our sacred ceremonies and that seems to be what's going on today."